Mon Dec 17, 2012, 04:00 AM
Judi Lynn (117,850 posts)
Teenager's Faith At Odds With Locator Tags In School IDs [View all]
Source:
NPR
Teenager's Faith At Odds With Locator Tags In School IDs
by Wade Goodwyn
December 17, 2012 3:33 AM
A federal court in Texas on Monday will take up the case of a high-school student who refuses to wear her location-tracking school ID.
The 15-year-old sophomore says the ID badge, which has an embedded radio frequency identification tag, is a violation of her rights. The student, Andrea Hernandez, believes the ID is "the mark of the beast" from the Book of Revelation.
Steven Hernandez says his daughter was alarmed this summer when John Jay High School in San Antonio informed families that new IDs would include the chips, which would help the school know electronically if the student was on campus.
"And she says, 'Daddy, I'm not going to do this.' And I said, 'Why aren't you going to do this, honey?' She says, 'Dad, that's exactly what it talks about in the Book of Revelation that you were teaching us about taking the mark of the beast. This is the exact same thing,' " Hernandez says.
Read more:
http://www.npr.org/2012/12/17/167277175/teenagers-faith-at-odds-with-locator-tags-in-school-ids
---
[center]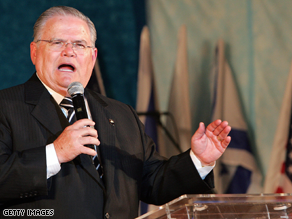 Rev. John Hagee, Andrea Hernandez' minister[/center]
81 replies, 7587 views
Replies to this discussion thread
81 replies
Author
Time
Post

Teenager's Faith At Odds With Locator Tags In School IDs

[View all]

Judi Lynn
Dec 2012
OP
ProgressiveProfessor
Dec 2012
#1
truthisfreedom
Dec 2012
#2
yellowcanine
Dec 2012
#23
lbrtbell
Dec 2012
#70
yellowcanine
Dec 2012
#72
ZM90
Dec 2012
#3
yellowcanine
Dec 2012
#24
atreides1
Dec 2012
#76
yellowcanine
Dec 2012
#79
ehrnst
Dec 2012
#60
RandiFan1290
Dec 2012
#4
ReRe
Dec 2012
#5
IDemo
Dec 2012
#6
Trillo
Dec 2012
#16
IDemo
Dec 2012
#25
Trillo
Dec 2012
#35
IDemo
Dec 2012
#54
Trillo
Dec 2012
#80
lbrtbell
Dec 2012
#71
mwb970
Dec 2012
#7
rbixby
Dec 2012
#45
struggle4progress
Dec 2012
#64
rbixby
Dec 2012
#75
yellowcanine
Dec 2012
#73
Celebration
Dec 2012
#8
rhiannon55
Dec 2012
#9
Celebration
Dec 2012
#18
Paulie
Dec 2012
#49
Celebration
Dec 2012
#52
Paulie
Dec 2012
#55
Celebration
Dec 2012
#57
Paulie
Dec 2012
#62
mwooldri
Dec 2012
#11
Celebration
Dec 2012
#19
IDemo
Dec 2012
#20
Celebration
Dec 2012
#21
IDemo
Dec 2012
#27
Tempest
Dec 2012
#30
JustABozoOnThisBus
Dec 2012
#13
Celebration
Dec 2012
#17
JustABozoOnThisBus
Dec 2012
#22
Tempest
Dec 2012
#33
Celebration
Dec 2012
#40
Tempest
Dec 2012
#42
Celebration
Dec 2012
#44
Tempest
Dec 2012
#53
kestrel91316
Dec 2012
#36
Tempest
Dec 2012
#37
Celebration
Dec 2012
#38
Tempest
Dec 2012
#32
Celebration
Dec 2012
#39
Tempest
Dec 2012
#41
happyslug
Dec 2012
#51
Tempest
Dec 2012
#58
happyslug
Dec 2012
#61
yellowcanine
Dec 2012
#74
on point
Dec 2012
#10
mwooldri
Dec 2012
#12
hatrack
Dec 2012
#14
Tempest
Dec 2012
#29
Fumesucker
Dec 2012
#50
Celebration
Dec 2012
#46
tammywammy
Dec 2012
#56
cosmicone
Dec 2012
#15
Celebration
Dec 2012
#26
Tempest
Dec 2012
#28
Celebration
Dec 2012
#48
Xithras
Dec 2012
#31
Tempest
Dec 2012
#34
Celebration
Dec 2012
#43
Xithras
Dec 2012
#69
DallasNE
Dec 2012
#47
Igel
Dec 2012
#66
Cleita
Dec 2012
#59
Paulie
Dec 2012
#63
Cleita
Dec 2012
#67
Great Caesars Ghost
Dec 2012
#65
LeftInTX
Dec 2012
#68
bowens43
Dec 2012
#77
limpyhobbler
Dec 2012
#78
Fearless
Dec 2012
#81