Sat Dec 8, 2012, 12:23 AM
madfloridian (88,114 posts)
Charlie Crist signs papers to become a Democrat [View all]
Source:
Miami Herald
It was just a matter of time. Charlie Crist is becoming a Democrat.
Crist — Florida's former Republican governor who relished the tough-on-crime nickname "Chain Gang Charlie" and used to describe himself variously as a "Ronald Reagan Republican" and a "Jeb Bush Republican" — on Friday evening signed papers changing his party from independent to Democrat.
He did so during a Christmas reception at the White House, where President Obama greeted the news with a fist bump for the man who had a higher profile campaigning for Obama's reelection this year than any Florida Democrat.
The widely expected move positions Crist, 56, for another highly anticipated next step: announcing his candidacy for governor, taking on Republican incumbent Gov. Rick Scott and an untold number of Democrats who would challenge him for the Democratic gubernatorial nomination.
Read more:
http://www.miamiherald.com/2012/12/07/3132538/charlie-crist-signs-papers-to.html
---
Good for him. Look out, Rick Scott.
Signed papers at the White House Christmas reception.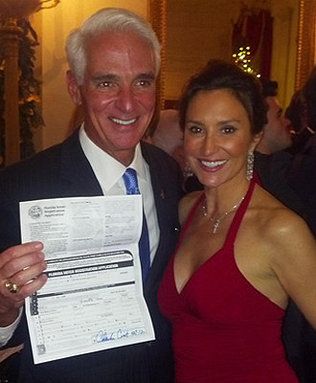 Charlie Crist and his wife, Carole, are shown at a White House Christmas reception on December 7. Crist tweeted the image out through his @charliecristfl twitter account.
128 replies, 20934 views
Replies to this discussion thread
128 replies
Author
Time
Post

Charlie Crist signs papers to become a Democrat

[View all]

madfloridian
Dec 2012
OP
Firebrand Gary
Dec 2012
#1
RBInMaine
Dec 2012
#2
madfloridian
Dec 2012
#7
amuse bouche
Dec 2012
#13
madfloridian
Dec 2012
#44
flpoljunkie
Dec 2012
#80
madfloridian
Dec 2012
#82
rhett o rick
Dec 2012
#85
madfloridian
Dec 2012
#88
rhett o rick
Dec 2012
#91
csziggy
Dec 2012
#100
Art_from_Ark
Dec 2012
#125
jeff47
Dec 2012
#94
TexasTowelie
Dec 2012
#3
Baitball Blogger
Dec 2012
#8
madfloridian
Dec 2012
#4
MynameisBlarney
Dec 2012
#5
Baitball Blogger
Dec 2012
#6
madfloridian
Dec 2012
#9
Baitball Blogger
Dec 2012
#10
madfloridian
Dec 2012
#14
Baitball Blogger
Dec 2012
#61
csziggy
Dec 2012
#103
Baitball Blogger
Dec 2012
#109
csziggy
Dec 2012
#111
GatorLarry
Dec 2012
#58
Baitball Blogger
Dec 2012
#62
Left Coast2020
Dec 2012
#97
Marie Marie
Dec 2012
#11
David Zephyr
Dec 2012
#12
amuse bouche
Dec 2012
#15
UpInArms
Dec 2012
#21
jaysunb
Dec 2012
#28
David Zephyr
Dec 2012
#119
obama2terms
Dec 2012
#16
calimary
Dec 2012
#36
NBachers
Dec 2012
#45
Andy Stanton
Dec 2012
#60
Rowdyboy
Dec 2012
#17
sheshe2
Dec 2012
#18
glinda
Dec 2012
#19
Grassy Knoll
Dec 2012
#39
madfloridian
Dec 2012
#40
glinda
Dec 2012
#126
shenmue
Dec 2012
#20
quakerboy
Dec 2012
#22
bluestateguy
Dec 2012
#23
olddad56
Dec 2012
#24
jsr
Dec 2012
#33
calimary
Dec 2012
#37
madfloridian
Dec 2012
#41
olddad56
Dec 2012
#64
madfloridian
Dec 2012
#66
csziggy
Dec 2012
#104
madfloridian
Dec 2012
#112
csziggy
Dec 2012
#117
madfloridian
Dec 2012
#118
csziggy
Dec 2012
#105
Jester Messiah
Dec 2012
#110
onehandle
Dec 2012
#25
madfloridian
Dec 2012
#26
sabrina 1
Dec 2012
#75
madfloridian
Dec 2012
#98
starroute
Dec 2012
#27
madfloridian
Dec 2012
#29
NickP
Dec 2012
#30
calimary
Dec 2012
#38
DAMANgoldberg
Dec 2012
#31
ornotna
Dec 2012
#32
madfloridian
Dec 2012
#35
madfloridian
Dec 2012
#34
csziggy
Dec 2012
#101
kysrsoze
Dec 2012
#42
Zambero
Dec 2012
#43
Resonance_Chamber
Dec 2012
#49
Zambero
Dec 2012
#72
RandiFan1290
Dec 2012
#46
Resonance_Chamber
Dec 2012
#48
Resonance_Chamber
Dec 2012
#47
csziggy
Dec 2012
#107
blkmusclmachine
Dec 2012
#50
lib2DaBone
Dec 2012
#87
oberliner
Dec 2012
#51
csziggy
Dec 2012
#108
katmondoo
Dec 2012
#52
Orlandodem
Dec 2012
#53
MsFlorida
Dec 2012
#54
Kingofalldems
Dec 2012
#55
katmondoo
Dec 2012
#56
loyalkydem
Dec 2012
#57
Andy Stanton
Dec 2012
#59
Zambero
Dec 2012
#74
DCBob
Dec 2012
#63
madfloridian
Dec 2012
#65
Starry Messenger
Dec 2012
#77
madfloridian
Dec 2012
#79
WeekendWarrior
Dec 2012
#67
are_you_serious_1234
Dec 2012
#68
Faygo Kid
Dec 2012
#69
Mustellus
Dec 2012
#70
rhett o rick
Dec 2012
#84
RiverSong
Dec 2012
#115
joanbarnes
Dec 2012
#71
boguspotus
Dec 2012
#73
Blunt477
Dec 2012
#76
adieu
Dec 2012
#78
Auntie Bush
Dec 2012
#81
Liberal_in_LA
Dec 2012
#83
rhett o rick
Dec 2012
#86
madfloridian
Dec 2012
#89
rhett o rick
Dec 2012
#90
madfloridian
Dec 2012
#93
rhett o rick
Dec 2012
#96
quaker bill
Dec 2012
#99
madfloridian
Dec 2012
#113
burnsei sensei
Dec 2012
#92
madfloridian
Dec 2012
#116
sarcasmo
Dec 2012
#95
Tippy
Dec 2012
#102
csziggy
Dec 2012
#106
LeftyMom
Dec 2012
#114
DonCoquixote
Dec 2012
#120
losangeleslibker
Dec 2012
#121
DonCoquixote
Dec 2012
#122
Downtown Hound
Dec 2012
#123
chervilant
Dec 2012
#124
madfloridian
Dec 2012
#127
chervilant
Dec 2012
#128