Sun Sep 19, 2021, 10:36 AM
Omaha Steve (82,919 posts)
Trudeau makes final appeal ahead of Canada's election [View all]
Source:
AP
By ROB GILLIES
TORONTO (AP) — On the final campaign day of a tight election battle, Canadian Prime Minister Justin Trudeau warned that his Conservative opponents would weaken the nation's battle against the pandemic and said Canadians need a government that follows science.
Polls indicate Trudeau's Liberal Party is in a close race with the rival Conservatives and that it is unlikely on Monday to get the outright majority needed to govern without relying on an opposition party to remain in power.
"We do not need a Conservative government that won't be able to show the leadership of vaccinations and on science that we need to end this," Trudeau said at a campaign stop in Montreal on Sunday.
Conservative leader Erin O'Toole has refused to say how many of his party's candidates are unvaccinated and Trudeau has been reminding Canadians of that at every opportunity.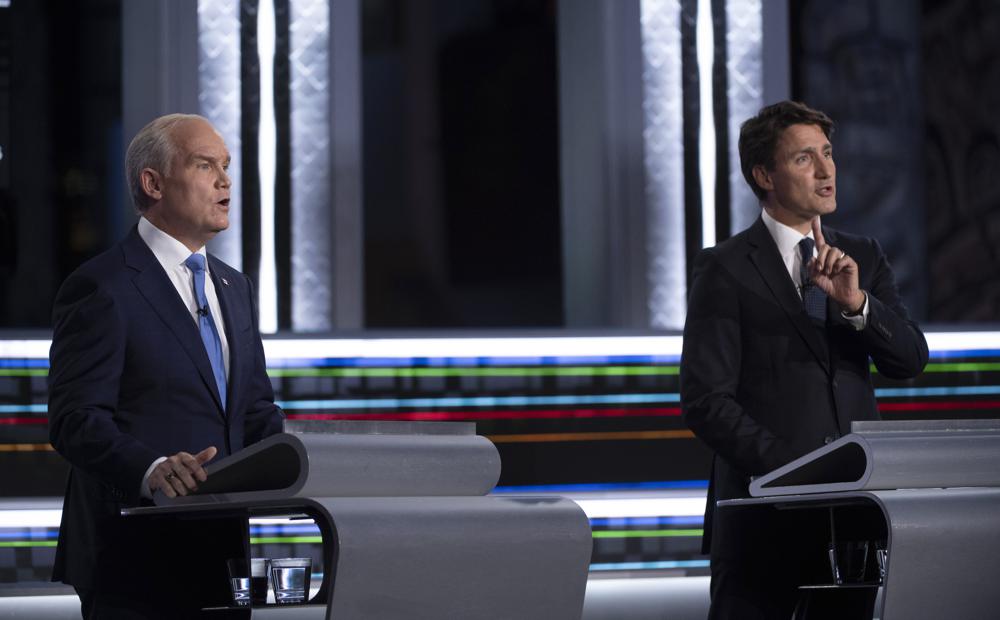 FILE - Conservative leader Erin O'Toole, left, and Liberal leader Justin Trudeau speak during the federal election French-language leaders debate, Wednesday, Sept. 8, 2021, in Gatineau, Que. Trudeau called the early election for Monday, Sept. 20 in hopes of winning a majority of seats in Parliament, but has faced criticism for calling a vote during a pandemic in order to cement his hold on power. (Justin Tang/The Canadian Press via AP)
Read more:
https://apnews.com/article/canada-health-elections-campaigns-montreal-25921d7ea250b884ce8118ed18616f7f
12 replies, 1679 views
Replies to this discussion thread
12 replies
Author
Time
Post

Trudeau makes final appeal ahead of Canada's election

[View all]

Omaha Steve
Sep 2021
OP
OnlinePoker
Sep 2021
#1
sabbat hunter
Sep 2021
#3
OnlinePoker
Sep 2021
#4
sabbat hunter
Sep 2021
#7
applegrove
Sep 2021
#6
Bev54
Sep 2021
#2
applegrove
Sep 2021
#5
healthnut7
Sep 2021
#11
BlueWavePsych
Sep 2021
#8
OnlinePoker
Sep 2021
#9
BlueWavePsych
Sep 2021
#12
zanana1
Sep 2021
#10