Mon Mar 8, 2021, 01:44 PM
riversedge (61,317 posts)
Roger Stone Associate With Oath Keepers Ties Arrested on Capitol Riot Charges [View all]
Source:
nbc
Law enforcement officials also identified another man Monday who is now facing charges in the Capitol riot case -- 32-year-old Isaac Sturgeon
By Jonathan Dienst and Joe Valiquette • Published 47 mins ago • Updated 19 mins ago
Rioters clash with police trying to enter Capitol building through the front doors, January 6, 2021.
A New York man with ties to Roger Stone and links to the far-right militia the Oath Keepers has been arrested by federal agents on charges tied to the Capitol riots in January, law enforcement officials with knowledge of the case told News 4 Monday.
Roberto Minuta, 36, is expected in federal court in White Plains later in the day.
Minuta, a tattoo artist, was previously identified by CNN and others as having provided security for Stone the morning of Jan. 6, prior to the riots. He was arrested at a business in the Newburgh area Saturday....................................
Read more:
https://www.nbcnewyork.com/news/local/roger-stone-associate-with-oath-keepers-ties-arrested-on-capitol-riot-charges/2930533/
---
pic of Munuta............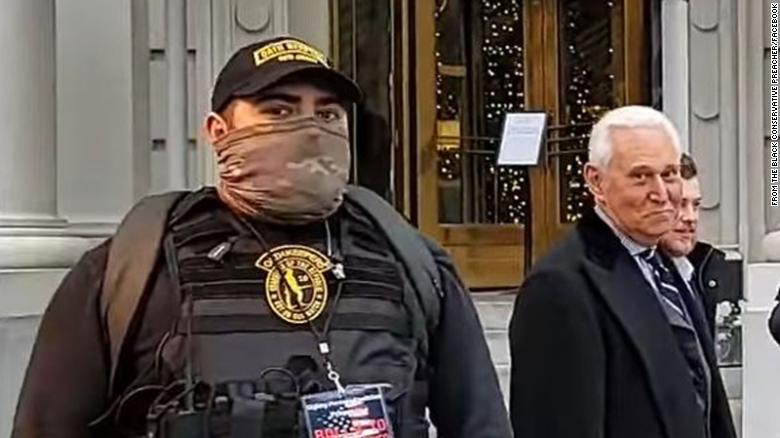 Roberto Minuta and others flank political operative Roger Stone on the morning of January 6th.
https://www.cnn.com/2021/02/10/politics/oath-keeper-minuta-stone-invs/index.html
12 replies, 1766 views
Replies to this discussion thread
12 replies
Author
Time
Post

Roger Stone Associate With Oath Keepers Ties Arrested on Capitol Riot Charges

[View all]

riversedge
Mar 2021
OP
greenjar_01
Mar 2021
#1
scarletwoman
Mar 2021
#2
OldBaldy1701E
Mar 2021
#10
dalton99a
Mar 2021
#3
FakeNoose
Mar 2021
#4
Midnight Writer
Mar 2021
#5
Ford_Prefect
Mar 2021
#6
C Moon
Mar 2021
#7
Tommymac
Mar 2021
#9
Ferryboat
Mar 2021
#8
Evolve Dammit
Mar 2021
#11
Yo_Mama_Been_Loggin
Mar 2021
#12