Mon Jul 13, 2020, 08:06 PM
Omaha Steve (75,838 posts)
Stocks slam into reverse as virus keeps scarring economy [View all]
Source:
AP
By STAN CHOE, DAMIAN J. TROISE and ALEX VEIGA
NEW YORK (AP) — Wall Street got a painful reminder of the threat the coronavirus pandemic poses to the economy Monday, and a big early gain for stocks suddenly flipped to losses after California rolled back its reopening plans amid a spike in cases.
The S&P 500 fell 0.9%, with all the losses accumulating in the last hour of trading, after California said it will extend closures of bars and indoor dining across the state, among other restrictions. It's one of many states across the U.S. West and South where coronavirus counts are accelerating and threatening the budding recovery that just got underway for the economy.
The announcement from California, which accounts for nearly 15% of the country's economy, combined with an escalation by the White House in its tensions with China to knock the market down from its earlier gain of 1.6%.
Technology stocks took the hardest hits, highlighted by Microsoft's swing from an early gain of 1% to a loss of 3.1%. It's a sharp step back for tech-oriented giants, which have been cruising higher through the pandemic on bets that they can keep growing almost regardless of the economy.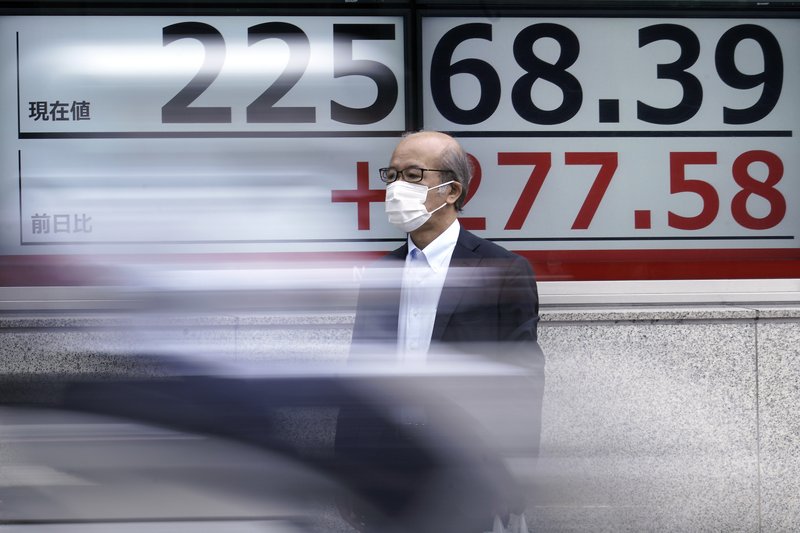 A man wearing a face mask to help curb the spread of the coronavirus stands near an electronic stock board showing Japan's Nikkei 225 index at a securities firm in Tokyo Monday, July 13, 2020. Asian shares rose Monday, cheered by recent upbeat projections on a global rebound tempered with worries about disappointment that could follow.(AP Photo/Eugene Hoshiko)
Read more:
https://apnews.com/f4129ff536b0fd83d91f6812e00ada6b
17 replies, 2287 views
Replies to this discussion thread
17 replies
Author
Time
Post

Stocks slam into reverse as virus keeps scarring economy

[View all]

Omaha Steve
Jul 2020
OP
soothsayer
Jul 2020
#1
regnaD kciN
Jul 2020
#2
yaesu
Jul 2020
#3
durablend
Jul 2020
#9
wishstar
Jul 2020
#4
gab13by13
Jul 2020
#5
George II
Jul 2020
#6
Shermann
Jul 2020
#7
paleotn
Jul 2020
#8
IronLionZion
Jul 2020
#10
Dopers_Greed
Jul 2020
#11
TeamPooka
Jul 2020
#12
Gilbert Moore
Jul 2020
#13
Bernardo de La Paz
Jul 2020
#14
ck4829
Jul 2020
#15
MissMillie
Jul 2020
#16
Steelrolled
Jul 2020
#17