Mon Jul 13, 2020, 05:52 PM
Omaha Steve (76,021 posts)
US rejects nearly all Chinese claims in South China Sea [View all]
Source:
AP
By MATTHEW LEE and LOLITA C. BALDOR
WASHINGTON (AP) — The Trump administration escalated its actions against China on Monday by stepping squarely into one of the most sensitive regional issues dividing them and rejecting outright nearly all of Beijing's significant maritime claims in the South China Sea.
The administration presented the decision as an attempt to curb China's increasing assertiveness in the region with a commitment to recognizing international law. But it will almost certainly have the more immediate effect of further infuriating the Chinese, who are already retaliating against numerous U.S. sanctions and other penalties on other matters.
It also comes as President Donald Trump has come under growing fire for his response to the COVID-19 pandemic, stepped up criticism of China ahead of the 2020 election and sought to paint his expected Democratic challenger, former Vice President Joe Biden, as weak on China.
Previously, U.S. policy had been to insist that maritime disputes between China and its smaller neighbors be resolved peacefully through U.N.-backed arbitration. But in a statement released Monday, Secretary of State Mike Pompeo said the U.S. now regards virtually all Chinese maritime claims outside its internationally recognized waters to be illegitimate. The shift does not involve disputes over land features that are above sea level, which are considered to be "territorial" in nature.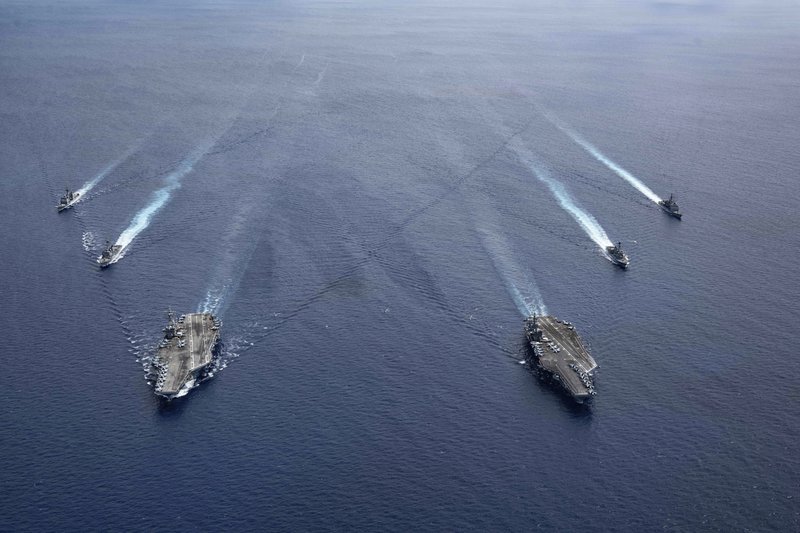 In this photo provided by U.S. Navy, the USS Ronald Reagan (CVN 76) and USS Nimitz (CVN 68) Carrier Strike Groups steam in formation, in the South China Sea, Monday, July 6, 2020. China on Monday, July 6, accused the U.S. of flexing its military muscles in the South China Sea by conducting joint exercises with two U.S. aircraft carrier groups in the strategic waterway.(Mass Communication Specialist 3rd Class Jason Tarleton/U.S. Navy via AP)
Read more:
https://apnews.com/07dc9cff9d42047cfcf28799112eb59d
20 replies, 1294 views
Replies to this discussion thread
20 replies
Author
Time
Post

US rejects nearly all Chinese claims in South China Sea

[View all]

Omaha Steve
Jul 2020
OP
bluewater
Jul 2020
#1
cstanleytech
Jul 2020
#2
bluewater
Jul 2020
#3
cstanleytech
Jul 2020
#4
bluewater
Jul 2020
#5
marie999
Jul 2020
#9
bluewater
Jul 2020
#10
marie999
Jul 2020
#12
rockfordfile
Jul 2020
#13
bluewater
Jul 2020
#14
marie999
Jul 2020
#19
Calista241
Jul 2020
#16
Roy Rolling
Jul 2020
#6
ripcord
Jul 2020
#7
Warpy
Jul 2020
#8
Calista241
Jul 2020
#17
Warpy
Jul 2020
#18
dalton99a
Jul 2020
#11
Tbear
Jul 2020
#15
Baclava
Jul 2020
#20