Fri Feb 14, 2020, 03:19 PM
Omaha Steve (95,778 posts)
Brrrr! Arctic front brings dangerous wind chills to Midwest [View all]
Source:
AP
MINNEAPOLIS (AP) ó Students stayed home from school Thursday and several businesses were closed in parts of the upper Midwest as arctic air pushed wind chill readings to dangerously low temperatures.
A wind chill warning was in effect for northeastern North Dakota and northern Minnesota, with wind chill readings plunging to more than 40 below zero (-40 Celsius) in some areas. Forecasters from the National Weather Service urged people to limit time outdoors and bundle up, as exposed skin could be subject to frostbite in as little as 10 minutes.
Itís possible that at least one death could be attributed to the cold. Police in Omaha said they found the body of Robert Freymuller, 80, early Thursday in a street not far from the assisted-living center where he lived. His death is being investigated, but police said he was not dressed appropriately for the weather; the wind chill had dropped to minus 26 degrees (minus 32 Celsius) at that time.
In Minnesota, the coldest wind chill reading was in Fosston, in northwestern Minnesota, where the wind chill reached 48 degrees below (-44 Celsius), the National Weather Service said.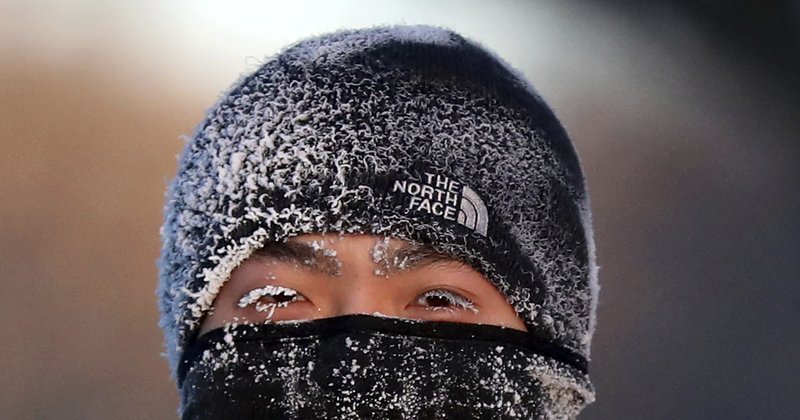 A runner wears the cold on his face while running along West River Parkway hills Thursday, Feb. 13, 2020, near downtown Minneapolis, with temperatures hovering near minus 30 degrees Fahrenheit with wind chills. (David Joles/Star Tribune via AP)
Read more:
https://apnews.com/ed2f68614ffa47d9fa19e6ed6a338d6b
---
Also see: Assisted living center resident found dead outside wasn't dressed for the cold, Omaha police say
https://www.omaha.com/news/local/assisted-living-center-resident-found-dead-outside-wasn-t-dressed/article_9a37f730-2d70-5e34-aa35-a37aee1976b6.html
14 replies, 2992 views
Replies to this discussion thread
14 replies
Author
Time
Post

Brrrr! Arctic front brings dangerous wind chills to Midwest

[View all]

Omaha Steve
Feb 2020
OP
SWBTATTReg
Feb 2020
#1
sarcasmo
Feb 2020
#2
Miguelito Loveless
Feb 2020
#3
htuttle
Feb 2020
#4
Maxheader
Feb 2020
#5
Nitram
Feb 2020
#6
Maxheader
Feb 2020
#12
Nitram
Feb 2020
#13
Maxheader
Feb 2020
#14
Greybnk48
Feb 2020
#7
Poiuyt
Feb 2020
#9
Greybnk48
Feb 2020
#10
Poiuyt
Feb 2020
#11
Polybius
Feb 2020
#8