Sat Dec 21, 2019, 08:40 AM
Omaha Steve (74,042 posts)
New Zealanders hand in 50,000 guns after assault weapon ban [View all]
Source:
AP
By NICK PERRY
WELLINGTON, New Zealand (AP) — New Zealand authorities said Saturday their country will be a safer place after owners handed in more than 50,000 guns during a buyback program following a ban on assault weapons. But critics say the process was flawed and many owners have illegally stashed their firearms.
The government banned the most lethal types of semi-automatic weapons less than a month after a lone gunman in March killed 51 worshippers at two Christchurch mosques. The police then launched a six-month program to buy the newly banned weapons from owners.
The buyback ended midnight Friday, with gun collection events staying open late as police reported in a surge in last-minute returns.
Provisional figures indicate 33,000 people handed in 51,000 guns, and another 5,000 guns as part of a parallel amnesty in which owners could hand over any type of firearm without any questions being asked but without getting compensated.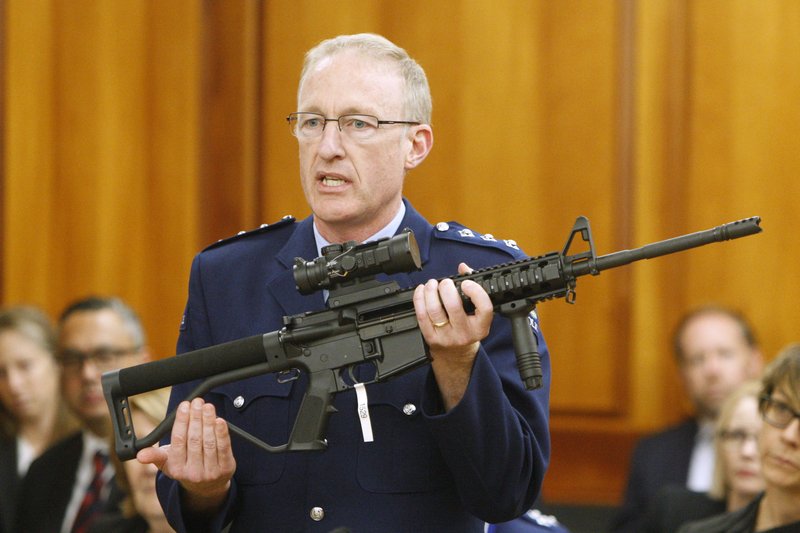 FILE - In this April 2, 2019, file photo, police acting superintendent Mike McIlraith shows New Zealand lawmakers an AR-15 style rifle similar to one of the weapons a gunman used to slaughter 51 worshippers at two Christchurch mosques, in Wellington, New Zealand. New Zealand authorities said Saturday, Dec. 21, 2019, their country will be a safer place after gun owners handed in more than 50,000 guns during a buyback program after the government banned assault weapons. But critics say the process was flawed and many owners have illegally stashed their guns. (AP Photo/Nick Perry, File)
Read more:
https://apnews.com/467c462a5bbc0af37eea20ed24af95df
35 replies, 3095 views
Replies to this discussion thread
35 replies
Author
Time
Post

New Zealanders hand in 50,000 guns after assault weapon ban

[View all]

Omaha Steve
Dec 2019
OP
groundloop
Dec 2019
#1
JonLP24
Dec 2019
#8
Name removed
Dec 2019
#31
Aristus
Dec 2019
#2
Submariner
Dec 2019
#3
NickB79
Dec 2019
#4
oldsoftie
Dec 2019
#5
discntnt_irny_srcsm
Dec 2019
#9
XRubicon
Dec 2019
#20
hughee99
Dec 2019
#6
JonLP24
Dec 2019
#7
oldsoftie
Dec 2019
#10
CTyankee
Dec 2019
#12
oldsoftie
Dec 2019
#16
CTyankee
Dec 2019
#19
oldsoftie
Dec 2019
#21
dware
Dec 2019
#23
CTyankee
Dec 2019
#24
dware
Dec 2019
#25
CTyankee
Dec 2019
#26
dware
Dec 2019
#28
JonLP24
Dec 2019
#30
dware
Dec 2019
#33
LiberalLovinLug
Dec 2019
#14
oldsoftie
Dec 2019
#17
Kaleva
Dec 2019
#18
JonLP24
Dec 2019
#29
hughee99
Dec 2019
#11
meadowlander
Dec 2019
#13
hughee99
Dec 2019
#22
Locrian
Dec 2019
#15
aeromanKC
Dec 2019
#27
Name removed
Dec 2019
#32
aeromanKC
Dec 2019
#34
marble falls
Dec 2019
#35