Thu Nov 7, 2019, 04:40 PM
BumRushDaShow (55,509 posts)
Roger Stone trial highlights volume of contacts he had with Trump and 2016 campaign [View all]
Source:
CNN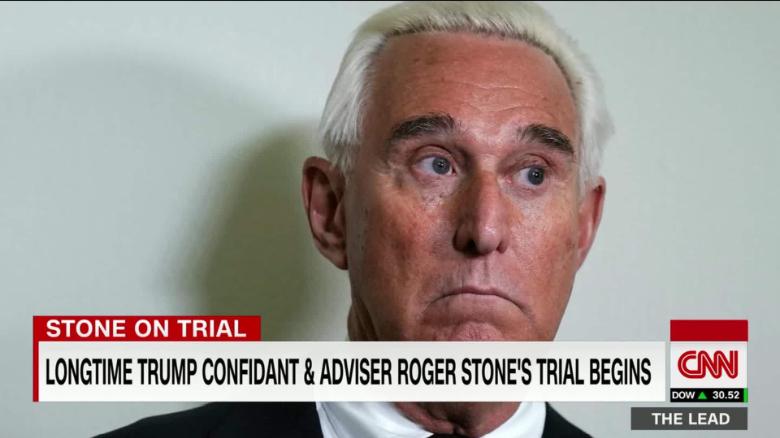 Washington (CNN)Federal prosecutors for the second time at Roger Stone's trial highlighted the volume of conversations Stone had with then-candidate Donald Trump and other top officials from his campaign throughout 2016. Prosecutors have attempted to paint a detailed image of who Stone spoke to and when, as the first witness, a former FBI agent who worked on the Stone case, wraps up her testimony. Stone is on trial in Washington for charges that include lying to Congress, witness tampering and obstructing justice in a case that stems from former special counsel Robert Mueller's investigation into Russian interference in the 2016 election. Stone has denied all wrongdoing.
During the Thursday morning proceedings, prosecutors showed line charts illustrating the contacts between Stone and top Trump campaign officials, and his associate Randy Credico, a witness in Mueller's investigation.Stone's contacts with then-top Trump campaign official Paul Manafort spiked in April 2016, according to one chart used in court with yellow, green and blue lines depicting Stone's communications with the campaign each month. Stone's evident conversations with Trump were much less than his conversations with Manafort and Manafort's deputy Rick Gates, but he still communicated with Trump a handful of times leading up to the election.
The chart played a relatively small role in the prosecution's rollout of evidence Thursday. Former FBI agent Michelle Taylor's testimony has focused more on Stone's alleged witness tampering -- how he threatened Credico several times over text and email -- and what he told the House Intelligence Committee in September 2017 about his supposed "backchannel" to WikiLeaks. A prosecutor highlighted during testimony Thursday how drastically Stone shifted his story and sent abusive texts and emails to Credico as he allegedly withheld information and documents from House investigators about his attempts to reach WikiLeaks in 2016.
Stone had actually told his associate Jerome Corsi to get to WikiLeaks' founder Julian Assange in 2016, but instead told the House that Credico was his backchannel to WikiLeaks. After Stone testified on the Hill, he sent scores of emails to Credico, threatening him and peppering his texts and emails with foul and explicit language. Credico had gotten a House subpoena in late 2017, and Stone implied he should lie to the House and told him to assert his Fifth Amendment right to avoid self-incrimination, according to testimony Thursday. "Because of Trump, I could never get away with asserting my Fifth Amendment right," Stone told Credico, adding he believed Credico could, according to the written evidence presented at trial.
Read more:
https://www.cnn.com/2019/11/07/politics/roger-stone-trial-phone-calls-house-intelligence-committee/index.html
---
Interesting to see this because the media reported on much of this and Ari even had Credico (and i think even Corsi) on his show a couple times.
I believe this was his Credico's first appearance -
I think this one was his 2nd time (in this case, after he testified for Mueller) -
14 replies, 1271 views
Replies to this discussion thread
14 replies
Author
Time
Post

Roger Stone trial highlights volume of contacts he had with Trump and 2016 campaign

[View all]

BumRushDaShow
Nov 7
OP
dewsgirl
Nov 7
#1
iluvtennis
Nov 7
#2
BumRushDaShow
Nov 7
#3
3Hotdogs
Nov 7
#4
BumRushDaShow
Nov 7
#6
3Hotdogs
Nov 7
#10
BumRushDaShow
Nov 7
#11
BigmanPigman
Nov 7
#5
BumRushDaShow
Nov 7
#7
BigmanPigman
Nov 7
#8
BumRushDaShow
Nov 7
#9
BigmanPigman
Nov 7
#12
BumRushDaShow
Nov 7
#13
Maxheader
Nov 7
#14