Mon Aug 6, 2012, 01:35 AM
Hissyspit (45,773 posts)
BREAKING NEWS: NASA's Curiosity Rover Touches Down on Mars [View all]
Source:
NBC News San Diego
"We are wheels down on Mars."
NASA's Curiosity rover scores touchdown on Mars

After 8 months of flight, spacecraft survives '7 minutes of terror' and lands safely
By Alan Boyle
Science editor
NBC News
updated 4 minutes ago
PASADENA, Calif. — After eight years of planning and eight months of interplanetary travel, NASA's Mars Science Laboratory pulled off a touchdown of Super Bowl proportions, all by itself.
The spacecraft plunged through Mars' atmosphere, fired up a rocket-powered platform and lowered the car-sized, 1-ton Curiosity rover to its landing spot in 96-mile-wide (154-kilometer-wide) Gale Crater. Then the platform flew off to its own crash landing, while Curiosity sent out a text message basically saying, "I made it!"
That message was relayed by the orbiting Mars Odyssey satellite back to Earth. A radio telescope in Australia picked up the message and sent it here to NASA's Jet Propulsion Laboratory. When the blips of data appeared on the screens at JPL's mission control, the room erupted in cheers and hugs.
Because of the light-travel time between Mars and Earth, throngs of scientists and engineers — along with millions who were monitoring the action via television and the Internet — celebrated Curiosity's landing 14 minutes after it actually occurred.
Read more:
http://www.nbcnews.com
---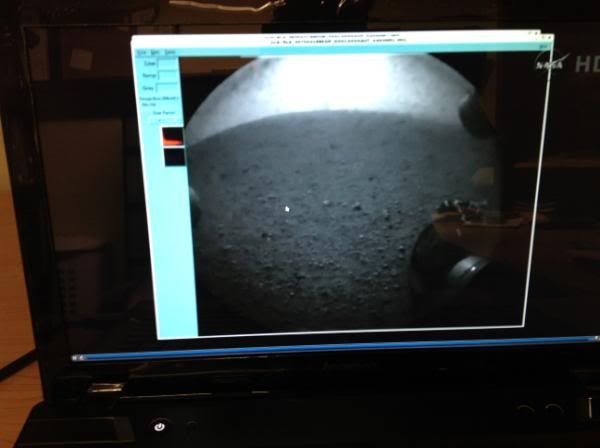 (H/T: Image courtesy of DUer pokerfan)
https://twitter.com/MarsCuriosity/status/232352290919567361/photo/1/large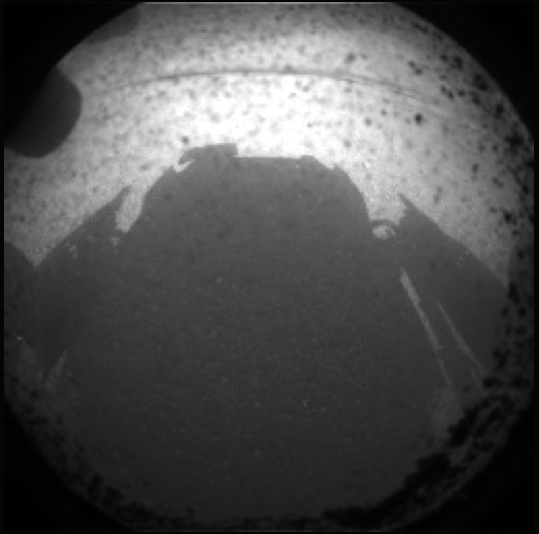 45 replies, 7174 views
Replies to this discussion thread
45 replies
Author
Time
Post

BREAKING NEWS: NASA's Curiosity Rover Touches Down on Mars

[View all]

Hissyspit
Aug 2012
OP
crimson77
Aug 2012
#1
vanlassie
Aug 2012
#2
neverforget
Aug 2012
#3
Rhiannon12866
Aug 2012
#4
christx30
Aug 2012
#19
Rhiannon12866
Aug 2012
#23
christx30
Aug 2012
#39
enlightenment
Aug 2012
#5
Rowdyboy
Aug 2012
#6
CherokeeDem
Aug 2012
#9
Rowdyboy
Aug 2012
#24
neverforget
Aug 2012
#14
Rowdyboy
Aug 2012
#25
Daphne08
Aug 2012
#29
msongs
Aug 2012
#7
caveat_imperator
Aug 2012
#20
nenagh
Aug 2012
#8
Ninjaneer
Aug 2012
#10
UrbScotty
Aug 2012
#11
former9thward
Aug 2012
#43
UrbScotty
Aug 2012
#44
uppityperson
Aug 2012
#12
Skittles
Aug 2012
#26
part man all 86
Aug 2012
#13
Warren DeMontague
Aug 2012
#15
AllyCat
Aug 2012
#16
Grown2Hate
Aug 2012
#22
intaglio
Aug 2012
#28
IcyPeas
Aug 2012
#17
RexDart
Aug 2012
#18
Grown2Hate
Aug 2012
#21
Comrade Grumpy
Aug 2012
#27
Peace Patriot
Aug 2012
#30
truthisfreedom
Aug 2012
#31
NBachers
Aug 2012
#32
libodem
Aug 2012
#33
dipsydoodle
Aug 2012
#34
sofa king
Aug 2012
#35
Lucinda
Aug 2012
#42
Odin2005
Aug 2012
#36
krispos42
Aug 2012
#37
sofa king
Aug 2012
#38
Uncle Joe
Aug 2012
#40
PlanetBev
Aug 2012
#41
Franker65
Aug 2012
#45