Sat Jul 28, 2012, 08:20 AM
onehandle (51,122 posts)
Opening Ceremony London 2012: Did director take shot at US on health care? [View all]
Source:
Christian Science Monitor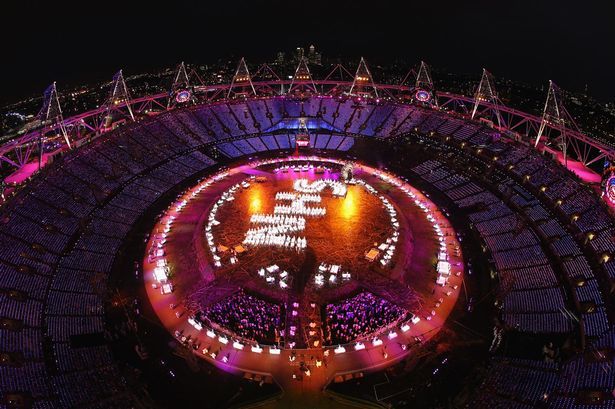 Of all the things to laud in Britain's long history, the director of the opening ceremonies for the London Olympics chose for his second act ... universal health care. Yes, that "NHS" spelled out by hospital beds in Friday's opening ceremonies stands for Britain's National Health Service – the government-run universal health-care system that director Danny Boyle called an "amazing thing to celebrate." Bob Costas, you're not in Kansas anymore.
It is more than a little bit presumptuous to imagine that Mr. Boyle was sending coded political messages to American voters who can't here the words "universal" and "health care" in the same sentence without invoking the Commerce Clause. But that doesn't mean Boyle didn't have a message. He insisted that message was not political, but rather a reflection of the values that British society holds dear and emanates to the world.
"One of the reasons we put the NHS in the show is that everyone is aware of how important the NHS is to everybody in this country," he said at a press conference earlier in the day. "One of the core values of our society is that it doesn't matter who you are, you will get treated the same in terms of health care."
But not everyone agreed that the message had no hint of politics. "NHS beds dominated the infield for so long that it seemed more a political message than a tribute to our hardworking nurses," wrote the Daily Mail, adding that the spectacle "at times bordered on left-wing propaganda."
Read more:
http://www.csmonitor.com/World/Olympics/2012/0728/Opening-Ceremony-London-2012-Did-director-take-shot-at-US-on-health-care
---
Our idiocy was clearly being schooled.
Heh.
58 replies, 10583 views
Replies to this discussion thread
58 replies
Author
Time
Post

Opening Ceremony London 2012: Did director take shot at US on health care?

[View all]

onehandle
Jul 2012
OP
dipsydoodle
Jul 2012
#1
Firebrand Gary
Jul 2012
#2
supernova
Jul 2012
#3
bulloney
Jul 2012
#5
Spitfire of ATJ
Jul 2012
#9
MADem
Jul 2012
#36
Va Lefty
Jul 2012
#4
sarge43
Jul 2012
#21
AmyDeLune
Jul 2012
#50
applegrove
Jul 2012
#49
Ineeda
Jul 2012
#6
BlueJazz
Jul 2012
#7
Spitfire of ATJ
Jul 2012
#8
Rosa Luxemburg
Jul 2012
#10
marmar
Jul 2012
#11
1monster
Jul 2012
#12
mountain grammy
Jul 2012
#13
AllyCat
Jul 2012
#16
florida08
Jul 2012
#14
AllyCat
Jul 2012
#15
frazzled
Jul 2012
#17
flamingdem
Jul 2012
#24
nadinbrzezinski
Jul 2012
#39
flamingdem
Jul 2012
#40
Bluenorthwest
Jul 2012
#18
yellerpup
Jul 2012
#20
rocktivity
Jul 2012
#19
ck4829
Jul 2012
#22
Solly Mack
Jul 2012
#23
Historic NY
Jul 2012
#25
Ruby the Liberal
Jul 2012
#26
Gormy Cuss
Jul 2012
#30
CanSocDem
Jul 2012
#31
LeftishBrit
Jul 2012
#57
Thinkingabout
Jul 2012
#27
Lydia Leftcoast
Jul 2012
#43
Betty Jo
Jul 2012
#53
malthaussen
Jul 2012
#28
arely staircase
Jul 2012
#29
We are Devo
Jul 2012
#32
MADem
Jul 2012
#38
dballance
Jul 2012
#33
gopiscrap
Jul 2012
#34
valerief
Jul 2012
#35
myrna minx
Jul 2012
#37
Mz Pip
Jul 2012
#41
truth2power
Jul 2012
#42
lovuian
Jul 2012
#44
awoke_in_2003
Jul 2012
#45
awoke_in_2003
Jul 2012
#46
YOHABLO
Jul 2012
#47
Scurrilous
Jul 2012
#48
tex-wyo-dem
Jul 2012
#51
LeftishBrit
Jul 2012
#58
BeyondGeography
Jul 2012
#52
dipsydoodle
Jul 2012
#54
suffragette
Jul 2012
#55
LeftishBrit
Jul 2012
#56