Tue Jul 17, 2012, 12:20 AM
Hissyspit (45,773 posts)
Cheering Crowd and Arena Camera Get Obamas to Kiss [View all]
Source:
Associated Press
Cheering crowd and arena camera get Obamas to kiss
KEN THOMAS
From Associated Press
July 16, 2012 11:39 PM EDT
- snip -
President Barack Obama and his wife, Michelle, were taking in Monday night's USA Basketball exhibition game when the Verizon Center's "Kiss Cam" turned its eye their way. Their image on the huge arena screen prompted the crowd to cheer — a not-so-subtle hint that Obama plant one on the first lady.
Both smiled, but Obama just put his arm around his wife as the game resumed. That cautious reaction brought some boos.
Obama got a do-over later in the game when the Kiss Cam swung back his way. This time he delivered, giving Mrs. Obama a big kiss on the lips. And a peck on the forehead for good measure.
And the crowd roared.
Read more:
http://enews.earthlink.net/article/top?guid=20120716/e9b82cd3-063d-4770-af69-d137fde0b78f
---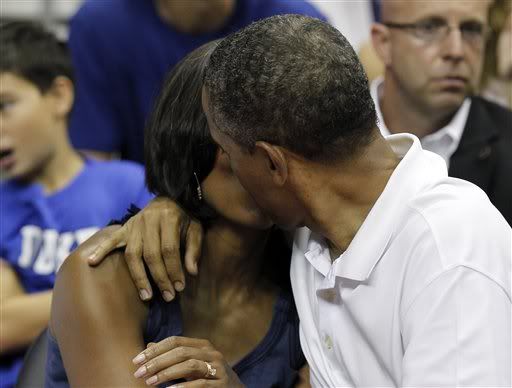 President Barack Obama, right, kisses first lady Michelle Obama for the 'Kiss Cam' while attending the Olympic men's exhibition basketball game between Team USA and Brazil, Monday, July 16, 2012, in Washington. Team USA won 80-69. (AP Photo - Alex Brandon)
18 replies, 4682 views
Replies to this discussion thread
18 replies
Author
Time
Post

Cheering Crowd and Arena Camera Get Obamas to Kiss

[View all]

Hissyspit
Jul 2012
OP
MADem
Jul 2012
#1
freshwest
Jul 2012
#2
elleng
Jul 2012
#3
DearAbby
Jul 2012
#4
rocktivity
Jul 2012
#5
Grassy Knoll
Jul 2012
#6
Suji to Seoul
Jul 2012
#9
coalition_unwilling
Jul 2012
#12
Liberal_Stalwart71
Jul 2012
#16
longship
Jul 2012
#11
alp227
Jul 2012
#14
HangOnKids
Jul 2012
#18
SunSeeker
Jul 2012
#7
Suji to Seoul
Jul 2012
#8
CBHagman
Jul 2012
#10
coalition_unwilling
Jul 2012
#13
Thrill
Jul 2012
#15
Hissyspit
Jul 2012
#17