Sat Jul 7, 2012, 08:27 PM
Hissyspit (45,782 posts)
Congressman Barney Frank Weds in Same-Sex Marriage [View all]
Source:
Reuters
Congressman Barney Frank weds in same-sex marriage
Sat Jul 7, 2012 8:19pm EDT
By Tim McLaughlin
BOSTON (Reuters) - U.S. Democratic Representative Barney Frank wed his longtime partner, James Ready, on Saturday, becoming the first sitting congressman to enter into a same-sex marriage.
Massachusetts Governor Deval Patrick officiated the ceremony and added some levity by saying Frank, 72, and Ready, 42, had vowed to love each other through Democratic and Republican administrations alike, and even through appearances on Fox News, according to Al Green, a Democratic congressman from Texas.
"Barney was beaming," said Green, who attended the ceremony. He added that Frank, a champion of gay rights and the sweeping reform of Wall Street, shed a tear during the ceremony.
After exchanging their vows, Frank and Ready embraced each other, Green said. "It was no different than any other wedding I've attended when you have two people who are in love with each other," Green said.
Read more:
http://www.reuters.com/article/idUSBRE86700820120708?irpc=932
---
http://www.nytimes.com/2012/07/08/fashion/weddings/barney-frank-wedding-jim-ready.html
VOWS
Barney Frank Weds Jim Ready


Gretchen Ertl for The New York Times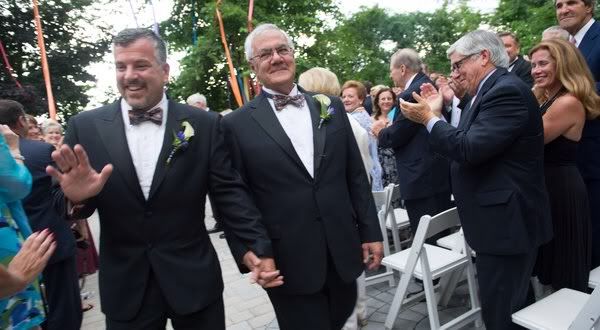 Newtown, MASS., JULY 7 Representative Barney Frank, right, with Jim Ready after their wedding ceremony.
By MICHAEL M. GRYNBAUM
Published: July 7, 2012
IT was perhaps fitting that Representative Barney Frank met his future husband, Jim Ready, at a political fund-raiser in 2005.
"I told him I had a crush on him for 20 years," said Mr. Ready, recalling that meeting.
And what did Mr. Frank make of that? "That I'm being rewarded for coming to this fund-raiser," he said with a laugh.
Mr. Frank, 72, and Mr. Ready, 42, were married in Newtown, Mass., on Saturday in a low-key ceremony on the banks of the Charles River. Gov. Deval L. Patrick of Massachusetts officiated. The guests included Nancy Pelosi, the Democratic House minority leader, as well as Senator John Kerry and Representatives Dennis J. Kuchinich and Steny H. Hoyer.
67 replies, 13953 views
Replies to this discussion thread
67 replies
Author
Time
Post

Congressman Barney Frank Weds in Same-Sex Marriage

[View all]

Hissyspit
Jul 2012
OP
DearAbby
Jul 2012
#1
Kalidurga
Jul 2012
#2
Hissyspit
Jul 2012
#4
Kalidurga
Jul 2012
#11
goclark
Jul 2012
#34
glinda
Jul 2012
#3
alp227
Jul 2012
#7
spooky3
Jul 2012
#19
alp227
Jul 2012
#20
Fearless
Jul 2012
#26
alp227
Jul 2012
#28
Fearless
Jul 2012
#30
tru
Jul 2012
#43
spooky3
Jul 2012
#61
Rhiannon12866
Jul 2012
#5
graywarrior
Jul 2012
#6
MrSlayer
Jul 2012
#8
Hissyspit
Jul 2012
#18
valerief
Jul 2012
#9
GliderGuider
Jul 2012
#10
Kaleko
Jul 2012
#59
tpsbmam
Jul 2012
#12
Control-Z
Jul 2012
#13
Gothmog
Jul 2012
#14
gateley
Jul 2012
#15
cyberswede
Jul 2012
#16
handmade34
Jul 2012
#17
crimson77
Jul 2012
#21
MannyGoldstein
Jul 2012
#25
crimson77
Jul 2012
#51
MannyGoldstein
Jul 2012
#64
crimson77
Jul 2012
#67
Marrah_G
Jul 2012
#38
Gormy Cuss
Jul 2012
#47
Marrah_G
Jul 2012
#53
crimson77
Jul 2012
#50
Marrah_G
Jul 2012
#54
Bohunk68
Jul 2012
#60
Hissyspit
Jul 2012
#63
Kali
Jul 2012
#22
Evergreen Emerald
Jul 2012
#44
RufusTFirefly
Jul 2012
#23
kestrel91316
Jul 2012
#24
6502
Jul 2012
#27
mountain grammy
Jul 2012
#29
Arctic Dave
Jul 2012
#31
HarveyDarkey
Jul 2012
#32
Vidar
Jul 2012
#33
Curtland1015
Jul 2012
#35
treestar
Jul 2012
#48
kickysnana
Jul 2012
#36
Marrah_G
Jul 2012
#37
ohgeewhiz
Jul 2012
#41
maddezmom
Jul 2012
#39
no_hypocrisy
Jul 2012
#40
otherone
Jul 2012
#42
riderinthestorm
Jul 2012
#45
Doc Holliday
Jul 2012
#46
Auntie Bush
Jul 2012
#49
aquart
Jul 2012
#52
southern_belle
Jul 2012
#55
earcandle
Jul 2012
#56
pepperbear
Jul 2012
#57
LACarMan
Jul 2012
#58
randome
Jul 2012
#62
AtomicKitten
Jul 2012
#65
pitohui
Jul 2012
#66