Tue Mar 15, 2016, 05:25 PM
Attorney in Texas (3,373 posts)
Live Mini Super Tuesday Democratic Exit Poll Analysis [View all]
Source:
ABC News
Free trade: Sanders took advantage of economic worries in his surprise victory in Michigan last week. Among other results, 57 percent of Democratic voters said free trade takes more jobs than it creates, and Sanders won them over Clinton by 15 percentage points, 56-41 percent. Today, in preliminary exit poll results, a similar number in Ohio likewise see free trade as a negative, vs. fewer than half in Illinois, Missouri and North Carolina. Worth keeping an eye on as the night unfolds is how these anti-free-traders vote, especially in Ohio.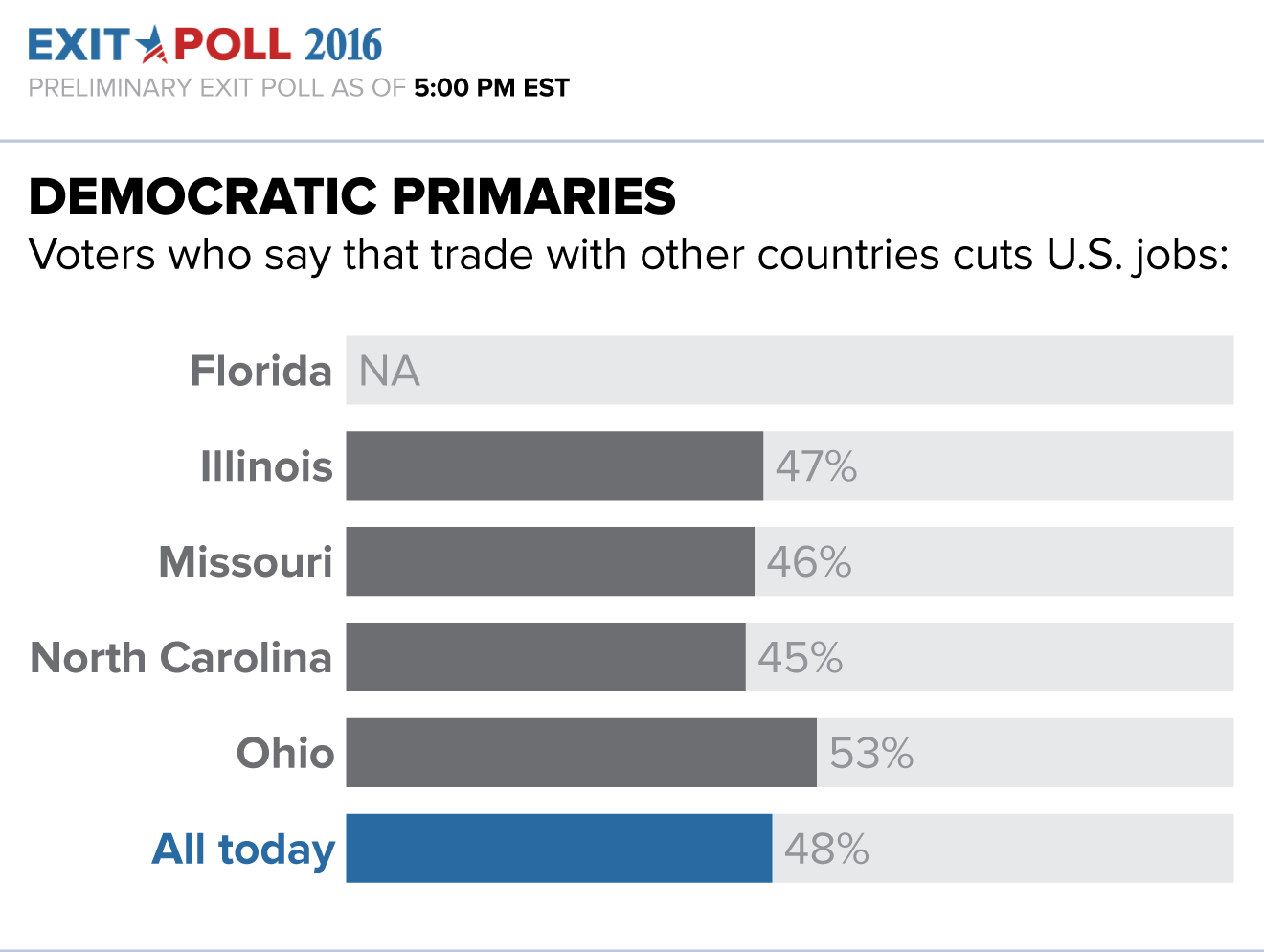 ...
Attributes: Sanders also was helped in Michigan by the fact that six in 10 voters picked either honesty or empathy as the most important candidates attributes in their vote, higher than the average so far. In today's states, more than half are focused on those traits, peaking at six in 10 in Illinois and Missouri and bottoming out at fewer than half in Florida. (Clinton, for her part, has dominated in previous contests among those focused on experience or electability.)
...
Honesty: That said, electability has not been a key voter concern, and Clinton's been vulnerable on the question of honesty and trustworthiness. Across today's states, only six in 10 Democratic voters in preliminary exit poll results describe Clinton as honest and trustworthy, while eight in 10 say that about Sanders. Sanders is considered more honest in all five states today, including by a wide margin in Missouri, but also by double-digits in Ohio.
Read more:
http://abcnews.go.com/Politics/live-mini-super-tuesday-democratic-exit-poll-analysis/story?id=37666687
7 replies, 2545 views
Replies to this discussion thread
7 replies
Author
Time
Post

Live Mini Super Tuesday Democratic Exit Poll Analysis

[View all]

Attorney in Texas
Mar 2016
OP
billhicks76
Mar 2016
#1
Erich Bloodaxe BSN
Mar 2016
#3
Cavallo
Mar 2016
#4
Erich Bloodaxe BSN
Mar 2016
#6
Cavallo
Mar 2016
#7
Z_California
Mar 2016
#2
JDPriestly
Mar 2016
#5