Tue May 8, 2012, 09:16 PM
Hissyspit (45,772 posts)
Breaking: North Carolina Passes Amendment to Ban Gay Marriage [View all]
Last edited Wed May 9, 2012, 02:54 AM - Edit history (2)
Source:
AP / MSNBC
NC approves amendment on gay marriage
By MARTHA WAGGONER, Associated Press – 5 minutes ago
RALEIGH, N.C. (AP) — North Carolina voters have approved a constitutional amendment defining marriage solely as a union between a man and a woman, making it the 30th state to adopt such a ban.
With 35 percent of precincts reporting Tuesday, unofficial returns showed the amendment passing with about 58 percent of the vote to 42 percent against.
In the days before the vote, members of President Barack Obama's cabinet expressed support for gay marriage and former President Bill Clinton recorded phone messages urging voters to reject the amendment.
Meanwhile, supporters ran their own ad campaigns and church leaders urged Sunday congregations to vote for the amendment. The Rev. Billy Graham was featured in full-page newspaper ads supporting the amendment.
Read more:
http://www.google.com/hostednews/ap/article/ALeqM5jMc52sVsFTFWWyrhx6CZZlko3Omg?docId=3e14159cd8044b958b3d26ef8e32c0d4
---
Oh, I am so proud of my idiot state tonight.
Unconstitutional AND bigoted to boot.
http://www.prop8trialtracker.com/2012/05/07/north-carolina-prop-8-backers-responsible-for-anti-gay-amendment-1s-broad-language/
North Carolina: Prop 8 backers Alliance Defense Fund responsible for anti-gay Amendment 1's broad language
May 7, 2012
By Scottie Thomaston
The language of North Carolina's Amendment 1 – that the "only domestic legal union" that will be "valid or recognized" in North Carolina – is exceptionally broad and incredibly unclear. The ballot language is also unprecedented and undefined in North Carolina law. Since the proponents of the amendment went forward with the proposed amendment language, questions have been raised often about whether the amendment will eliminate protections against domestic violence for those in domestic partnerships. The statute relied upon in domestic violence cases uses a defined set of "recognize(d)" relationships. But the amendment clearly changes North Carolina law to only "recognize" one type of relationship: marriage between a man and a woman. And even research linked on the Vote For Marriage NC site – the website of the proponents – admits the amendment will ban civil unions and domestic partnerships. This will eliminate all the rights associated with currently existing domestic partnerships, including children's health insurance.
It didn't have to be this way:
This weekend, (NC House Majority Leader) Stam finally explained (why the amendment's language is so broad and unclear) to the Fayetteville Observer who reported it this way. Stam, the Raleigh lawmaker, said he wanted a more narrowly worded amendment but was "overruled" by "national experts" he identified as the Alliance Defense Fund, a Christian legal advocacy group.
The Alliance Defense Fund is a leader in pushing anti-gay initiatives. They helped put Proposition 8 on the ballot. In fact, they fought to make Proposition 8′s language unclear:
Having lost its legal battle in May, the ADF has since redirected its efforts to guaranteeing Prop 8′s passage in November. Specifically, the group has attempted to finagle the initiative's language, controlling how it will be read by voters at the ballot box. In early August, ADF lawyers filed an appeal with the court to reverse state Attorney General Jerry Brown's decision that changed the words "limit on marriage" to "eliminates right of same-sex couples to marry" in Prop 8′s title. While the modification is much clearer as to the initiative's true intent, ADF Senior Counsel Joseph Infranco seemed to realize that such clearly worded language would turn off moderate voters. By arguing that "election ballot titles should be neutral and not intentionally prejudice voters," while at the same time advocating for vaguer language, Infranco perhaps revealed his own suspicion that Prop 8 must be misrepresented in order to pass. However, the court denied the appeal, affirming Brown's new wording.
And there is a reason for their desire to make the language as vague as possible:
The authors just don't believe that same-sex marriage is wrong, they believe that it leads to "polygamy, endogamy(the marriage of blood relatives), bestiality and child marriage," comments by the way that Stam himself made during the legislative debate last year.

MORE AT LINK
http://www.wral.com/news/political/page/10991843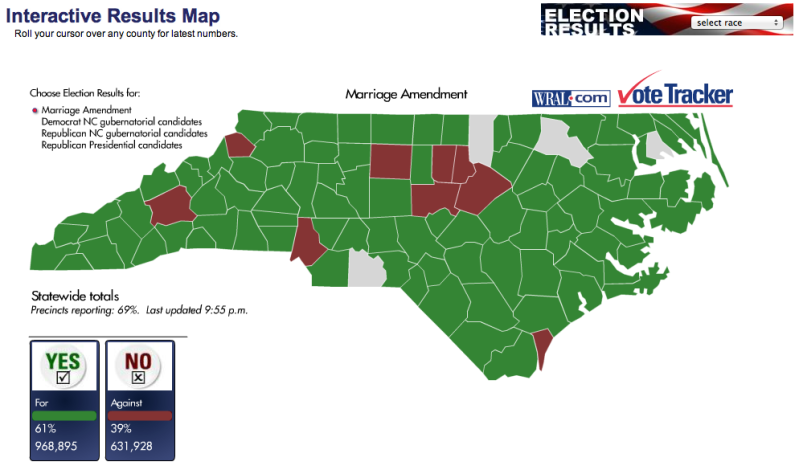 88 replies, 15495 views
Replies to this discussion thread
88 replies
Author
Time
Post

Breaking: North Carolina Passes Amendment to Ban Gay Marriage

[View all]

Hissyspit
May 2012
OP
Post removed
May 2012
#1
PFunk
May 2012
#3
Post removed
May 2012
#7
JoePhilly
May 2012
#15
Fearless
May 2012
#20
yardwork
May 2012
#28
A wise Man
May 2012
#69
Ruby the Liberal
May 2012
#76
nolabear
May 2012
#4
PFunk
May 2012
#8
Crow73
May 2012
#5
rexcat
May 2012
#73
yardwork
May 2012
#78
rexcat
May 2012
#80
unc70
May 2012
#81
rexcat
May 2012
#82
yardwork
May 2012
#84
rexcat
May 2012
#85
yardwork
May 2012
#86
rexcat
May 2012
#87
FBaggins
May 2012
#6
Jamaal510
May 2012
#12
Change has come
May 2012
#40
Liberal_Stalwart71
May 2012
#46
Blue_Tires
May 2012
#72
obamanut2012
May 2012
#13
DURHAM D
May 2012
#17
roguevalley
May 2012
#14
DLine
May 2012
#2
LonePirate
May 2012
#10
LarryNM
May 2012
#9
richmwill
May 2012
#11
ncgrits
May 2012
#31
JoePhilly
May 2012
#16
totodeinhere
May 2012
#57
Iliyah
May 2012
#18
Hissyspit
May 2012
#19
Fearless
May 2012
#21
Politicub
May 2012
#22
Hissyspit
May 2012
#23
xchrom
May 2012
#24
cstanleytech
May 2012
#25
MNBrewer
May 2012
#26
Bolo Boffin
May 2012
#27
MNBrewer
May 2012
#29
Hissyspit
May 2012
#30
gauguin57
May 2012
#32
Bolo Boffin
May 2012
#39
Alcibiades
May 2012
#53
Politicub
May 2012
#34
MNBrewer
May 2012
#36
Jamastiene
May 2012
#41
Occulus
May 2012
#33
Smilo
May 2012
#35
bowens43
May 2012
#37
BlueIris
May 2012
#61
young_at_heart
May 2012
#38
_ed_
May 2012
#42
Alcibiades
May 2012
#55
Jamastiene
May 2012
#43
yardwork
May 2012
#45
DURHAM D
May 2012
#47
Fearless
May 2012
#50
humbled_opinion
May 2012
#44
supernova
May 2012
#48
musical_soul
May 2012
#49
pinto
May 2012
#51
Marksman_91
May 2012
#52
Fearless
May 2012
#54
totodeinhere
May 2012
#58
jeff47
May 2012
#71
yardwork
May 2012
#79
DLine
May 2012
#56
queenjane
May 2012
#65
Behind the Aegis
May 2012
#59
alp227
May 2012
#60
Suji to Seoul
May 2012
#62
24601
May 2012
#88
RushIsRot
May 2012
#63
dmosh42
May 2012
#64
CRK7376
May 2012
#68
dmosh42
May 2012
#77
azurnoir
May 2012
#66
iandhr
May 2012
#67
progressoid
May 2012
#70
Blue_Tires
May 2012
#74
carolinayellowdog
May 2012
#75
4th law of robotics
May 2012
#83