Sun Jul 22, 2012, 02:47 PM
Are_grits_groceries (16,845 posts)
The Muppets Dump Chick-Fil-A [View all]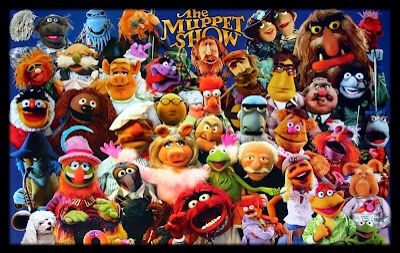 The Muppets have dumped their partnership with Chick-Fil-A after having sold the company Creature Shop toys for the chain's kid's meals. The Jim Henson Company has posted a statement to their Facebook page:
The Jim Henson Company has celebrated and embraced diversity and inclusiveness for over fifty years and we have notified Chick-Fil-A that we do not wish to partner with them on any future endeavors. Lisa Henson, our CEO is personally a strong supporter of gay marriage and has directed us to donate the payment we received from Chick-Fil-A to GLAAD.
http://joemygod.blogspot.com/2012/07/the-muppets-dump-chick-fil-a.html
Yay!
40 replies, 14575 views
Replies to this discussion thread
40 replies
Author
Time
Post

The Muppets Dump Chick-Fil-A

[View all]

Are_grits_groceries
Jul 2012
OP
Kalidurga
Jul 2012
#1
Spitfire of ATJ
Jul 2012
#7
dogknob
Jul 2012
#16
hootinholler
Jul 2012
#20
Spitfire of ATJ
Jul 2012
#21
Ken Burch
Jul 2012
#38
Ken Burch
Jul 2012
#32
Spitfire of ATJ
Jul 2012
#33
Ken Burch
Jul 2012
#34
Spitfire of ATJ
Jul 2012
#35
Ken Burch
Jul 2012
#36
Spitfire of ATJ
Jul 2012
#37
Ken Burch
Jul 2012
#39
piperpibroch
Jul 2012
#2
fishwax
Jul 2012
#3
rhett o rick
Jul 2012
#4
UnrepentantLiberal
Jul 2012
#13
dgibby
Jul 2012
#5
Towlie
Jul 2012
#27
kellytore
Jul 2012
#6
ThatsMyBarack
Jul 2012
#18
kellytore
Jul 2012
#25
Kees
Jul 2012
#8
ThatsMyBarack
Jul 2012
#19
Daemonaquila
Jul 2012
#9
FLyellowdog
Jul 2012
#10
Faygo Kid
Jul 2012
#11
VWolf
Jul 2012
#12
Diclotican
Jul 2012
#26
VWolf
Jul 2012
#31
Diclotican
Jul 2012
#40
joeybee12
Jul 2012
#14
indepat
Jul 2012
#15
beac
Jul 2012
#24
Blue_In_AK
Jul 2012
#17
craigmatic
Jul 2012
#22
Renew Deal
Jul 2012
#23
NoMittens
Jul 2012
#28
Phentex
Jul 2012
#29
slampoet
Jul 2012
#30