Sat Dec 31, 2011, 03:01 PM
PeaceNikki (27,954 posts)
How Wisconsin has changed my life in 2011. [View all]
I love my state. I always have. I have been proud to come form a place with such a rich history of Socialist movements, union and labor pride, and to be able to call a politician like Russ Feingold my representative. The mid-term elections broke my spirit and my heart. We lost a progressive voice, gained a worthless suit in his place and an evil monster at the helm of our state. I was devastated and wanted to just stop caring at all about politics. I gave up.
And then it happened.
On Feb. 7, with Wisconsin united in the afterglow of a Green Bay Packers victory in the Super Bowl, brand-new Gov. Scott Walker convened a dinner meeting of his Cabinet at the Governor's Mansion.
Walker held up a photo of President Ronald Reagan, who had famously fired striking air-traffic controllers, and said his plan to sweep away decades of protections for state public employees in a stop-gap budget bill represented "our time to change the course of history."
The budget-repair bill, which would strip most collective-bargaining rights from 175,000 public-sector workers while imposing immediate benefits concessions, went public four days later. Walker, a Republican, called for passage in the GOP-controlled Legislature within a week.
Read more:
http://host.madison.com/wsj/news/local/govt-and-politics/article_3c7f9cd2-4274-11e0-8f25-001cc4c002e0.html#ixzz1i8tpUt8g
And the people of Wisconsin came together. Teachers, firefighters, business owners, Republicans, Democrats. We stood in the cold and snow and shouted at the top of our lungs that we wouldn't take it. For weeks. And the country and the world stood with us. Proudly.
The GOP tried to push through legislation illegally, our Democratic State Senators, after trying to reason with the unreasonable, fought for us and stood by us by heading to Illinois, leaving the Senate one member shy of the 20 senators required to vote on budget-related bills. Assembly Republicans began procedures to move the bill to a vote on February 22 while Democrats submitted dozens of amendments and conducted speeches. At 1:00 a.m. on February 25,
following sixty hours of debate,
the final amendments had been defeated and the Republican leadership of the Wisconsin State Assembly cut off debate as well as the public hearing and moved quickly to pass the budget repair bill in a sudden vote. The vote was 51 in favor and 17 opposed, with 28 representatives not voting. The final vote took place without warning, and the time allowed for voting was so short that fewer than half of the Democratic representatives were able to vote; many reportedly pushed the voting button as hard as possible but it did not register.
They went on to get their legislation passed, we had a mess of a Supreme Court race that exposed serious issues with the handling of our ballots accross the state, especially here in my home of Waukesha County. But even on the tails of that, we Democrats stood up and together. We worked our asses off at the recount for weeks on end, challenging everything and forcing the County and municipalities to get their shit together. We formed committees and are observing every election with our own eyes.
And we recalled Senators. We didn't get the majority, but we gained 2 seats and lost none.
Our state Democratic convention was invigorating and inpiring. I was able to thank these fine Democrats for all of their hard work as well as hug, laugh and cry with them.
And now we're out again in the cold and snow recalling Walker, Kleefisch and even a Fitzgerald. It's not over for us and we have not lost. We're taking this great state back.
I know that the Occupy movement has been front and center since it began, as it should be... but don't forget Wisconsin. It has changed my life and breathed new air into my 'give-a-shit' meter. It has shown me that there are politicians who care. And they're
Democrats
. With spine. I am not alone when I say it and all of you who have stood with us has changed my life. So, as the year ends, DU... don't forget about us!
On Wisconsin.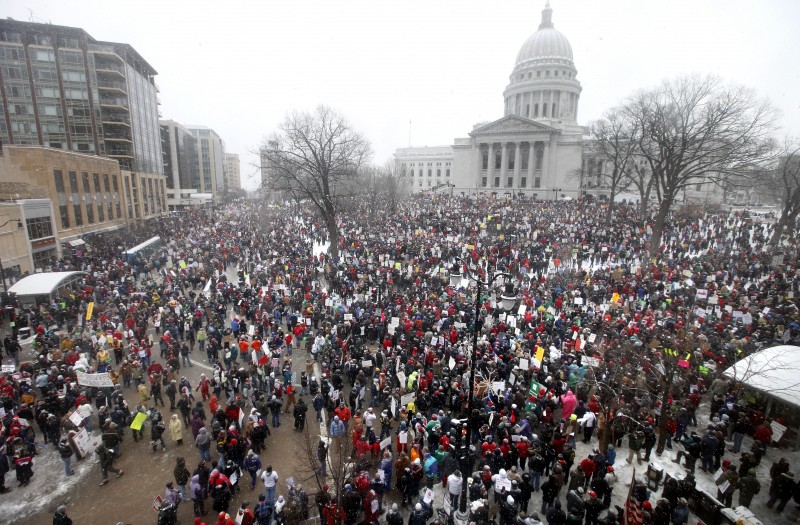 33 replies, 4776 views
Replies to this discussion thread
33 replies
Author
Time
Post

How Wisconsin has changed my life in 2011.

[View all]

PeaceNikki
Dec 2011
OP
CatholicEdHead
Dec 2011
#1
PeaceNikki
Dec 2011
#4
Irishonly
Dec 2011
#2
PeaceNikki
Dec 2011
#3
nadinbrzezinski
Dec 2011
#5
Fire Walk With Me
Dec 2011
#6
Logical
Dec 2011
#7
PeaceNikki
Dec 2011
#8
Logical
Dec 2011
#9
Scuba
Dec 2011
#16
onestepforward
Dec 2011
#10
JimWis
Dec 2011
#11
undeterred
Dec 2011
#12
Dewey Finn
Dec 2011
#13
Viking12
Dec 2011
#14
Scuba
Dec 2011
#15
malaise
Dec 2011
#17
lunatica
Dec 2011
#18
Remember Me
Dec 2011
#19
WillyT
Dec 2011
#20
eridani
Dec 2011
#21
Skittles
Jan 2012
#22
Paka
Jan 2012
#23
MH1
Jan 2012
#24
PeaceNikki
Jan 2012
#25
drynberg
Jan 2012
#26
Lifelong Protester
Jan 2012
#27
PeaceNikki
Jan 2012
#29
madamesilverspurs
Jan 2012
#28
gulliver
Jan 2012
#30
Serial Mom
Jan 2012
#31
PeaceNikki
Jan 2012
#33
Generic Other
Jan 2012
#32