Sun Jun 24, 2012, 12:28 PM
Are_grits_groceries (17,111 posts)
Here's what the inmates did for Sandusky on his first night in jail: [View all]
<snip>
By law, Sandusky, who is currently on suicide watch at the Centre County (Penn.) Correctional Facility, will be sentenced within 90 days of the verdict being rendered.  He's facing a maximum of 442 years behind bars.
As for what he may be facing once he's actually behind bars?  If his first night in jail is any indication…
As soon as the lights went out at night, Sandusky's fellow inmates at the Centre County Correctional Facility serenaded him with a chorus from Pink Floyd's "The Wall":

"Hey, teacher, leave those kids alone!"

For those seeking real-world justice, it appears Bubba has things well in hand.
http://collegefootballtalk.nbcsports.com/2012/06/24/juror-on-sanudsky-victims-they-were-honestly-telling-us-the-truth/
Ha!
Inmates don't like child molesters.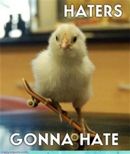 148 replies, 25070 views
Replies to this discussion thread
148 replies
Author
Time
Post

Here's what the inmates did for Sandusky on his first night in jail:

[View all]

Are_grits_groceries
Jun 2012
OP
sadbear
Jun 2012
#1
slackmaster
Jun 2012
#2
elleng
Jun 2012
#5
Turbineguy
Jun 2012
#58
sadbear
Jun 2012
#3
slackmaster
Jun 2012
#4
robinlynne
Jun 2012
#88
freshwest
Jun 2012
#7
Blue_In_AK
Jun 2012
#9
sadbear
Jun 2012
#11
Blue_In_AK
Jun 2012
#15
sadbear
Jun 2012
#17
Blue_In_AK
Jun 2012
#19
Bjorn Against
Jun 2012
#28
robinlynne
Jun 2012
#89
Fozzledick
Jun 2012
#105
freshwest
Jun 2012
#69
caseymoz
Jun 2012
#74
sadbear
Jun 2012
#76
JI7
Jun 2012
#79
Control-Z
Jun 2012
#92
MineralMan
Jun 2012
#12
alcibiades_mystery
Jun 2012
#14
BumRushDaShow
Jun 2012
#18
wendylaroux
Jun 2012
#51
Tx4obama
Jun 2012
#62
freshwest
Jun 2012
#72
GoneOffShore
Jun 2012
#82
freshwest
Jun 2012
#94
robinlynne
Jun 2012
#87
snooper2
Jun 2012
#112
freshwest
Jun 2012
#6
Fire Walk With Me
Jun 2012
#8
Jazzgirl
Jun 2012
#49
coalition_unwilling
Jun 2012
#117
freshwest
Jun 2012
#120
coalition_unwilling
Jun 2012
#123
tblue
Jun 2012
#10
alcibiades_mystery
Jun 2012
#13
Stargazer09
Jun 2012
#16
EFerrari
Jun 2012
#22
Stargazer09
Jun 2012
#24
EFerrari
Jun 2012
#25
Stargazer09
Jun 2012
#26
alcibiades_mystery
Jun 2012
#29
dogknob
Jun 2012
#54
obamanut2012
Jun 2012
#97
awoke_in_2003
Jun 2012
#57
Bryn
Jun 2012
#20
Are_grits_groceries
Jun 2012
#27
alcibiades_mystery
Jun 2012
#30
Are_grits_groceries
Jun 2012
#33
alcibiades_mystery
Jun 2012
#39
Are_grits_groceries
Jun 2012
#41
alcibiades_mystery
Jun 2012
#44
Are_grits_groceries
Jun 2012
#45
alcibiades_mystery
Jun 2012
#46
Are_grits_groceries
Jun 2012
#48
alcibiades_mystery
Jun 2012
#50
Are_grits_groceries
Jun 2012
#61
Voice for Peace
Jun 2012
#81
MADem
Jun 2012
#139
Voice for Peace
Jun 2012
#140
MADem
Jun 2012
#142
Voice for Peace
Jun 2012
#144
datasuspect
Jun 2012
#109
Bjorn Against
Jun 2012
#34
Are_grits_groceries
Jun 2012
#37
Bjorn Against
Jun 2012
#42
freshwest
Jun 2012
#73
Bryn
Jun 2012
#52
Are_grits_groceries
Jun 2012
#66
GoneOffShore
Jun 2012
#83
Dorian Gray
Jun 2012
#90
malthaussen
Jun 2012
#134
MADem
Jun 2012
#143
duhneece
Jun 2012
#67
Bellerophon
Jun 2012
#103
coalition_unwilling
Jun 2012
#121
Iggo
Jun 2012
#31
alcibiades_mystery
Jun 2012
#32
Iggo
Jun 2012
#36
Posteritatis
Jun 2012
#68
Tom Ripley
Jun 2012
#96
MADem
Jun 2012
#145
lapislzi
Jun 2012
#119
Are_grits_groceries
Jun 2012
#35
Iggo
Jun 2012
#43
Are_grits_groceries
Jun 2012
#47
krispos42
Jun 2012
#21
wendylaroux
Jun 2012
#63
Warren Stupidity
Jun 2012
#77
obamanut2012
Jun 2012
#98
krispos42
Jun 2012
#102
freshwest
Jun 2012
#129
snooper2
Jun 2012
#113
Warren Stupidity
Jun 2012
#115
snooper2
Jun 2012
#116
coalition_unwilling
Jun 2012
#124
Yavapai
Jun 2012
#23
Bjorn Against
Jun 2012
#40
coalition_unwilling
Jun 2012
#131
handmade34
Jun 2012
#38
Evoman
Jun 2012
#55
Boxcar Willie
Jun 2012
#75
RainDog
Jun 2012
#53
Evoman
Jun 2012
#56
handmade34
Jun 2012
#59
Oilwellian
Jun 2012
#64
GObamaGO
Jun 2012
#104
Avalux
Jun 2012
#65
IndyPragmatist123
Jun 2012
#111
Auntie Bush
Jun 2012
#147
EastTennesseeDem
Jun 2012
#138
guyton
Jun 2012
#60
Initech
Jun 2012
#70
sadbear
Jun 2012
#71
Pool Hall Ace
Jun 2012
#78
backscatter712
Jun 2012
#84
freshwest
Jun 2012
#132
MADem
Jun 2012
#148
former9thward
Jun 2012
#80
rug
Jun 2012
#85
robinlynne
Jun 2012
#86
MrSlayer
Jun 2012
#91
oberliner
Jun 2012
#93
obamanut2012
Jun 2012
#99
WorseBeforeBetter
Jun 2012
#100
DefenseLawyer
Jun 2012
#95
Logical
Jun 2012
#101
clang1
Jun 2012
#106
Number23
Jun 2012
#107
datasuspect
Jun 2012
#108
sadbear
Jun 2012
#110
datasuspect
Jun 2012
#114
RZM
Jun 2012
#118
Warren Stupidity
Jun 2012
#126
RZM
Jun 2012
#130
coalition_unwilling
Jun 2012
#122
Warren Stupidity
Jun 2012
#125
coalition_unwilling
Jun 2012
#127
Warren Stupidity
Jun 2012
#128
clang1
Jun 2012
#137
clang1
Jun 2012
#135
4th law of robotics
Jun 2012
#141
MADem
Jun 2012
#146
L0oniX
Jun 2012
#133
rppper
Jun 2012
#136