Sun Oct 16, 2016, 08:14 PM
Feeling the Bern (3,839 posts)
I'm ashamed to be a Buffalo Bills fan today, actually ashamed to be an NFL fan today [View all]
So, I bleed the colors of the Buffalo Bills being from Upstate New York. I was there through the lean years of the 1980s, the four losing Super Bowls, the Music City Miracle (it was still a forward pass) and these last 16 years of craptacular playoff-less football.
Today, I am officially ashamed of being a fan of the sport. Not because of the right wing idiots that play(ed) it like the Mannings, and Tom Brady and Thurman Thomas and Mike Ditka. For some reason, the NFL attracts the most obnoxious tea baggers ever.
For the first time since he began his protest against racial injustice in the U.S. by kneeling during the national anthem, 49ers quarterback Colin Kaepernick started a regular-season game Sunday against the Bills. As expected, some fans who clearly do not agree with his protest are not giving him a warm welcome at Ralph Wilson Stadium in Buffalo.
They showed up with some vulgar and inappropriate signs, including one that depicted a gun target on Kaepernick's chest.
Give me a God damned break
Here are two of the "
patriotic shirts
" that were sold in Orchard Park today.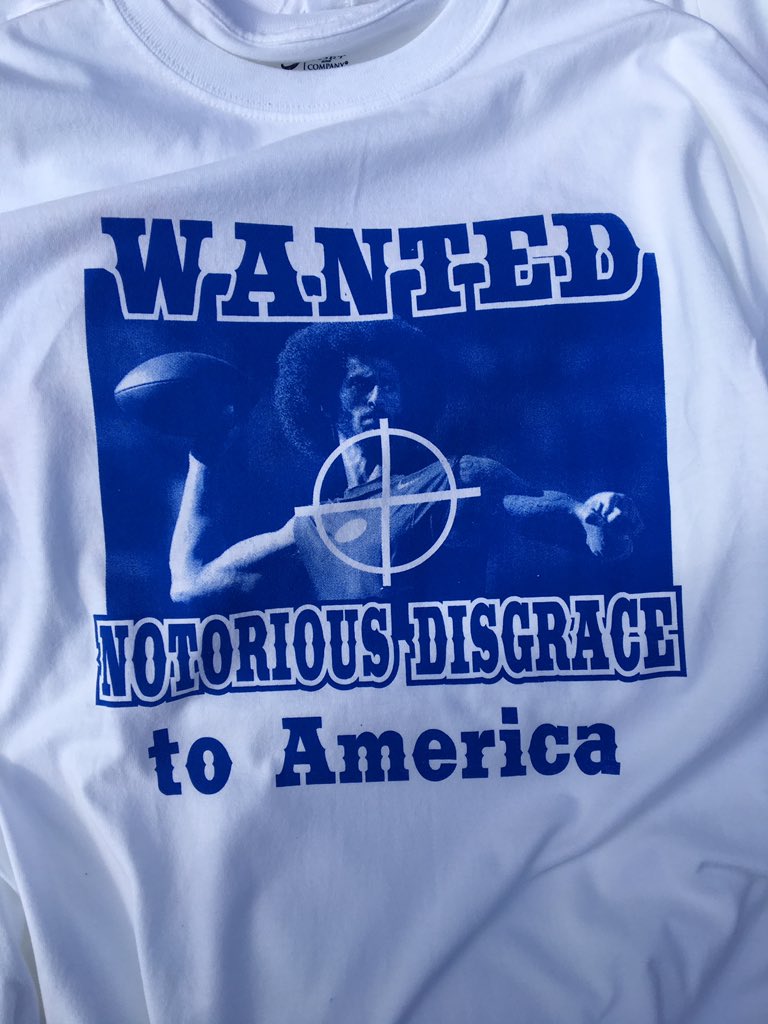 One is condoning murder of someone you disagree with. MURDER!!!
The other is actually telling someone to NOT exercise their 1st amendment rights. "Stand Up and Shut Up." These NFL fans are disgusting. They love the country, but hate the 1st amendment. They can protest Obamacare, but protesting a red, white and blue piece of cloth or a damn song is treason. Some were actually hoping the Bills would late hit Kap and end his career, not even once thinking about the fact this is the man's job and he uses it to feed, clothe and provide a house for his family.
WTF have we become? We have a presidential candidate that wants to jail his opponent, and his idiot followers want to cripple or kill someone they disagree with because why?
Let me explain something to you teabagging jackholes. . .the 1st amendment protection of free speech is meant to protect unpopular speech. Shit, even hate speech is protected. Ask the Klan in Skokie, IL and those assholes from Westboro Baptist Church. Also, the first amendment gives people the right to assemble peacefully and to petition to redress grievances, which is what Kap is doing. You asswipes are being violent and condoning violence, which is NOT protected speech.
But I guess you right wing shitstains still think you have a monopoly on what is considered patriotic. It's amazing that a movement that has been traditionally on the wrong side of history (supporting slavery, segregation, against worker's rights, women's rights, environmental laws, safety standards, public education, etc) would think they know what this country is and stands for.
One Buffalo Bills fan said Kap was destroying the country that by challenging everything Americans hold dear. I don't know about you, but I do not hold the anthem or the flag dear. The constitution, yes! The Bill of Rights, also yes. The other two things. . .nope, nope, nope.
Another Bills fan bitched that Kap was shitting in the face of the police officers protecting him (while the officer was saluting during the anthem when Kap took a knee silently). See, the officers MUST salute, apparently. Nowhere does it say in law that I must stand and take off my hat for a song. See, I can CHOOSE to do so, or I can CHOOSE not to do so! As for telling me police protect my rights. . .HAHAHAHAHAHAHAHAHAHAHAHAHAHA!!!!! Sorry, I'm not laughing at you. Well, yes I am, and at your ignorance.
If you think police protect you, let me introduce you to this guy:
Walter DeLeon
Thanks to Los Angeles' finest, Walter DeLeon has lost a quarter of his skull, almost all his eyesight, the ability to walk, and his life is in shambles.

In June of this year, DeLeon, 49, was on his regular evening walk to a nearby park when LAPD Officer Cairo Palacios "feared for his life" and shot him in the head.
He needed help and went to the police. Below are before and after photos of him.
Kap is right, NFL fans are wrong and I am ashamed to support my team after they blew out the 49ers 45-16. I'm sure the rest of you might feel the same or similar for different reason.
9 replies, 4020 views
Replies to this discussion thread
9 replies
Author
Time
Post

I'm ashamed to be a Buffalo Bills fan today, actually ashamed to be an NFL fan today

[View all]

Feeling the Bern
Oct 2016
OP
scscholar
Oct 2016
#1
LisaM
Oct 2016
#2
Initech
Oct 2016
#3
Marcuse
Oct 2016
#4
Feeling the Bern
Oct 2016
#9
Willie Pep
Oct 2016
#5
Feeling the Bern
Oct 2016
#6
pstokely
Oct 2016
#7
awoke_in_2003
Oct 2016
#8