Welcome to DU!
The truly grassroots left-of-center political community where regular people, not algorithms, drive the discussions and set the standards.
Join the community:
Create a free account
Support DU (and get rid of ads!):
Become a Star Member
9. They did NOT fuck each other indiscriminately!
Wed May 4, 2016, 08:26 PM
May 2016
Jeffrey Epstein was VERY discriminating in first screening which powerful men (cough/Bill/cough) were invited to fly on his Lolita Express. It was only after these men and the underage teen "masseuses" were on board that the indiscriminate "massaging" began.

Bill Clinton a Frequent Flyer on Pedophile Billionaire's 'Lolita Express'
And Bill was careful enough to bring his 4 secret service agents with him as well! Why should my taxes go to some federal programs like LIHEAP, public defenders or education when there are ex-presidents in need of protection while being "massaged".

According to news reports, the former president took several flights on the jet to the Epstein's island, and at least on one was accompanied by "4 secret service," according to a flight logbook first reported on by Gawker.com.
http://gawker.com/flight-logs-put-clinton-dershowitz-on-pedophile-billio-1681039971


Bill Clinton took repeated trips on the " Lolita Express"—the private passenger jet owned by billionaire pedophile Jeffrey Epstein—with an actress in softcore porn movies whose name appears in Epstein's address book under an entry for "massages," according to flight logbooks obtained by Gawker and published today for the first time. The logs also show that Clinton shared more than a dozen flights with a woman who federal prosecutors believe procured underage girls to sexually service Epstein and his friends and acted as a "potential co-conspirator" in his crimes.

Epstein pleaded guilty in 2008 in Florida to one count of soliciting underage girls for sex (and one count of adult solicitation), for which he served just over a year in county jail. But sprawling local, state, and federal investigations into the eccentric investor's habit of paying teen girls for "massages"—sessions during which he would allegedly penetrate girls with sex toys, demand to be masturbated, and have intercourse—turned up a massive network of victims, including 35 female minors whom federal prosecutors believed he'd sexually abused. He has reportedly settled lawsuits from more than 30 "Jane Doe" victims since 2008; the youngest alleged victim was 12 years old at the time of her abuse.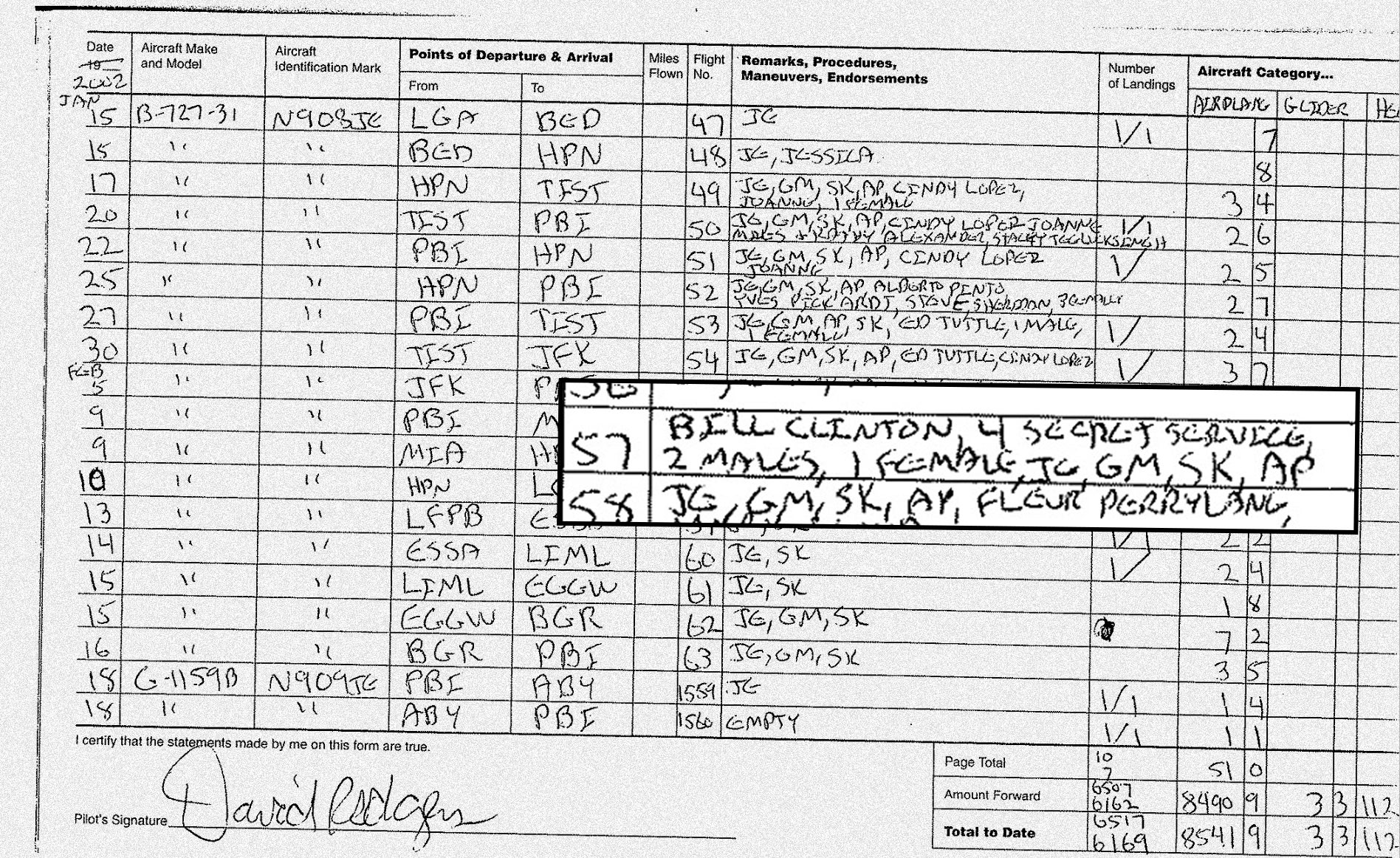 http://i.kinja-img.com/gawker-media/image/upload/s--8lxTGpfN--/c_fit,fl_progressive,q_80,w_636/wvoyfgwzetlpbojxt8l1.jpg
Cannot edit, recommend, or reply in

locked

discussions
Edit history
Please
sign in
to view edit histories.
59 replies
= new reply since forum marked as read
Highlight:
None

Don't highlight anything
5 newest

Highlight 5 most recent replies
Recommended

Highlight replies with 5 or more recommendations