Wed Jun 6, 2012, 10:17 AM
Zorra (27,670 posts)
We cannot "win" by operating within the system anymore. It's over. [View all]
The 1% owns has all the money (Citizen's United, etc), the SCOTUS, the media. They have successfully brainwashed enough of the population to where they have a critical mass of zombies doing their will. It's now a full on sucker's game, and the 1% is the house. We don't even really know if our votes are counted honestly and when we try to get our leaders to implement a transparent voting system, they completely ignore us.
I'm not saying don't vote, I do believe that we can still do some good by voting. I am saying it would be wise for everyone that cares about freedom, democracy, and equality to begin to
seriously consider alternative methods for regaining our democracy from somewhere outside of the system.
We
cannot
get our game back by working within the system.
It has, clearly, become impossible. This is not your grandma's government.
Occupy Underground Forum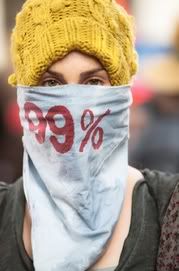 76 replies, 8475 views
Replies to this discussion thread
76 replies
Author
Time
Post

We cannot "win" by operating within the system anymore. It's over.

[View all]

Zorra
Jun 2012
OP
cali
Jun 2012
#1
Bake
Jun 2012
#25
TBF
Jun 2012
#31
Mayflower1
Jun 2012
#2
hifiguy
Jun 2012
#5
Zorra
Jun 2012
#7
apocalypsehow
Jun 2012
#38
TheKentuckian
Jun 2012
#62
apocalypsehow
Jun 2012
#63
HiPointDem
Jun 2012
#57
Egalitarian Thug
Jun 2012
#67
southernyankeebelle
Jun 2012
#3
Bake
Jun 2012
#26
southernyankeebelle
Jun 2012
#27
Bake
Jun 2012
#30
southernyankeebelle
Jun 2012
#33
Chan790
Jun 2012
#61
Bake
Jun 2012
#65
Chan790
Jun 2012
#69
lumberjack_jeff
Jun 2012
#4
Arugula Latte
Jun 2012
#6
Zorra
Jun 2012
#8
Nye Bevan
Jun 2012
#10
nashville_brook
Jun 2012
#14
davekriss
Jun 2012
#28
Gregorian
Jun 2012
#16
AZ Progressive
Jun 2012
#32
Quantess
Jun 2012
#35
onenote
Jun 2012
#9
daaron
Jun 2012
#29
U4ikLefty
Jun 2012
#54
boppers
Jun 2012
#59
U4ikLefty
Jun 2012
#60
Egalitarian Thug
Jun 2012
#68
daaron
Jun 2012
#64
U4ikLefty
Jun 2012
#73
daaron
Jun 2012
#74
U4ikLefty
Jun 2012
#75
daaron
Jun 2012
#76
ProfessionalLeftist
Jun 2012
#11
libtodeath
Jun 2012
#12
jillan
Jun 2012
#13
Romulox
Jun 2012
#15
BOG PERSON
Jun 2012
#50
FreeJoe
Jun 2012
#17
cali
Jun 2012
#18
Nye Bevan
Jun 2012
#19
hifiguy
Jun 2012
#21
Fire Walk With Me
Jun 2012
#24
FreeJoe
Jun 2012
#23
librechik
Jun 2012
#36
hifiguy
Jun 2012
#20
handmade34
Jun 2012
#37
wendylaroux
Jun 2012
#40
handmade34
Jun 2012
#46
wendylaroux
Jun 2012
#49
Comrade_McKenzie
Jun 2012
#22
mckara
Jun 2012
#34
LarryNM
Jun 2012
#39
Taverner
Jun 2012
#41
just1voice
Jun 2012
#42
girl gone mad
Jun 2012
#43
Fire Walk With Me
Jun 2012
#44
dionysus
Jun 2012
#71
Zorra
Jun 2012
#72
Maven
Jun 2012
#45
fascisthunter
Jun 2012
#47
Matariki
Jun 2012
#48
zorahopkins
Jun 2012
#51
progress2k12nbynd
Jun 2012
#52
Sirveri
Jun 2012
#53
loyalsister
Jun 2012
#55
U4ikLefty
Jun 2012
#56
ibegurpard
Jun 2012
#58
Blue_Tires
Jun 2012
#66
brooklynite
Jun 2012
#70