Sun Jun 3, 2012, 09:57 AM
Amerigo Vespucci (30,885 posts)
Zimmerman returns to Florida for jail [View all]
George Zimmerman returns to Florida for jail after judge revokes bond
Attorney for man accused of murdering Trayvon Martin says client will turn himself in after judge found he lied about finances
Richard Luscombe in Miami and Matt Williams in New York
guardian.co.uk, Sunday 3 June 2012 09.24 EDT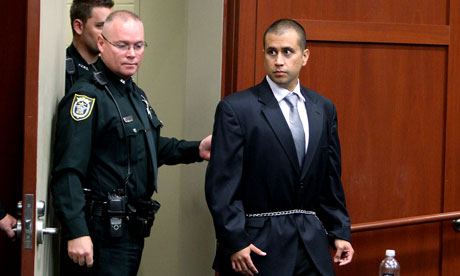 George Zimmerman as he was lead into a Seminole County courtroom for his bond hearing in April. Photograph: Roberto Gonzalez/Getty Images
George Zimmerman has returned to Florida to turn himself in to police after having his bond revoked, a lawyer for the self-appointed neighbourhood watchman has said.
His attorney Mark O'Mara announced on his website early Sunday that his client – who had been residing at an undisclosed location out of fear of reprisals – was now back in Florida ahead of the deadline imposed by Judge Kenneth Lester Jr on Friday. Lester revoked Zimmerman's $150,000 bail after ruling that the defendant lied about money raised on a private website.
The state attorney prosecuting Zimmerman, 28, for the second-degree murder of Martin during a confrontation in Sanford on 26 February insisted he had $135,000 in his defence fund, yet claimed at a bond hearing in April that he was penniless.
"Does your client get to sit there like a potted plant and lead the court down the primrose path?" an angry Lester asked Zimmerman's lawyer, Mark O'Mara, at Friday's hearing.
http://www.guardian.co.uk/world/2012/jun/03/george-zimmerman-returns-to-florida?newsfeed=true
27 replies, 3534 views
Replies to this discussion thread
27 replies
Author
Time
Post

Zimmerman returns to Florida for jail

[View all]

Amerigo Vespucci
Jun 2012
OP
rocktivity
Jun 2012
#1
MoonRiver
Jun 2012
#2
Amerigo Vespucci
Jun 2012
#3
hfojvt
Jun 2012
#6
belcffub
Jun 2012
#7
Amerigo Vespucci
Jun 2012
#10
leeroysphitz
Jun 2012
#4
Quixote1818
Jun 2012
#11
rocktivity
Jun 2012
#5
cherokeeprogressive
Jun 2012
#8
MoonRiver
Jun 2012
#9
Solomon
Jun 2012
#13
Quixote1818
Jun 2012
#12
Amerigo Vespucci
Jun 2012
#14
ProdigalJunkMail
Jun 2012
#16
Quixote1818
Jun 2012
#20
Amerigo Vespucci
Jun 2012
#22
Quixote1818
Jun 2012
#26
vaberella
Jun 2012
#24
Quixote1818
Jun 2012
#21
vaberella
Jun 2012
#23
Amerigo Vespucci
Jun 2012
#27
Robb
Jun 2012
#15
Kingofalldems
Jun 2012
#17
Amerigo Vespucci
Jun 2012
#18
Whisp
Jun 2012
#19
vaberella
Jun 2012
#25