Thu Jul 23, 2015, 01:25 PM
marmar (73,015 posts)
Goldman Sachs – Masters of the Eurozone [View all]
By Gaius Publius, a professional writer living on the West Coast of the United States and frequent contributor to DownWithTyranny, digby, Truthout, and Naked Capitalism. Follow him on Twitter @Gaius_Publius, Tumblr and Facebook. This piece first appeared at Down With Tyranny.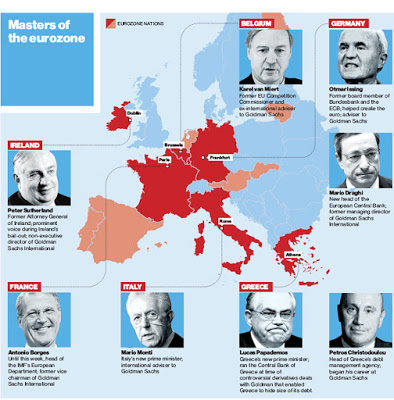 Interesting headline, yes? I have a two-point intro and then the piece.
First
, when a "private" group's chief individuals flow back and forth constantly between government and that group, the group can be said to be "part" of government, or to have "infiltrated" government, or to have been "folded into" government. (Your phrasing will be determined by who you think is the instigator.)
For example, a network of private "security consulting" firms does standing business with the (Pentagon's) NSA, and by some accounts performs 70% of their work. Are those firms part of the NSA or not? Most would say yes, to a great degree. It's certain that the NSA would collapse without them, and many of these firms would collapse without the NSA (though many have other … ahem, international … clients, which starts an entirely different discussion).
As another example, the role of mega-lobbying firms as a fourth branch of government was explored here. Same idea.
In the case of the security firms, one might say they have been "folded into" government. In the case of the lobbying firms, one might say they have "infiltrated" government. I hope you notice the difference; both modes of incorporation occur.
Second
, consider how in general the "world of money" and the parallel world of "friends of money" — its enablers, adjuncts, consiglieri and retainers — flow in and out of the world of government, of NGOs, of corporate boards, of foundation boards, attends Davos and the modern Yalta (YES) conference, and so on. Now consider how someone like Hillary Clinton — not money per se, though she has a chunk, but certainly a "friend of money" — ticks off most of those boxes (foundation board, corporate board, government, Davos, Yalta, and so on). There are many people like Hillary Clinton; she's just very front-and-center at the moment.
.....(snip).....
Now the piece from
The Independent
(my emphasis). Note that it was written in 2011.
What price the new democracy? Goldman Sachs conquers Europe

The ascension of Mario Monti to the Italian prime ministership is remarkable for more reasons than it is possible to count. By replacing the scandal-surfing Silvio Berlusconi, Italy has dislodged the undislodgeable. By imposing rule by unelected technocrats, it has suspended the normal rules of democracy, and maybe democracy itself. And by putting a senior adviser at Goldman Sachs in charge of a Western nation, it has taken to new heights the political power of an investment bank that you might have thought was prohibitively politically toxic.
.........................(more)
http://www.nakedcapitalism.com/2015/07/gaius-publius-goldman-sachs-masters-of-the-eurozone.html
46 replies, 3769 views
Replies to this discussion thread
46 replies
Author
Time
Post

Goldman Sachs – Masters of the Eurozone

[View all]

marmar
Jul 2015
OP
think
Jul 2015
#1
closeupready
Jul 2015
#2
think
Jul 2015
#3
closeupready
Jul 2015
#24
think
Jul 2015
#33
stevenleser
Jul 2015
#5
stevenleser
Jul 2015
#4
hill2016
Jul 2015
#7
Octafish
Jul 2015
#9
hill2016
Jul 2015
#11
Octafish
Jul 2015
#13
hill2016
Jul 2015
#15
Octafish
Jul 2015
#18
hill2016
Jul 2015
#21
Octafish
Jul 2015
#23
stevenleser
Jul 2015
#14
Octafish
Jul 2015
#19
NuclearDem
Jul 2015
#20
Octafish
Jul 2015
#25
NuclearDem
Jul 2015
#26
Octafish
Jul 2015
#28
NuclearDem
Jul 2015
#29
Octafish
Jul 2015
#30
NuclearDem
Jul 2015
#31
Octafish
Jul 2015
#34
NuclearDem
Jul 2015
#35
Octafish
Jul 2015
#36
NuclearDem
Jul 2015
#37
Octafish
Jul 2015
#38
NuclearDem
Jul 2015
#39
Octafish
Jul 2015
#40
NuclearDem
Jul 2015
#41
Octafish
Jul 2015
#42
NuclearDem
Jul 2015
#43
Octafish
Jul 2015
#44
uhnope
Jul 2015
#45
stevenleser
Jul 2015
#12
think
Jul 2015
#6
hill2016
Jul 2015
#17
Octafish
Jul 2015
#8
think
Jul 2015
#10
Octafish
Jul 2015
#16
Ichingcarpenter
Jul 2015
#22
pampango
Jul 2015
#27
Rex
Jul 2015
#32
Wilms
Jul 2015
#46