Sun Dec 25, 2011, 01:21 AM
Skinner (63,259 posts)
Happy Holidays from Democratic Underground [View all]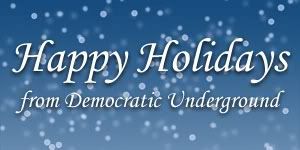 During the Holiday Season we make time for our family and friends, traveling across town, across the country, or around the world to visit with the people we care about.
Many of us consider the members of this online community to be our friends. Even though we may not have met in "real life," our fellow DUers are as much a part of our lives as our neighbors, co-workers, and even some of our friends and family. And so, this Holiday Season the DU Administrators want to take a moment to express our gratitude to all of you, our online virtual family.
2011 has been an extraordinary year for Democratic Underground. In January we celebrated 10 years online. We have been engaged in a high-profile legal fight, where we (with the help of EFF) helped stop a predatory copyright troll who has been harassing hundreds of websites with bogus lawsuits. And in December we unveiled an enormous overhaul of our website which we've been working on for well over a year. Through it all, you helped this community grow and thrive -- by visiting, by posting, by providing financial help, and by accepting big software changes with patience and good nature. We are extremely grateful.
Thanks to your support, this community is stronger than it as ever been. We have an amazing community of people, and we finally have the software you deserve. 2012 is a presidential election year, and we believe everything is in place so it will be our best year yet.
Happy Holidays. And thank you.
David Allen
Dave Allsopp
Brian Leitner
DU Administrators
125 replies, 15107 views
Replies to this discussion thread
125 replies
Author
Time
Post

Happy Holidays from Democratic Underground

[View all]

Skinner
Dec 2011
OP
steve2470
Dec 2011
#1
shraby
Dec 2011
#2
Fire Walk With Me
Dec 2011
#3
freshwest
Dec 2011
#4
Lisa0825
Dec 2011
#5
Ohio Joe
Dec 2011
#6
PeaceNikki
Dec 2011
#7
Greybnk48
Dec 2011
#8
CherokeeDem
Dec 2011
#9
KT2000
Dec 2011
#10
tavalon
Dec 2011
#35
DesertRat
Dec 2011
#11
pinboy3niner
Dec 2011
#12
Muskypundit
Dec 2011
#13
Old and In the Way
Dec 2011
#14
pinboy3niner
Dec 2011
#18
tavalon
Dec 2011
#34
Wait Wut
Dec 2011
#70
housewolf
Dec 2011
#15
Old and In the Way
Dec 2011
#16
onehandle
Dec 2011
#17
Suich
Dec 2011
#19
Agony
Dec 2011
#20
Lugnut
Dec 2011
#21
Rex
Dec 2011
#22
Lifelong Protester
Dec 2011
#23
stevedeshazer
Dec 2011
#24
pinto
Dec 2011
#25
YvonneCa
Dec 2011
#26
applegrove
Dec 2011
#27
A-Schwarzenegger
Dec 2011
#28
a2liberal
Dec 2011
#48
XemaSab
Dec 2011
#29
HopeHoops
Dec 2011
#30
FlaGatorJD
Dec 2011
#31
Hardrada
Dec 2011
#32
tavalon
Dec 2011
#33
Skinner
Dec 2011
#51
gateley
Dec 2011
#64
Wait Wut
Dec 2011
#71
PeaceNikki
Dec 2011
#72
renate
Dec 2011
#80
graywarrior
Dec 2011
#91
butterfly77
Dec 2011
#100
tavalon
Dec 2011
#118
butterfly77
Dec 2011
#99
polly7
Dec 2011
#105
tavalon
Dec 2011
#116
tavalon
Dec 2011
#121
BeHereNow
Dec 2011
#36
Lil Missy
Dec 2011
#37
Aristus
Dec 2011
#38
Tsiyu
Dec 2011
#39
Tikki
Dec 2011
#40
trusty elf
Dec 2011
#41
pacalo
Dec 2011
#42
Wait Wut
Dec 2011
#73
tavalon
Dec 2011
#119
Angry Dragon
Dec 2011
#43
AsahinaKimi
Dec 2011
#44
NNN0LHI
Dec 2011
#45
malaise
Dec 2011
#46
tropicanarose
Dec 2011
#57
malaise
Dec 2011
#122
Little Star
Dec 2011
#47
99Forever
Dec 2011
#49
meow2u3
Dec 2011
#50
underpants
Dec 2011
#52
no_hypocrisy
Dec 2011
#53
NMDemDist2
Dec 2011
#54
Johnson20
Dec 2011
#55
tropicanarose
Dec 2011
#56
Occulus
Dec 2011
#58
duhneece
Dec 2011
#59
Wait Wut
Dec 2011
#75
dixiegrrrrl
Dec 2011
#85
angstlessk
Dec 2011
#60
Odin2005
Dec 2011
#61
Yo_Mama
Dec 2011
#62
gateley
Dec 2011
#63
Triana
Dec 2011
#65
JNelson6563
Dec 2011
#66
Douglas Carpenter
Dec 2011
#67
Wait Wut
Dec 2011
#69
Wait Wut
Dec 2011
#68
William769
Dec 2011
#74
cal04
Dec 2011
#76
PETRUS
Dec 2011
#77
WillyT
Dec 2011
#78
greytdemocrat
Dec 2011
#79
renate
Dec 2011
#81
RKP5637
Dec 2011
#82
ZombieHorde
Dec 2011
#83
bemildred
Dec 2011
#84
classof56
Dec 2011
#86
rhett o rick
Dec 2011
#87
ornotna
Dec 2011
#88
icymist
Dec 2011
#89
blaze
Dec 2011
#90
tandot
Dec 2011
#92
sce56
Dec 2011
#93
annabanana
Dec 2011
#94
AtomicKitten
Dec 2011
#95
nolabear
Dec 2011
#96
Scurrilous
Dec 2011
#97
NRaleighLiberal
Dec 2011
#98
WHEN CRABS ROAR
Dec 2011
#101
BlancheSplanchnik
Dec 2011
#102
suffragette
Dec 2011
#103
polly7
Dec 2011
#104
CottonBear
Dec 2011
#106
Bossy Monkey
Dec 2011
#107
UnrepentantLiberal
Dec 2011
#108
irisblue
Dec 2011
#109
PatrynXX
Dec 2011
#110
bagtree
Dec 2011
#111
msanthrope
Dec 2011
#112
Tippy
Dec 2011
#113
The Straight Story
Dec 2011
#114
highplainsdem
Dec 2011
#115
silverweb
Dec 2011
#117
Skittles
Dec 2011
#120
ProSense
Dec 2011
#123
calimary
Dec 2011
#124
yardwork
Dec 2011
#125