Thu Apr 16, 2015, 01:35 AM
Behind the Aegis (46,932 posts)
Yom HaShoah - Holocaust Remembrance Day: 33 important Holocaust facts [View all]
There are certainly more than 33 things to know about the Holocaust, but some of these items may be less known, and by knowing them, we can cultivate a deeper understanding of the Nazi's "Final Solution."
•The Holocaust began in 1933 when Adolf Hitler came to power in Germany and ended in 1945 when the Nazis were defeated by the Allied powers.
•The term "Holocaust," originally from the Greek word "holokauston" which means "sacrifice by fire," refers to the Nazi's persecution and planned slaughter of the Jewish people. The Hebrew word "Shoah," which means "devastation, ruin, or waste," is also used for this genocide.
•It is estimated that 11 million people were killed during the Holocaust. Six million of these were Jews.
•The Nazis killed approximately two-thirds of all Jews living in Europe.
•An estimated 1.1 million children were murdered in the Holocaust.
•On April 1, 1933, the Nazis instigated their first action against German Jews by announcing a boycott of all Jewish-run businesses.
•A few of the major ghettos were located in the cities of Bialystok, Kovno, Lodz, Minsk, Riga, Vilna, and Warsaw.
•Although many people refer to all Nazi camps as "concentration camps," there were actually a number of different kinds of camps, including concentration camps, extermination camps, labor camps, prisoner-of-war camps, and transit camps.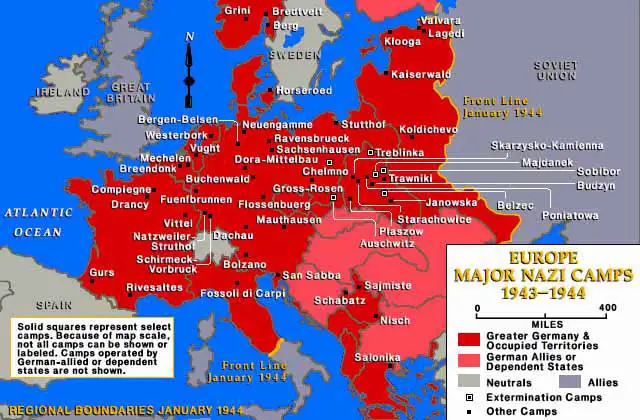 •The Nazis built six extermination camps: Chelmno, Belzec, Sobibor, Treblinka, Auschwitz, and Majdanek. (Auschwitz and Majdanek were both concentration and extermination camps.)
more...
18 replies, 3180 views
Replies to this discussion thread
18 replies
Author
Time
Post

Yom HaShoah - Holocaust Remembrance Day: 33 important Holocaust facts

[View all]

Behind the Aegis
Apr 2015
OP
Hekate
Apr 2015
#1
shenmue
Apr 2015
#2
Cali_Democrat
Apr 2015
#3
Little Tich
Apr 2015
#4
Warren DeMontague
Apr 2015
#5
freshwest
Apr 2015
#6
Surya Gayatri
Apr 2015
#7
eridani
Apr 2015
#8
Diclotican
Apr 2015
#10
eridani
Apr 2015
#16
Diclotican
Apr 2015
#17
leftynyc
Apr 2015
#9
COLGATE4
Apr 2015
#11
MrBig
Apr 2015
#12
krishnarama
Apr 2015
#13
one_voice
Apr 2015
#14
leftynyc
Apr 2015
#15
PCIntern
Apr 2015
#18