Tue Dec 30, 2014, 12:02 AM
Cha (268,169 posts)
Gov Mcauliffe restores Voting Rights to more than 5,100 ex-offenders.. [View all]
Last edited Wed Dec 31, 2014, 03:13 AM - Edit history (1)
ProgressivePhD @CallOut4
Follow
McAuliffe restores rights of more than 5,100 ex-offenders
@richmonddotcom
4:31 PM - 29 Dec 2014 12 Retweets 3 favorites
http://theobamadiary.com/2014/12/29/2014-50-most-memorable-moments/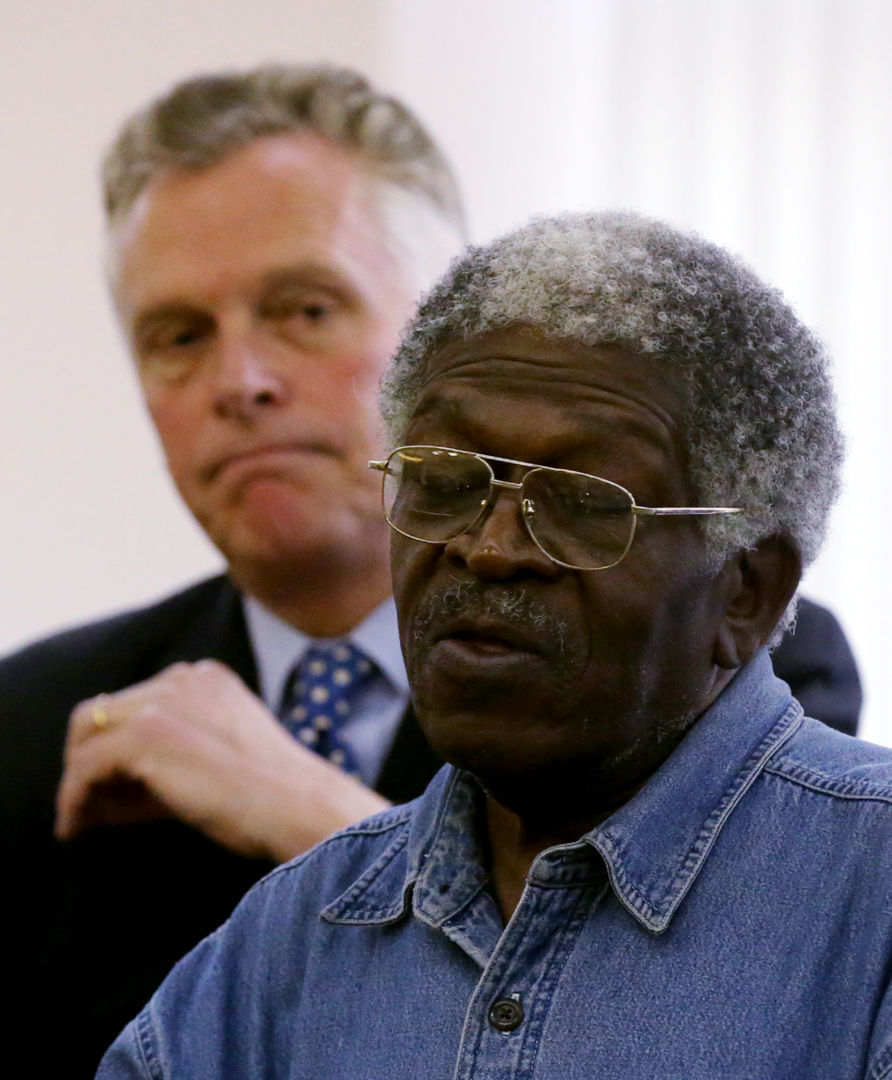 Virginia Governor Terry McAuliffe watched in an emotional moment for James W. Ray
snip//
James W. Ray sat silently in the front row of the church meeting room, rubbing his eyes.
Ray wasn't mourning a loss. Rather, the Vietnam veteran and felon wept over something that had just been returned to him — the right to vote
.
"Those are tears of joy," observed Gov. Terry McAuliffe, who came to First Baptist Church in South Richmond on Thursday to formally restore the rights of Ray and two others.
The governor was commemorating a year in which the secretary of the commonwealth's office restored the rights of 5,113 Virginians to vote, serve on a jury, hold public office and become notaries.
snip//
"This is
a great day in my life," said Ray, convicted in 2005 of a nonviolent felony. He received an official proclamation from the governor along with LaQuita Fairley and Verneda Muhammad.
"This is what's great about being governor," said McAuliffe, who became a little emotional himself at seeing Ray's reaction.
"I've said many times I think it's important that everybody in life gets a second chance,"
the governor told the audience of parishioners, politicians and rights restoration advocates. They cheered and
applauded frequently throughout the event as officials and former offenders alike told of trying to restore civil rights — and the impact restoration will have on their lives.
MOre..
http://www.richmond.com/news/virginia/article_cbad7917-dac0-5ae1-a545-b5fafc29081b.html#.VKINMLIDXQM.twitter
Second Chances, baby!
Thank you Governor McAuliffe~ The sacred right to VOTE
77 replies, 4058 views
Replies to this discussion thread
77 replies
Author
Time
Post

Gov Mcauliffe restores Voting Rights to more than 5,100 ex-offenders..

[View all]

Cha
Dec 2014
OP
oldandhappy
Dec 2014
#1
Cha
Dec 2014
#2
Cha
Dec 2014
#3
appalachiablue
Dec 2014
#4
Cha
Dec 2014
#5
mcar
Dec 2014
#58
Cha
Dec 2014
#59
Cha
Dec 2014
#6
Cha
Dec 2014
#7
appalachiablue
Dec 2014
#8
jaysunb
Dec 2014
#15
appalachiablue
Dec 2014
#17
jaysunb
Dec 2014
#20
appalachiablue
Dec 2014
#21
jaysunb
Dec 2014
#26
appalachiablue
Dec 2014
#27
Luminous Animal
Dec 2014
#9
ucrdem
Dec 2014
#19
Orsino
Dec 2014
#52
Cha
Dec 2014
#10
ucrdem
Dec 2014
#11
Cha
Dec 2014
#12
ucrdem
Dec 2014
#18
Cha
Dec 2014
#23
freshwest
Dec 2014
#13
Cha
Dec 2014
#16
jaysunb
Dec 2014
#14
Cha
Dec 2014
#32
951-Riverside
Dec 2014
#22
Cha
Dec 2014
#29
herding cats
Dec 2014
#24
Cha
Dec 2014
#31
herding cats
Dec 2014
#33
Cha
Dec 2014
#34
lovemydog
Dec 2014
#25
Cha
Dec 2014
#35
TexasTowelie
Dec 2014
#28
Cha
Dec 2014
#37
SunSeeker
Dec 2014
#30
NBachers
Dec 2014
#36
Cha
Dec 2014
#40
davidpdx
Dec 2014
#38
Cha
Dec 2014
#41
davidpdx
Dec 2014
#42
Cha
Dec 2014
#43
whathehell
Dec 2014
#39
Cha
Dec 2014
#44
whathehell
Dec 2014
#51
riqster
Dec 2014
#45
Cha
Dec 2014
#46
riqster
Dec 2014
#47
Cha
Dec 2014
#48
Cha
Dec 2014
#49
JustAnotherGen
Dec 2014
#50
Cha
Dec 2014
#55
napkinz
Dec 2014
#53
Cha
Dec 2014
#56
napkinz
Dec 2014
#62
Cha
Dec 2014
#64
napkinz
Dec 2014
#54
Cha
Dec 2014
#57
CatWoman
Dec 2014
#60
Cha
Dec 2014
#61
treestar
Dec 2014
#63
Cha
Dec 2014
#66
sheshe2
Dec 2014
#65
Cha
Dec 2014
#68
sheshe2
Dec 2014
#69
Cha
Dec 2014
#70
ohheckyeah
Dec 2014
#67
Cha
Dec 2014
#71
ohheckyeah
Dec 2014
#72
Cha
Dec 2014
#74
Hekate
Dec 2014
#73
Cha
Dec 2014
#75
1step
Dec 2014
#76
Cha
Dec 2014
#77