Tue Apr 10, 2012, 08:30 AM
kpete (67,338 posts)
Corruption Responsible for 80% of Your Cell Phone Bill [View all]
Corruption Responsible for 80% of Your Cell Phone Bill
By Matt Stoller posted Apr 9th 2012 at 1:45PM
Last year, a new company called Lightsquared promised an innovative business model that would dramatically lower cell phone costs and improve the quality of service, threatening the incumbent phone operators like AT&T and Verizon. Lightsquared used a new technology involving satellites and spectrum, and was a textbook example of how markets can benefit the public through competition. The phone industry swung into motion, not by offering better products and services,
but by going to Washington to ensure that its new competitor could be killed by its political friends. And sure enough, through three Congressmen that AT&T and Verizon had funded (Fred Upton (R-MI), Greg Walden (R-OR), and Cliff Stearns (R-FL)), Congress began demanding an investigation into this new company. Pretty soon, the Federal Communications Commission got into the game, revoking a critical waiver that had allowed it to proceed with its business plan.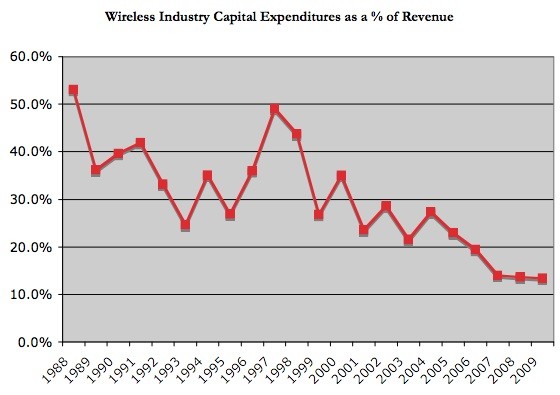 Basically, what this chart shows is that in the 1990s, cell phone companies bought up other cell phone companies, and Congress and the FCC were happy to go along because of the power of industry lobbying. Once these companies had an effective cartel, their amount of investment dropped. If you didn't like your cell phone company, you couldn't really switch, because the other big cell phone company was just as bad. In 1997, the industry was putting 50 cents of every dollar of revenue into investing in more cell phone towers. By 2009, that number dropped 12.5 cents of every dollar. CTIA has made it much harder to find this data since 2004, but it is obscure filing comments at the FCC. Pretty soon, we should expect the public not to even be able to track why our cell phone's usage is so bad.
................................
much more:
http://www.republicreport.org/2012/cell-phone-corruption-bill/
19 replies, 5244 views
Replies to this discussion thread
19 replies
Author
Time
Post

Corruption Responsible for 80% of Your Cell Phone Bill

[View all]

kpete
Apr 2012
OP
ProgressiveProfessor
Apr 2012
#1
uponit7771
Apr 2012
#12
belcffub
Apr 2012
#2
uponit7771
Apr 2012
#13
belcffub
Apr 2012
#14
ProgressiveProfessor
Apr 2012
#19
mojowork_n
Apr 2012
#3
leftyohiolib
Apr 2012
#4
mojowork_n
Apr 2012
#5
leftyohiolib
Apr 2012
#10
saras
Apr 2012
#6
ProgressiveProfessor
Apr 2012
#15
accord99
Apr 2012
#17
Egalitarian Thug
Apr 2012
#7
ProgressiveProfessor
Apr 2012
#16
marshall gaines
Apr 2012
#8
usrname
Apr 2012
#9
mojowork_n
Apr 2012
#11
facultyandstaffshow
Apr 2012
#18