Sat Aug 16, 2014, 09:00 PM
Cha (200,969 posts)
This is what FBI agents are handing out to Ferguson residents near where Mike Brown was killed... [View all]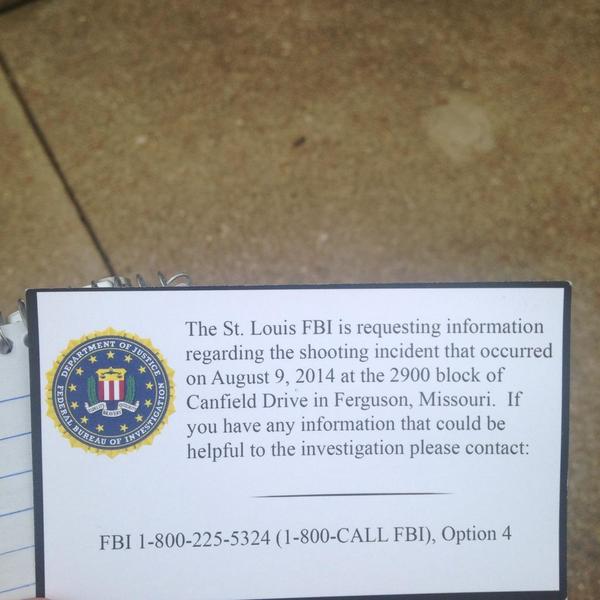 Charles Jaco @charlesjaco1
Follow
This is what FBI agents are handing out to Ferguson residents near where Mike Brown was killed.
11:39 AM - 16 Aug 2014
260 Retweets
72 favorites
http://theobamadiary.com/2014/08/16/the-lies-of-the-ferguson-pd-2/#comments
40 FBI agents are in Ferguson to investigate the shooting of Michael Brown
"40 FBI agents have arrived in Ferguson, Missouri to investigate the shooting of unarmed teenager Michael Brown, Missouri Highway Patrol Captain Ron Johnson announced Saturday.

According to Johnson, who is currently in charge of security in Ferguson, the agents were already canvassing the neighborhood where Brown was killed, seeking eyewitnesses to the killing and other evidence.

The FBI also handed out cards requesting information from local residents, which could be filled out and returned to investigators directly, or to members of the local clergy."
"At the onset of our federal civil rights investigation, the Attorney General of the United States promised a thorough and complete investigation into the shooting death of Michael Brown. That investigation is proceeding. We can confirm that FBI agents, working together with attorneys from the Justice Department's Civil Rights Division and US Attorney's Office, have already conducted several interviews of witnesses on the scene at the time of the shooting. Over the next several days, teams of FBI agents will be canvassing the neighborhood where the shooting took place to identify any individuals who may have information related to the shooting and have not yet come forward. We ask for the public's cooperation and patience, and again urge anyone with information related to the shooting to contact the FBI. The FBI can be reached at (800) CALL-FBI, option 4."
More..
http://www.vox.com/2014/8/16/6024539/federal-investigation-begins-40-fbi-agents-arrive-in-ferguson-michael-brown
Voter Registration Table is set up in Freguson in front of the makeshift memorial where Michael Brown was killed..
Jessica Lee @BusquedaJess
in front of the makeshift memorial where Mike Brown was killed, they've set up a voter registration table #Ferguson
8:20 AM - 16 Aug 2014 978 Retweets 645 favorites
Michael Brown
114 replies, 18058 views
Replies to this discussion thread
114 replies
Author
Time
Post

This is what FBI agents are handing out to Ferguson residents near where Mike Brown was killed...

[View all]

Cha
Aug 2014
OP
bravenak
Aug 2014
#1
Cha
Aug 2014
#3
yuiyoshida
Aug 2014
#16
Cha
Aug 2014
#20
Spitfire of ATJ
Aug 2014
#19
Cha
Aug 2014
#21
Yo_Mama_Been_Loggin
Aug 2014
#37
tabasco
Aug 2014
#67
bravenak
Aug 2014
#71
tabasco
Aug 2014
#72
bravenak
Aug 2014
#73
Ishoutandscream2
Aug 2014
#74
bravenak
Aug 2014
#75
robbob
Aug 2014
#76
bravenak
Aug 2014
#78
Autumn
Aug 2014
#79
cleduc
Aug 2014
#105
bravenak
Aug 2014
#106
madokie
Aug 2014
#2
Cha
Aug 2014
#6
madokie
Aug 2014
#8
Cha
Aug 2014
#11
madokie
Aug 2014
#64
Cha
Aug 2014
#87
roody
Aug 2014
#32
SammyWinstonJack
Aug 2014
#58
CountAllVotes
Aug 2014
#101
Schema Thing
Aug 2014
#107
Post removed
Aug 2014
#59
sheshe2
Aug 2014
#4
Cha
Aug 2014
#7
sheshe2
Aug 2014
#10
Name removed
Aug 2014
#60
azmom
Aug 2014
#5
Cha
Aug 2014
#9
Warpy
Aug 2014
#12
Cha
Aug 2014
#14
DhhD
Aug 2014
#17
azurnoir
Aug 2014
#13
Cha
Aug 2014
#15
azurnoir
Aug 2014
#22
Cha
Aug 2014
#24
azurnoir
Aug 2014
#38
hexola
Aug 2014
#26
Yo_Mama_Been_Loggin
Aug 2014
#41
sheshe2
Aug 2014
#18
Cha
Aug 2014
#27
jwirr
Aug 2014
#23
Cha
Aug 2014
#29
ReRe
Aug 2014
#25
randys1
Aug 2014
#28
Cha
Aug 2014
#50
randys1
Aug 2014
#66
Cha
Aug 2014
#88
alcibiades_mystery
Aug 2014
#30
Cha
Aug 2014
#33
JimDandy
Aug 2014
#31
Cha
Aug 2014
#35
Warren DeMontague
Aug 2014
#34
Cha
Aug 2014
#39
Warren DeMontague
Aug 2014
#43
Cha
Aug 2014
#45
Moostache
Aug 2014
#70
Louisiana1976
Aug 2014
#80
Cha
Aug 2014
#103
BlancheSplanchnik
Aug 2014
#36
Cha
Aug 2014
#40
freshwest
Aug 2014
#42
Cha
Aug 2014
#44
freshwest
Aug 2014
#46
Cha
Aug 2014
#47
freshwest
Aug 2014
#48
Cha
Aug 2014
#49
BronxBoy
Aug 2014
#52
Name removed
Aug 2014
#62
Cha
Aug 2014
#51
JustAnotherGen
Aug 2014
#53
Cha
Aug 2014
#54
BumRushDaShow
Aug 2014
#55
Cha
Aug 2014
#56
amandabeech
Aug 2014
#82
Cha
Aug 2014
#89
amandabeech
Aug 2014
#91
kelliekat44
Aug 2014
#57
Quayblue
Aug 2014
#65
Live and Learn
Aug 2014
#77
Cha
Aug 2014
#102
Cha
Aug 2014
#92
ileus
Aug 2014
#61
sheshe2
Aug 2014
#63
treestar
Aug 2014
#68
Cha
Aug 2014
#93
Liberal_in_LA
Aug 2014
#69
Cha
Aug 2014
#94
Louisiana1976
Aug 2014
#81
Cha
Aug 2014
#95
dawnie51
Aug 2014
#83
Cha
Aug 2014
#96
underthematrix
Aug 2014
#84
MuttLikeMe
Aug 2014
#85
uponit7771
Aug 2014
#90
Cha
Aug 2014
#97
riqster
Aug 2014
#86
Cha
Aug 2014
#98
riqster
Aug 2014
#104
Cha
Aug 2014
#108
IrishAyes
Aug 2014
#99
Cha
Aug 2014
#100
IrishAyes
Aug 2014
#109
Cha
Aug 2014
#110
IrishAyes
Aug 2014
#113
freshwest
Aug 2014
#111
Cha
Aug 2014
#112
freshwest
Aug 2014
#114