Mon Apr 9, 2012, 10:14 AM
bigtree (76,024 posts)
WH: 'Heads up, Sen. Grassley. I think a 6-year-old hijacked your account' [View all]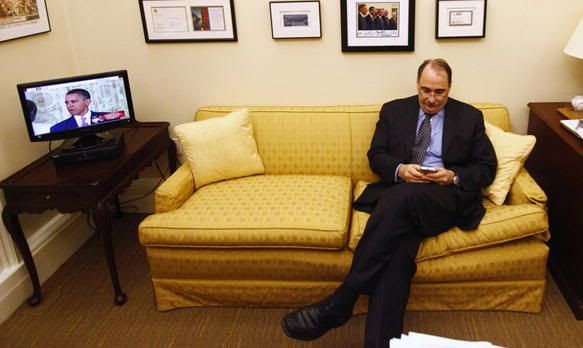 White House Aide Responds to Grassley's Tweet Which Calls President 'Stupid'
WASHINGTON- In what many perceive as a breach of decorum, Sen. Chuck Grassley wrote a tweet over the weekend that called President Obama 'stupid.' "Constituents askd why i am not outraged at PresO attack on supreme court independence. Bcause Am ppl r not stupid as this x prof of con law," Grassley tweeted in typical Twitter code . . .
. . . Obama aide David Axelrod even saw fit to respond on his own twitter account, writing,
"Heads up, Sen. Grassley. I think a 6-year-old hijacked your account and is sending out foolish Tweets just to embarrass you!"
read:
http://www.kgan.com/shared/newsroom/top_stories/videos/kgan_vid_10691.shtml
31 replies, 7269 views
Replies to this discussion thread
31 replies
Author
Time
Post

WH: 'Heads up, Sen. Grassley. I think a 6-year-old hijacked your account'

[View all]

bigtree
Apr 2012
OP
cyberswede
Apr 2012
#1
shraby
Apr 2012
#2
goclark
Apr 2012
#3
Hepburn
Apr 2012
#4
mopinko
Apr 2012
#5
bayareaboy
Apr 2012
#6
siligut
Apr 2012
#7
ProSense
Apr 2012
#8
MADem
Apr 2012
#9
DFW
Apr 2012
#16
MADem
Apr 2012
#21
highplainsdem
Apr 2012
#10
grantcart
Apr 2012
#11
dmr
Apr 2012
#20
Chemisse
Apr 2012
#26
bigtree
Apr 2012
#24
Iggo
Apr 2012
#12
Liberal_Dog
Apr 2012
#13
BumRushDaShow
Apr 2012
#14
12AngryBorneoWildmen
Apr 2012
#15
Jamaal510
Apr 2012
#17
spanone
Apr 2012
#18
Cali_Democrat
Apr 2012
#19
gateley
Apr 2012
#22
cindyperry2010
Apr 2012
#23
madokie
Apr 2012
#25
Major Hogwash
Apr 2012
#27
NYC Liberal
Apr 2012
#28
Cass
Apr 2012
#29
NYC Liberal
Apr 2012
#31
Systematic Chaos
Apr 2012
#30