Fri Apr 25, 2014, 04:46 PM
RainDog (28,784 posts)
Pew Poll April 2014: Americans view alcohol as more harmful than marijuana [View all]
Two-Thirds Favor Treatment, Not Jail, for Use of Heroin, Cocaine
Good news! Harm reduction approaches are winning the hearts and minds of Americans.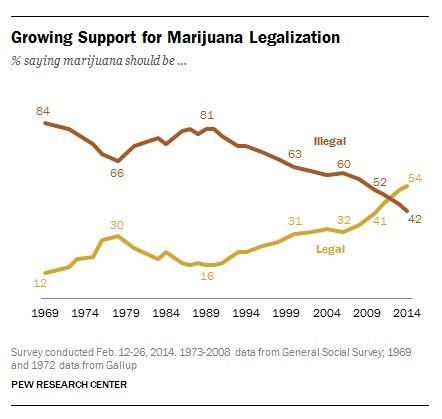 http://www.people-press.org/2014/04/02/americas-new-drug-policy-landscape/
The public appears ready for a truce in the long-running war on drugs. A national survey by the Pew Research Center finds that 67% of Americans say that the government should focus more on providing treatment for those who use illegal drugs such as heroin and cocaine. Just 26% think the government's focus should be on prosecuting users of such hard drugs.
...The survey by the Pew Research Center, conducted Feb. 14-23 among 1,821 adults, finds that support for the legalization of marijuana use continues to increase. And fully 75% of the public –including majorities of those who favor and oppose the legal use of marijuana – think that the sale and use of marijuana will eventually be legal nationwide.
By wide margins, the public views marijuana as less harmful than alcohol, both to personal health and to society more generally. Moreover, just as most Americans prefer a less punitive approach to the use of drugs such as heroin and cocaine, an even larger majority (76% of the public) – including 69% of Republicans and 79% of Democrats – think that people convicted of possessing small amounts of marijuana should not have to serve time in jail.
The Pew Research Center's report on U.S. drug policy comes at a pivotal moment in the national debate over how best to deal with drug abuse. There is a new bipartisan effort in Congress to give federal judges more discretion in low-level drug cases and reduce mandatory sentences for some drug crimes. Separately, the United States Sentencing Commission is expected to vote soon on a proposal to lessen the federal sentence for drug dealers.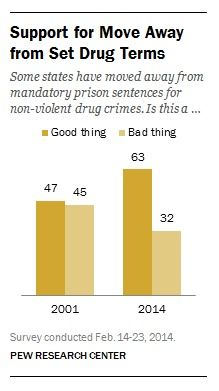 Interestingly, it's an even split who thinks drug use is a crisis or problem - BUT NOT WHERE THEY LIVE. It's those "others" who get stopped, frisked and jailed who are seen as the problem. (This, fwiw, may be an expression/result of what the ACLU termed
the staggering racial bias in arrests
.) Or it may reflect the bias among older members of the population whose views on marijuana are out of step with current understandings.
4 replies, 879 views
Replies to this discussion thread
4 replies
Author
Time
Post

Pew Poll April 2014: Americans view alcohol as more harmful than marijuana

[View all]

RainDog
Apr 2014
OP
FiveGoodMen
Apr 2014
#1
RainDog
Apr 2014
#4
Comrade Grumpy
Apr 2014
#2
RainDog
Apr 2014
#3