Mon Jan 20, 2014, 06:33 PM
Pretzel_Warrior (8,361 posts)
Ok. the message on DU is clear. Be glad with what you might get, serf! [View all]
Yesterday, there was a link to a discussion about college degrees. Although the article was saying we're doing a disservice to the less fortunate by telling them higher education is a ticket out of poverty, the thread also seemed to veer into "education is not the key to prosperity".
Now today we have a thread saying "we shouldn't try to follow our dreams and do what we love--we should take that shitty sales job or become a garbage collector."
These are symptoms that our economic and education systems have been fucked up for far too long.
I will be telling my son to explore many paths in life and find out what he is good at and loves doing. He should try to make a career of that and get proper education to do so. I will be telling him how important higher education is in our increasingly complex world. To me, education in college programs is a great antidote to the lack of critical thinking skills in high school and the faith-based bullshit of religion.
I have no problem that others really like working on cars and they really want to go to a trade school to learn how to work on cars. It can be a nice living. But unless there are unions to protect jobs, that person is a specialist at the mercy of capital. As soon as the ownder jerks the job away to a new area, that person may find themselves unemployed with a very difficult way back into the work force.
No matter what people say, you SHOULD look for things that interest you and make you feel good about life while paying the bills. For some, that means being a biochemist looking for new cures. For others, that may mean building homes or working in landscape design.
Do not allow yourself to be a mindless cog in the machine of capitalism.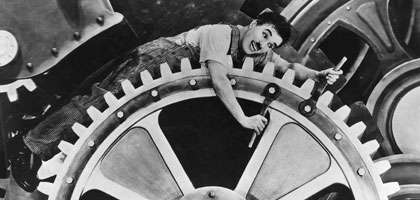 100 replies, 8521 views
Replies to this discussion thread
100 replies
Author
Time
Post

Ok. the message on DU is clear. Be glad with what you might get, serf!

[View all]

Pretzel_Warrior
Jan 2014
OP
tazkcmo
Jan 2014
#1
Pretzel_Warrior
Jan 2014
#2
tazkcmo
Jan 2014
#4
bvar22
Jan 2014
#21
zeemike
Jan 2014
#24
cantbeserious
Jan 2014
#29
Bobbie Jo
Jan 2014
#33
Nuclear Unicorn
Jan 2014
#3
Pretzel_Warrior
Jan 2014
#7
Nuclear Unicorn
Jan 2014
#10
Pretzel_Warrior
Jan 2014
#17
Nuclear Unicorn
Jan 2014
#20
lumberjack_jeff
Jan 2014
#50
TBF
Jan 2014
#9
Nuclear Unicorn
Jan 2014
#11
TBF
Jan 2014
#12
Nuclear Unicorn
Jan 2014
#14
TBF
Jan 2014
#42
Nuclear Unicorn
Jan 2014
#47
TBF
Jan 2014
#48
Nuclear Unicorn
Jan 2014
#49
TBF
Jan 2014
#51
Nuclear Unicorn
Jan 2014
#54
TBF
Jan 2014
#55
Nuclear Unicorn
Jan 2014
#60
TBF
Jan 2014
#61
Nuclear Unicorn
Jan 2014
#62
TBF
Jan 2014
#63
Nuclear Unicorn
Jan 2014
#66
TBF
Jan 2014
#75
Nuclear Unicorn
Jan 2014
#80
TBF
Jan 2014
#81
Nuclear Unicorn
Jan 2014
#83
TBF
Jan 2014
#88
Nuclear Unicorn
Jan 2014
#94
oldhippie
Jan 2014
#65
Nuclear Unicorn
Jan 2014
#67
oldhippie
Jan 2014
#68
Nuclear Unicorn
Jan 2014
#72
rhett o rick
Jan 2014
#74
oldhippie
Jan 2014
#76
rhett o rick
Jan 2014
#78
oldhippie
Jan 2014
#79
Nuclear Unicorn
Jan 2014
#85
A HERETIC I AM
Jan 2014
#73
TBF
Jan 2014
#90
A HERETIC I AM
Jan 2014
#92
TBF
Jan 2014
#93
A HERETIC I AM
Jan 2014
#95
sabrina 1
Jan 2014
#82
Nuclear Unicorn
Jan 2014
#84
TBF
Jan 2014
#87
Nuclear Unicorn
Jan 2014
#89
ancianita
Jan 2014
#23
truedelphi
Jan 2014
#5
Arugula Latte
Jan 2014
#6
TBF
Jan 2014
#8
Arugula Latte
Jan 2014
#13
YoungDemCA
Jan 2014
#15
TBF
Jan 2014
#40
YoungDemCA
Jan 2014
#69
TBF
Jan 2014
#77
grntuscarora
Jan 2014
#16
phantom power
Jan 2014
#18
Pretzel_Warrior
Jan 2014
#19
PowerToThePeople
Jan 2014
#36
lumberjack_jeff
Jan 2014
#22
ancianita
Jan 2014
#25
fishwax
Jan 2014
#96
lumberjack_jeff
Jan 2014
#97
fishwax
Jan 2014
#98
lumberjack_jeff
Jan 2014
#99
obxhead
Jan 2014
#26
davidthegnome
Jan 2014
#27
YoungDemCA
Jan 2014
#28
Dark n Stormy Knight
Jan 2014
#30
davidthegnome
Jan 2014
#32
Dark n Stormy Knight
Jan 2014
#34
davidthegnome
Jan 2014
#35
Dark n Stormy Knight
Jan 2014
#38
TBF
Jan 2014
#41
sabrina 1
Jan 2014
#86
jeff47
Jan 2014
#31
lib87
Jan 2014
#37
sabrina 1
Jan 2014
#39
Pretzel_Warrior
Jan 2014
#43
Vattel
Jan 2014
#46
xchrom
Jan 2014
#44
Hippo_Tron
Jan 2014
#45
Pretzel_Warrior
Jan 2014
#56
YoungDemCA
Jan 2014
#71
BrotherIvan
Jan 2014
#52
Pretzel_Warrior
Jan 2014
#57
BrotherIvan
Jan 2014
#58
Pretzel_Warrior
Jan 2014
#59
BrotherIvan
Jan 2014
#64
Orsino
Jan 2014
#53
Lady Freedom Returns
Jan 2014
#70
alarimer
Jan 2014
#91
redruddyred
Jun 2014
#100