Wed Mar 14, 2012, 10:34 AM
Hissyspit (45,782 posts)
Bruce Springsteen Interviewed by Jon Stewart in RS: 'What Happened To That Social Contract?' [View all]
Last edited Thu Mar 15, 2012, 03:59 AM - Edit history (1)
Interviewed By Jon Stewart:
"Hope and Dreams" and other songs on the album's second half seem to move from the personal and political to a sense of the spiritual.
Well, on the first half of the record, you're just pissed off. The first cut, "We Take Care of Our Own," is where I set out the questions that I'm going to try to answer. The song's chorus is posed as a challenge and a question. Do we take care of our own?
What happened to that social contract? Where did that go over the past 30 years? How has it been eroded so terribly? And how is it that the outrage about that erosion is just beginning to be voiced right now? I've written about this stuff for those 30 years,
from Darkness on the Edge of Town to The Ghost of Tom Joad through to today. It all came out of the Carter recession of the late Seventies, and when I was writing about that, my brother-in-law lost his construction job and went to work as a janitor in the local high school. It changed his life.
So these are issues and things that occur over and over again in history and land on the backs of the same people. In my music – if it has a purpose beyond dancing and fun and vacuuming your floor to it – I always try to gauge the distance between American reality and the American dream. The mantra that I go into in the last verse of "We Take Care of Our Own" – "Where are the eyes, where are the hearts?" – it's really: "Where are those things now, what happened to those things over the past 30 years? What happened to the social fabric of the world that we're living in? What's the price that people pay for it on a daily basis?" Which is something that I lived with intensely as a child, and is probably the prime motivation for the subjects I've written about since I was very, very young.
Someone wrote in The New York Times that "We Take Care of Our Own" was "jingoistic."
Whoever said that, they need a smarter pop writer.
(Laughs) It takes you back to the days of "Born in the U.S.A.," which was so widely misunderstood.
Yeah. I didn't feel that so much from this particular instance, but you write the best piece of music you can, and you put it out there, and then you see what comes back at you. Lately, it seems as if the polarization of the country has gotten so extreme that people want to force you into being either a phony "patriot" or an "apologist." Nuanced political dialogue or creative expression seems like it's been hamstrung by the decay of political speech and it's infantilized our national discourse. I can't go for that and I won't write that way.
To read the rest of this cover story, pick up the March 29th, 2012 issue of Rolling Stone, available on stands and in Rolling Stone All Access March 16th.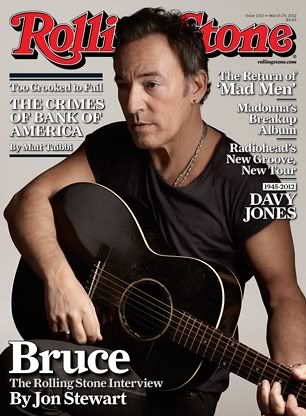 MORE:
http://www.rollingstone.com/music/news/cover-story-excerpt-bruce-springsteen-20120314#ixzz1p6K2ItJR
14 replies, 4085 views
Replies to this discussion thread
14 replies
Author
Time
Post

Bruce Springsteen Interviewed by Jon Stewart in RS: 'What Happened To That Social Contract?'

[View all]

Hissyspit
Mar 2012
OP
tabbycat31
Mar 2012
#1
lapislzi
Mar 2012
#4
tabbycat31
Mar 2012
#5
lapislzi
Mar 2012
#12
hifiguy
Mar 2012
#2
HughBeaumont
Mar 2012
#3
PotatoChip
Mar 2012
#6
abq e streeter
Mar 2012
#7
Hissyspit
Mar 2012
#13
progressoid
Mar 2012
#8
maddiemom
Mar 2012
#9
madokie
Mar 2012
#11
jillan
Mar 2012
#10
Brigid
Mar 2012
#14