Mon Dec 19, 2011, 06:58 AM
pinboy3niner (53,339 posts)
One of the eight Occupy L.A. protesters arrested Sat. charged with felony (*Dialup warning) [View all]
Source:
occupylosangeles.org
D17 Protester Charged With Felony
Submitted by Ruth Fowler on Sun, 12/18/2011 - 7:20pm
...
Last night, On December 17th, two protesters were plucked out from an OLA crowd hanging art and protest signs on the fence skirting City Hall, and arrested. One - Omar - was given a ticket and released after two hours. One was brutally beaten by the arresting officers, jailed, and this afternoon The Legal Committee found out that he has been charged with a felony and his bail set at $25,000.
The man who was beaten and jailed - Steven Marcus Releford - is an African American in his twenties renowned for his calm, peaceful and controlled temperament. His arrest, documented by citizen journalists, was arbitrary, vicious and pointless. Omar, a man in his early twenties of Libyan descent, overheard officers concocting a story to justify Stevenís arrest on the grounds he was violent. Video evidence unequivocably refutes this absolutely. This indicates the kinds of corruption LAPD has instilled in their ranks. It is hard not to see Steven's arrest as racially motivated, given that he was one of the few African American males visible in the predominantly white and Hispanic crowd, and yet was one of the most peaceful participants participating in the art-hanging protest.
Steven was part of a crowd defending their right to free speech and holding a vigil for Bradley Manning, and a vigil for sex workers who have suffered from violence. Officers trying to prevent protesters from hanging their art and participating in the vigil refused to give their name and badge numbers - which is against penal code 830.10. Officers tried to obstruct citizen journalists from filming and questioned protestersí right to observe, violating their First Amendment Rights under the Constitution. Protesters were told they were obstructing a public walkway under 647c - they were not: traffic on this sidewalk is minimal, and the only obstruction occurred by a police line. Penal code 647c does not give police or other authorities the power to regulate conduct in a public place or sidewalk, which is the basis upon which the LAPD have been citing this code - wrongly, in an effort to justify continual harassment of protesters and abuse.
Other arrests made that evening included six protesters - 5 female and one male - for trespassing into Solidarity Park, wearing orange Guantanamo jumpsuits in protest against the NDAA, and in solidarity with Occupy Wall Street. These protesters expected to get arrested, and expressed their desire not to be bailed out before they did this action. Their bail has been set at $5k.
...
http://www.occupylosangeles.org/?q=node%2F3047
The #Occupy L.A. candlelight vigil for Bradley Manning that was going on on the City Hall steps when the first two arrests were made...
The six who were protesting NDAA inside Solidarity Park are seen moments before they were arrested...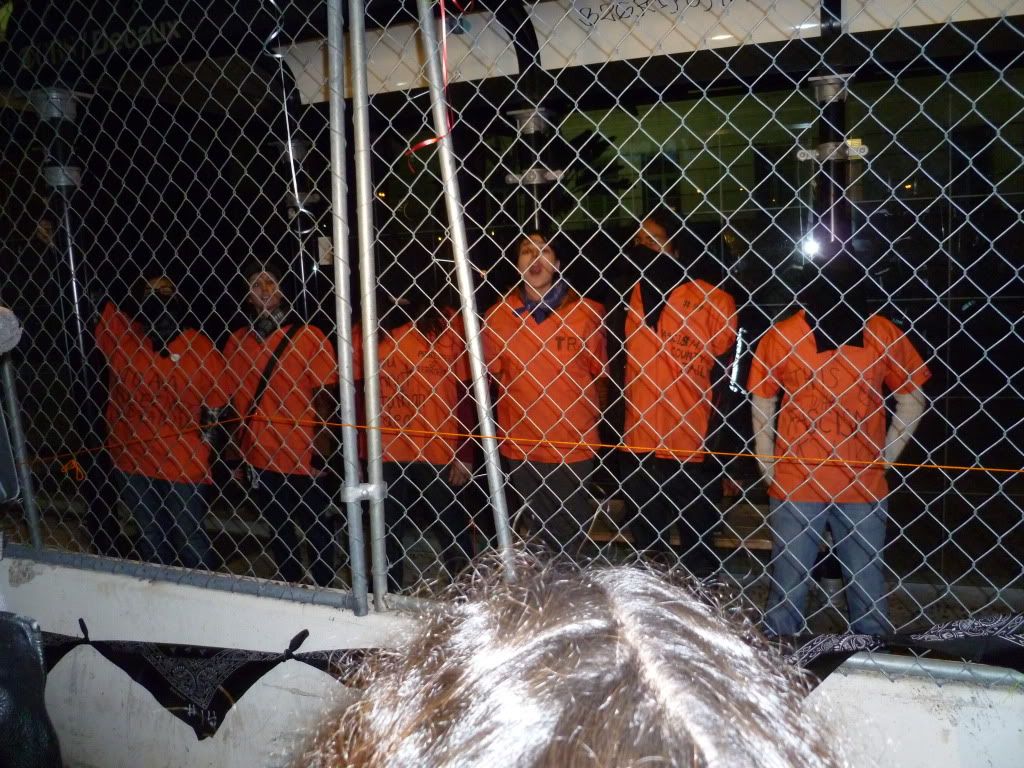 Photo from Saturday before the candlelight vigil: Solidarity Park remains fenced and posted...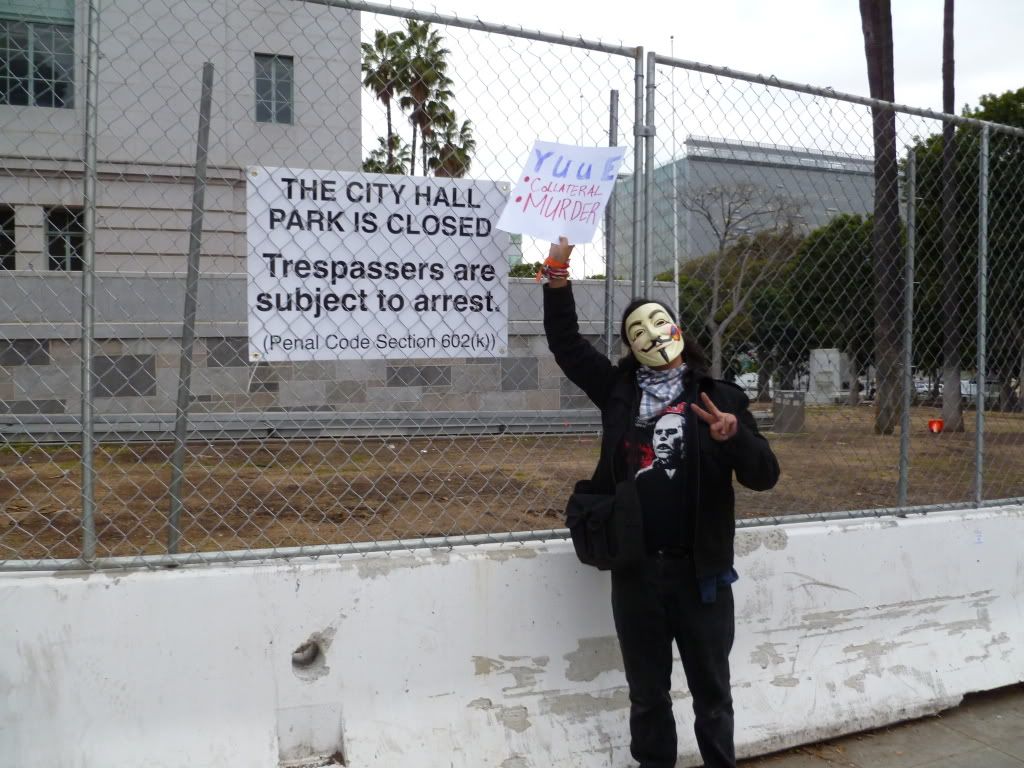 The first two arrests occurred while protesters were hanging signs like these on the fence...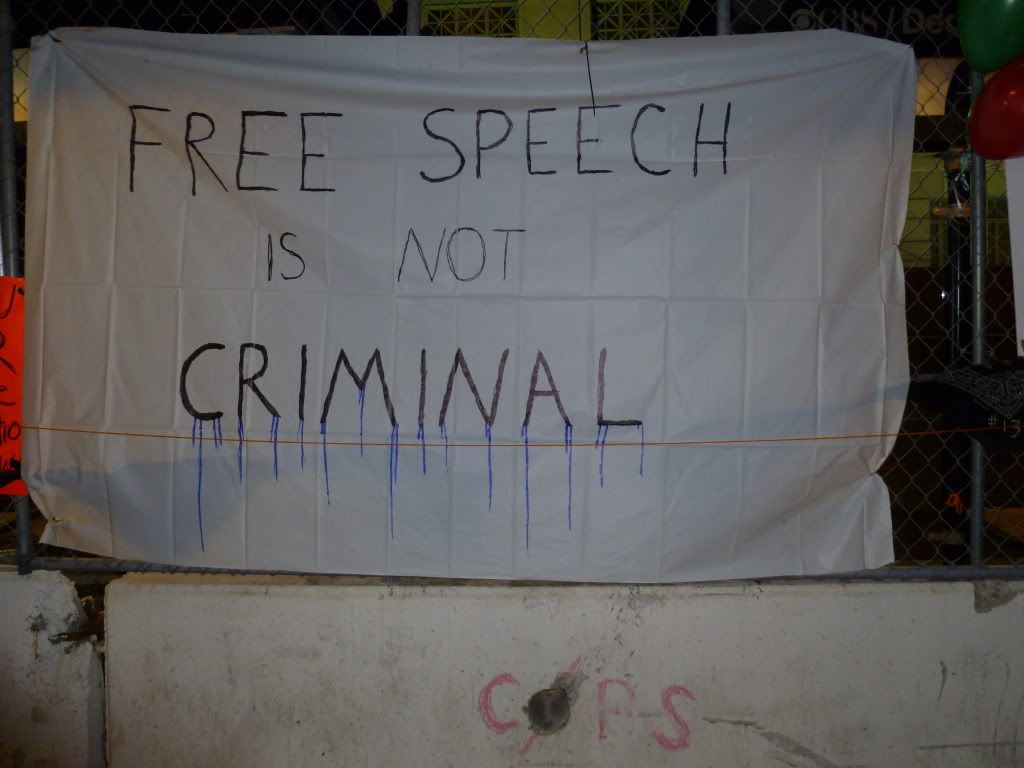 More details on Saturday's #Occupy L.A. protests (in which four DUers participated) in this thread by
Fire Walk With Me:

#Occupy LA, Dec. 17: Bradley Manning march, candle light vigil, GA (Massive dialup warning!)
http://www.democraticunderground.com/100237113
5 replies, 1686 views
Replies to this discussion thread
5 replies
Author
Time
Post

One of the eight Occupy L.A. protesters arrested Sat. charged with felony (*Dialup warning)

[View all]

pinboy3niner
Dec 2011
OP
joshcryer
Dec 2011
#1
pinboy3niner
Dec 2011
#2
pinboy3niner
Dec 2011
#3
Fire Walk With Me
Dec 2011
#4
T S Justly
Dec 2011
#5