Sun Dec 18, 2011, 03:09 PM
Fire Walk With Me (38,893 posts)
#Occupy LA, Dec. 17: Bradley Manning march, candle light vigil, GA (Massive dialup warning!) [View all]
Last edited Fri Jan 13, 2012, 08:35 AM - Edit history (5)
Busy day yesterday in solidarity with a number of events: Bradley Manning's birthday, the anniversary of the gent who self-immolated to start the Arab spring, and the beginning of the re-Occupation.
DUers Zhade, pinboy3niner, and U4ikLefty were there. Love meeting my fellow DUers, hope to meet more!
The Ben Franklin, candle light, and Fawkes fence pics are by pinboy3niner. There is more great stuff he should post as well
Thanks!
A march had earlier begun at the LaBrea Tar Pits and IIRC, was to end at Beverly Hills City Hall. "Axel F" riffs and Eddie Murphy references were heard...okay, that was only us...but our chosen march began in downtown LA at Pershing Square, which at this time of year features an ice rink:
One protester provided bubbles because "everyone loves bubbles":
There were several homeless people scattered throughout Pershing Square, sitting quietly as people ice-skated.
Mic checks were made regarding the reasons for the day's march, and we were told of the solidarity actions in several other cities and countries...a very busy, positive day. At least it so began. By the time we were gearing up to march, police aggregated:
I'm only mentioning them as they quickly made themselves the functional theme of the evening. After the positive gathering, we set out to march toward city hall. From one corner to the next, around the corner and...cops swarmed one gent who had dared to step into the street, a street they themselves were blocking with six plus bike cops and two grey unmarked vehicles (light bars inside the rear windows, same cops sitting in them as observed above). This is the best video I could get from my position, better is certain to shortly be uploaded by others:
Sorry, forgot I was filming for a moment and attempted to use the sideways angle to capture as much as possible...then remembered that I don't have a video editor which can rotate the framing.
As you can hear, tempers flared as cops continue to attempt to push us into a response they'd expect. I told the officer in front of me that we are a peaceful movement, we only want our rights...he flinched and said "We'll see", which was his only response to my other statements: "We are two and a half months old as a movement, when have we not been peaceful?" and in case he was taunting me, "They're coming for your pensions..that's no joke". Said in solidarity, not upset.
During the arrest (look how many cops it takes to deal with one person barely off a curb), several pedestrians (not part of the protest) walked around into the street past the police, and weren't even noticed. Several. Walked in the street, right past.
The protester was cited for jaywalking and was released. He was not happy; he was given phone numbers to attorneys interested in #Occupy so hopefully all will work out just fine.
We immediately gave up on our original route and began marching in random directions, which I believe is now called the Portland Snake. During this march, we came upon a long fence, along which were pitched tents and numerous cardboard boxes, sheltering the homeless. They were given some food we were carrying for later.
At this point the march from Beverly Hills met up with us:
Shop owners along the route were in their doors, some a bit perplexed, others stating support (one on a bullhorn)
One protester with a guitar stopped and played a song for some children.
Return to city hall, where decorations began to go up:
We gathered on the steps and mic checked about Bradley Manning and the other issues of the day, and settled in to wait a bit for the candle-light vigil.
Several livestreams were going throughout the day...
At city hall, police set up as usual in the sealed-off section of city hall, some six to ten always present, often crossing through our group, some with good humor and others with silent disregard. The bike cops from earlier had taken up across the street and sometime as police crossed the street without using the signals and crosswalks provided, were quick to draw jeers and taunts. "You aren't above the law/who's blocking traffic now" was common. One officer, when returning, DID use the signals and crosswalks to great and loud approval...
The candle light vigil became a re-decoration of city hall. See 7-8 minutes in on this video, just move the progress marker where you want it, sorry about the irritating ad:
http://www.ustream.tv/recorded/19215714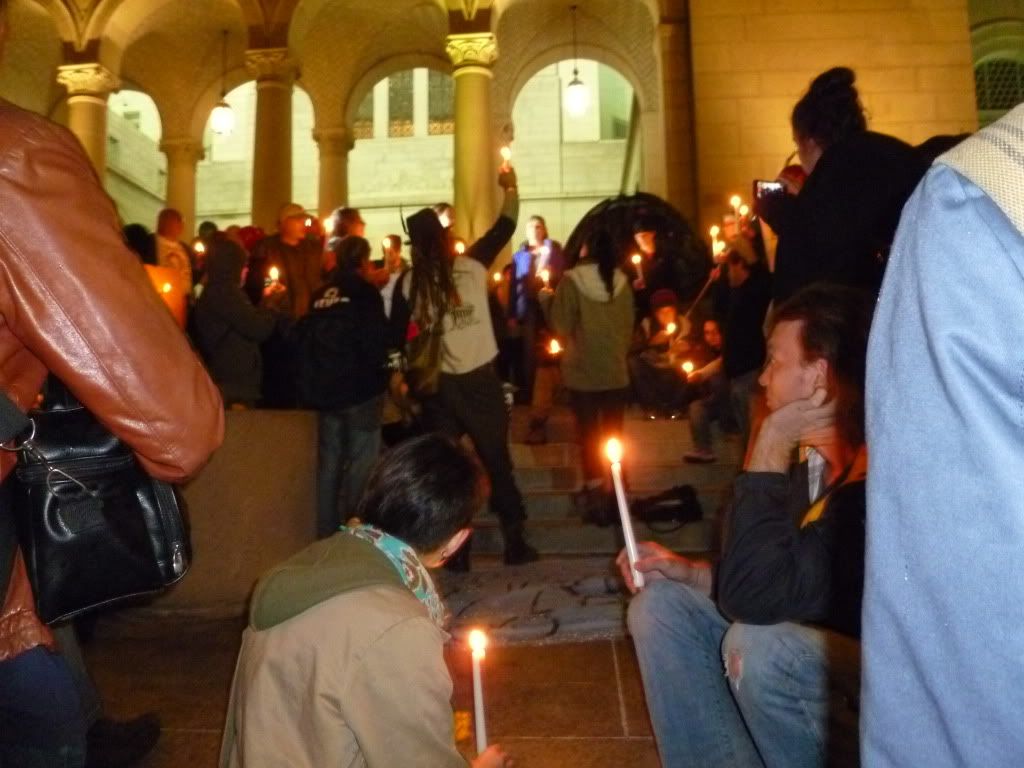 The truth-teller on the right is from #Occupy Minneapolis:
And of course, there are always police. The younger members of #OLA appear to be not getting along with the concept of police domination in the name of the 1%. We are not certain what occurred, but heard that a young woman either took a baton across the face or was butted by a baton in the breasts. Suffice to say, "police" (from invictus99's livestream):
http://www.ustream.tv/recorded/19216390
Invictus dear, California section 830.10 demands that police provide their identification upon request. Glik vs. Boston states we have the right to record them.
I DID see a young lady sitting and weeping, being comforted by a fellow protester, in addition to the abuse invictus received.
Please know that it's not all about cops and shouting. Please take a look at the GA recorded stream at the end. Police can't destroy what we're building.
Before the GA, six to eight lady protesters jumped the fence into city hall park and occupied a lit bus stop, one of several which by necessity are behind the police barricade against tents. They began chanting and were eventually arrested by police, who to their credit, did not swarm, did not bodyslam, did not baton.
Short video of the arrests; I filmed from my then-current position. There was already a crush directly in front of them. Far better video will undoubtedly be shortly found:
The General Assembly began shortly thereafter, concentrating upon guests from #Occupy the Hood, an inner-city project to empower and unify people and communities. crossxbones and freedomla have archived streams:
http://www.ustream.tv/occupyfreedomla
All of our towns and people are suffering from isolation, alienation, and deprivation. #OTH have been working to change that at several levels, including but in no way limited to community networking, community clean-up projects, etc. Watch for change.
There was also involvement from and a vigil for indoor and outdoor sex workers, and their stories of police abuse.
On the way home, we passed a few instances of large homeless encampments right along the streets. Believe nothing nice about our mayor Mr. Villain; there are thousands upon thousands of homeless throughout Los Angeles, Hollywood, and out to other cities on the west side, with little evidence of support from "authorities" whatsoever. A damn crime to use money for anything but equal good treatment for all people!
24 replies, 6066 views
Replies to this discussion thread
24 replies
Author
Time
Post

#Occupy LA, Dec. 17: Bradley Manning march, candle light vigil, GA (Massive dialup warning!)

[View all]

Fire Walk With Me
Dec 2011
OP
barbtries
Dec 2011
#1
Fire Walk With Me
Dec 2011
#3
FirstLight
Dec 2011
#2
Luminous Animal
Dec 2011
#4
Zhade
Dec 2011
#5
Fire Walk With Me
Dec 2011
#6
pinboy3niner
Dec 2011
#7
U4ikLefty
Dec 2011
#10
pinboy3niner
Dec 2011
#8
U4ikLefty
Dec 2011
#9
Fire Walk With Me
Dec 2011
#15
U4ikLefty
Dec 2011
#18
pinboy3niner
Dec 2011
#11
bottom line
Dec 2011
#12
pinboy3niner
Dec 2011
#13
T S Justly
Dec 2011
#14
pinboy3niner
Dec 2011
#16
pinboy3niner
Dec 2011
#17
JessieNicole
Dec 2012
#23
pinboy3niner
Dec 2012
#24
JessieNicole
Dec 2012
#19
hrmjustin
Dec 2012
#20
Fire Walk With Me
Dec 2012
#21
JessieNicole
Dec 2012
#22