Wed Feb 29, 2012, 10:38 PM
Octafish (55,745 posts)
Know your BFEE: WikiLeaks Stratfor Dump Exposes Continued Secret Government Warmongering [View all]
War is big business. It's an insider's game. It's why we have so much secret government.
The last remaining enormous wads of cash in the Treasury are to be had for purchasing today's modern military industrial intel complex.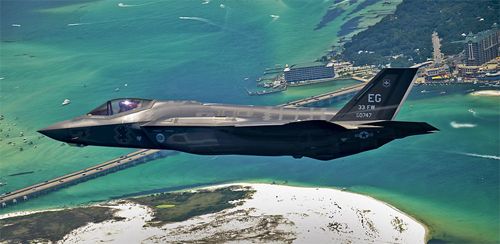 There's more than a trillion to be grabbed --
just for the Lockheed-Martin F-35
.
Now keeping tabs on us -- people interested in using some of the nation's treasure for more peaceful purposes -- are for-hire spies. How do I know this? Julian Assange and Anonymous:
WikiLeaks' Stratfor Dump Lifts Lid on Intelligence-Industrial Complex

WikiLeaks' latest release, of hacked emails from Stratfor, shines light on the murky world of private intelligence-gathering
by Pratap Chatterjee
Published on Tuesday, February 28, 2012 by The Guardian/UK
What price bad intelligence? Some 5m internal emails from Stratfor, an Austin, Texas-based company that brands itself as a "global intelligence" provider, were recently obtained by Anonymous, the hacker collective, and are being released in batches by WikiLeaks, the whistleblowing website, starting Monday.
The most striking revelation from the latest disclosure is not simply the military-industrial complex that conspires to spy on citizens, activists and trouble-causers, but the extremely low quality of the information available to the highest bidder. Clients of the company include Dow Chemical, Lockheed Martin, Northrop Grumman and Raytheon, as well as US government agencies like the Department of Homeland Security, the Defense Intelligence Agency and the Marines.
SNIP...
Assange notes that Stratfor is also seeking to profit directly from this information by partnering in an apparent hedge-fund venture with Shea Morenz, a former Goldman Sachs managing director. He points to an August 2011 document, marked "DO NOT SHARE OR DISCUSS", from Stratfor CEO George Friedman, which says:

"What StratCap will do is use our Stratfor's intelligence and analysis to trade in a range of geopolitical instruments, particularly government bonds, currencies and the like."

CONTINUED...
http://www.commondreams.org/view/2012/02/28-10?print
If it weren't for Anonymous and WikiLeaks, we probably wouldn't know about any of that.
It's no joke. It's no unimportant story. It's no boring history. Run by insiders, the secret government is key to making the system run on behalf of the few -- the 1-percent of 1-percent. Central to that is intelligence -- economically, politically and military useful information.
Which brings up the nation's purported free press, the only business mentioned by name in the entire United States Constitution, and how the organizations therein have miserably failed to feature prominently the sundry and myriad ways
the insiders on Wall Street and their toadies in Washington do the work for Them
.
The problem is systemic. The corruption is systemic.
Because it involves oversight of secret organizations -- the Pentagon, Homeland Security, CIA, etc -- Congress and the Administration often have no clue, let alone oversight, to what is happening because the corruption is marked "Top Secret."
Secret government also means We the People can't do our job as citizens, which is to hold them accountable and find the ones responsible in order to vote the crooks out and, it is hoped, the honest ones in.
With no citizen oversight, anything goes. And it doesn't stop.
Remember this fine fellow
, US Navy fighter ace Randy "Duke" Cunningham?
Later a member of the United States Congress, he used his position to feather his nest, Big Time.
In his political career, Cunningham was a member of the Appropriations and Intelligence committees, and chaired the House Intelligence Subcommittee on Human Intelligence Analysis and Counterintelligence during the 109th Congress. He was considered a leading Republican expert on national security issues.
Currently, he's in USP Tuscon or another fine facility where he gets three squares, medical and dental.
He's due for release in a year or so. He'll be able to pick up his pension.

"The Duke Cunningham Act, also known as the Federal Pension Forfeiture Act, was introduced by U.S. Senator John F. Kerry in 2006. The bill would have denied pension benefits to any members of Congress convicted of bribery, conspiracy or perjury. The bill died in committee. (Source: The Press Enterprise)

Duke wasn't alone. He really was just one snake in a long line of snakes. Remember
Dusty Foggo
, Number 3 at CIA and close associate of CIA Director and former Congressman
Porter Goss
? Swells sitting atop the peak of political and military secrecy and power.
Unfortunately, when it comes to modern governance, no oversight means means the insiders are getting away with murder, and warmongering and treason and all the power that they bring. Appointed pretzeldent George W Bush on Valentine's Day 2007 put it in words: "
Money trumps peace
."
Secret government warmongering and war profiteering are systemic.
Secret government is rotten to the core. What's more, in a democracy that once really was land of the free and home of the brave, secret government poses the greatest threat to true national security.
47 replies, 14467 views
Replies to this discussion thread
47 replies
Author
Time
Post

Know your BFEE: WikiLeaks Stratfor Dump Exposes Continued Secret Government Warmongering

[View all]

Octafish
Feb 2012
OP
steve2470
Feb 2012
#1
Octafish
Mar 2012
#5
jannyk
Feb 2012
#2
Octafish
Mar 2012
#6
FarCenter
Feb 2012
#3
Octafish
Mar 2012
#11
lonestarnot
Feb 2012
#4
Octafish
Mar 2012
#12
Hissyspit
Mar 2012
#19
Octafish
Mar 2012
#34
lonestarnot
Mar 2012
#23
Octafish
Mar 2012
#33
lonestarnot
Mar 2012
#45
Initech
Mar 2012
#7
Octafish
Mar 2012
#20
Hell Hath No Fury
Mar 2012
#8
Octafish
Mar 2012
#22
bananas
Mar 2012
#9
Octafish
Mar 2012
#10
woo me with science
Mar 2012
#17
woo me with science
Mar 2012
#13
Octafish
Mar 2012
#25
woo me with science
Mar 2012
#14
Octafish
Mar 2012
#28
bvar22
Mar 2012
#15
Octafish
Mar 2012
#29
greytdemocrat
Mar 2012
#39
woo me with science
Mar 2012
#16
Octafish
Mar 2012
#18
hootinholler
Mar 2012
#24
Octafish
Mar 2012
#31
Octafish
Mar 2012
#32
hootinholler
Mar 2012
#38
unkachuck
Mar 2012
#21
Octafish
Mar 2012
#30
unkachuck
Mar 2012
#37
wildbilln864
Mar 2012
#26
Octafish
Mar 2012
#27
wildbilln864
Mar 2012
#43
Quantess
Mar 2012
#35
Octafish
Mar 2012
#36
raouldukelives
Mar 2012
#40
Octafish
Mar 2012
#41
Agony
Mar 2012
#42
Octafish
Mar 2012
#44
G_j
Apr 2013
#46
polynomial
Jun 2013
#47