Fri Aug 9, 2013, 05:57 PM
BainsBane (43,781 posts)
Follow up of teengage Canadian gang rape victim who committed suicide [View all]
I know there have been several similar incidents, but members may recall Rehtaeh Parsons. Police never filed charges after the rape, despite the fact the rapists posted pictures on social media. She was tormented by many sick people, until she killed herself. Retaeh Parsons was only 15 at the time of the rape.
RIP Rehtaeh.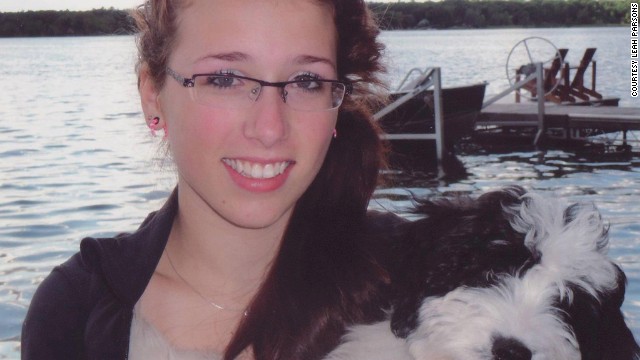 2 face charges in case of Canadian girl who hanged self after alleged rape
Two 18-year-old men face child pornography charges in connection with the case of a 17-year-old girl who hanged herself after she was allegedly gang-raped and bullied online, Canadian authorities said Thursday evening.

A police statement did not provide details, but the family of Rehtaeh Parsons has said she developed suicidal thoughts after she was sexually assaulted in 2011 and a picture of the incident was shared by phone and online.

The two men whose names were not released were arrested Thursday morning at their homes in Halifax, Nova Scotia, according to Royal Canadian Mounted Police and Halifax Regional Police.
One man faces two counts of distribution of child pornography, authorities said. The other is accused of one count of distribution of child pornography and one count of making child pornography. . .

Police investigated, but no criminal charges were filed at that time. In April, police in eastern Canada announced they would reopen the case "in light of new and credible information that has recently been brought forward to police."

http://www.cnn.com/2013/08/08/world/americas/canada-teen-suicide-arrests/index.html?hpt=hp_c4
28 replies, 2876 views
Replies to this discussion thread
28 replies
Author
Time
Post

Follow up of teengage Canadian gang rape victim who committed suicide

[View all]

BainsBane
Aug 2013
OP
Lunacee_2013
Aug 2013
#1
Delphinus
Aug 2013
#2
Stargazer09
Aug 2013
#3
NuclearDem
Aug 2013
#4
Hydra
Aug 2013
#5
Squinch
Aug 2013
#6
BainsBane
Aug 2013
#8
Suziq
Aug 2013
#7
LittleBlue
Aug 2013
#9
BainsBane
Aug 2013
#10
BainsBane
Aug 2013
#11
BainsBane
Aug 2013
#12
Posteritatis
Aug 2013
#17
BainsBane
Aug 2013
#19
Posteritatis
Aug 2013
#20
BainsBane
Aug 2013
#22
Posteritatis
Aug 2013
#23
BainsBane
Aug 2013
#24
Posteritatis
Aug 2013
#25
BainsBane
Aug 2013
#26
Posteritatis
Aug 2013
#27
BainsBane
Aug 2013
#28
davidpdx
Aug 2013
#13
Posteritatis
Aug 2013
#16
davidpdx
Aug 2013
#18
Posteritatis
Aug 2013
#21
arely staircase
Aug 2013
#14
BainsBane
Aug 2013
#15