Mon Jul 1, 2013, 08:45 AM
Coyotl (15,262 posts)
***** Stand with Texas Women - Rally at Texas Capitol = LiveBlog ***** [View all]
Last edited Mon Jul 1, 2013, 01:22 PM - Edit history (3)
This thread is intended as a continuing news blog for the days events.
Please contribute links, images, news flashes, and your comments.
Stand Up Monday - Rally at Texas Capitol
LIVE STREAM
Gov. Perry and Lt. Governor Dewhurst are attacking the rights of women in TX.
We must stand together and demand that Texas legislators stop playing politics with women's health.
Speak up now — tell lawmakers to stop interfering with women's private medical decisions.
https://secure.ppaction.org/site/Advocacy?cmd=display&page=UserAction&id=16698&s_src=StandWithTXWomen_0613_c3_org
https://www.facebook.com/StandWithTXWomen
Facebook Event Page:
https://www.facebook.com/events/139027312967322/
Going (6,447)
Facebook Virtual Rally:
https://www.facebook.com/events/132687153606161/
Going (2,296)
Monday, July 1, 2013
12:00pm until 5:00pm in CDT
RALLY SPEAKERS:
State Rep. Jessica Farrar
Lisa Edelstein, actress
Ilyse Hogue, NARAL President
State Rep. Senfronia Thompson
Stephanie March, actress
State Sen. Kirk Watson
State Sen. Leticia Van De Putte
Cecile Richards, Planned Parenthood President
State Sen. Wendy Davis
______
In the Twitterverse:
#StandWithWendy
#SB9
#HB2
#StandWithTexasWomen
#StandWithTXWomen
After the rally we will have many opportunities to keep standing with Texas women and Sen. Davis:
2PM – 5PM – Share Your Story! Record a video testimonial or take a photo showing your support.
2PM – Senate Convenes - Senate Gallery, 3rd floor
2PM - 3PM - Workshop presentations on how to engage your community, civic participation and women's rights.
2PM – 3PM - Reproductive Justice and Women's Health presentations.
2:30PM – Become a voter registrar! Voter Deputization.
3:30PM – "Staying Engaged: What's next?" Take action at the capitol: write a letter to your Representative or Senator; write a letter to the editor; sign a thank you card for women's health champions; sign up and learn more about organizing in-district events, phone banks and house parties.
3:30PM – Become a voter registrar! Voter Deputization.
+++++++++++++++++++++
Possible
live video feeds
from the capitol.
+++++++++++++++++++++
CHECK-IN thread: Stand with Texas Women Virtual March
http://www.democraticunderground.com/10023136162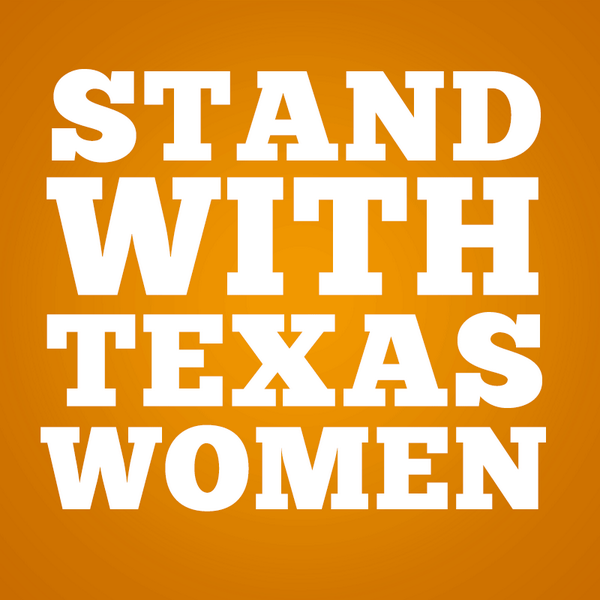 52 replies, 7472 views
Replies to this discussion thread
52 replies
Author
Time
Post

***** Stand with Texas Women - Rally at Texas Capitol = LiveBlog *****

[View all]

Coyotl
Jul 2013
OP
northoftheborder
Jul 2013
#1
Iwillnevergiveup
Jul 2013
#2
ismnotwasm
Jul 2013
#3
Le Taz Hot
Jul 2013
#4
yeoman6987
Jul 2013
#31
Le Taz Hot
Jul 2013
#33
yeoman6987
Jul 2013
#41
Le Taz Hot
Jul 2013
#42
yeoman6987
Jul 2013
#44
monmouth3
Jul 2013
#5
Laurian
Jul 2013
#6
MrBig
Jul 2013
#7
niyad
Jul 2013
#8
Coyotl
Jul 2013
#9
nolabear
Jul 2013
#10
Coyotl
Jul 2013
#11
northoftheborder
Jul 2013
#12
Coyotl
Jul 2013
#15
ananda
Jul 2013
#13
Coyotl
Jul 2013
#14
Coyotl
Jul 2013
#16
fleur-de-lisa
Jul 2013
#17
yesphan
Jul 2013
#18
mountain grammy
Jul 2013
#19
mountain grammy
Jul 2013
#20
Gothmog
Jul 2013
#21
calimary
Jul 2013
#24
ZRT2209
Jul 2013
#22
calimary
Jul 2013
#23
Nanjing to Seoul
Jul 2013
#25
Coyotl
Jul 2013
#26
Nanjing to Seoul
Jul 2013
#29
Big_Harry
Jul 2013
#27
Post removed
Jul 2013
#28
efhmc
Jul 2013
#30
Coyotl
Jul 2013
#32
Coyotl
Jul 2013
#34
northoftheborder
Jul 2013
#40
Coyotl
Jul 2013
#35
Coyotl
Jul 2013
#36
ismnotwasm
Jul 2013
#38
northoftheborder
Jul 2013
#39
ismnotwasm
Jul 2013
#37
Coyotl
Jul 2013
#43
ismnotwasm
Jul 2013
#45
Coyotl
Jul 2013
#46
ismnotwasm
Jul 2013
#47
Coyotl
Jul 2013
#48
cal04
Jul 2013
#49
okaawhatever
Jul 2013
#50
Liberal_in_LA
Jul 2013
#51
Fire Walk With Me
Jul 2013
#52