Tue Apr 2, 2013, 08:06 PM
Cali_Democrat (30,439 posts)
Fox News Ratings Plunge To New Lows...MSNBC Gloats In Press Release [View all]
Fox News Ratings: Hannity, Van Susteren Plunge To New Lows In Demo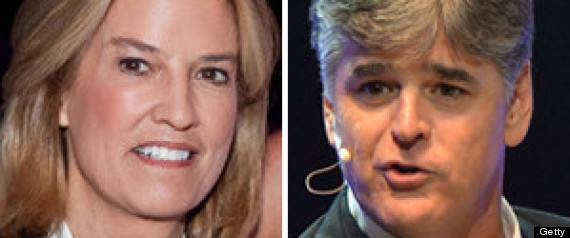 Posted: 04/02/2013 5:24 pm EDT
The cable news industry was hit with another month of tough ratings news.
Every network saw its ratings drop from 2012, a politics-heavy election year that was guaranteed to spike audiences.
In primetime, Fox News suffered the biggest plunge, falling 33 percent from its 2012 numbers. CNN fell a nearly equally precipitous 28 percent, while MSNBC dropped 4 percent.

Fox News, which has had several well-publicized ratings issues over the past few months, saw its primetime numbers fall to new lows in the all-important A25-54 category for many shows. MSNBC gloated in its press release, saying that hosts Sean Hannity and Greta Van Susteren had their worst demo ratings ever. Bill O'Reilly's demo ratings were also off by 26 percent.
<...>
MSNBC topped CNN in total viewers and demo viewers, and saw a 30 percent increase in daytime viewers in the A25-54 demo.
http://www.huffingtonpost.com/2013/04/02/fox-news-ratings-hannity-van-susteren-worst-demo-ratings_n_3001096.html
36 replies, 10155 views
Replies to this discussion thread
36 replies
Author
Time
Post

Fox News Ratings Plunge To New Lows...MSNBC Gloats In Press Release

[View all]

Cali_Democrat
Apr 2013
OP
House of Roberts
Apr 2013
#1
Skittles
Apr 2013
#2
Fawke Em
Apr 2013
#6
Spitfire of ATJ
Apr 2013
#14
BobTheSubgenius
Apr 2013
#15
AlbertCat
Apr 2013
#33
Rex
Apr 2013
#3
adogslife
Apr 2013
#35
kevinmc
Apr 2013
#4
Lochloosa
Apr 2013
#7
DeSwiss
Apr 2013
#10
tularetom
Apr 2013
#26
SunSeeker
Apr 2013
#5
CatholicEdHead
Apr 2013
#8
leftynyc
Apr 2013
#18
riverbendviewgal
Apr 2013
#9
dmr
Apr 2013
#28
NCcoast
Apr 2013
#11
Jamaal510
Apr 2013
#12
LiberalLovinLug
Apr 2013
#24
Moostache
Apr 2013
#13
Heywood J
Apr 2013
#16
Le Taz Hot
Apr 2013
#17
magellan
Apr 2013
#20
Blue Owl
Apr 2013
#19
Berlum
Apr 2013
#21
Skraxx
Apr 2013
#22
Arugula Latte
Apr 2013
#23
lobodons
Apr 2013
#25
d_r
Apr 2013
#27
TexasTowelie
Apr 2013
#32
zipplewrath
Apr 2013
#29
Downtown Hound
Apr 2013
#30
William769
Apr 2013
#31
aint_no_life_nowhere
Apr 2013
#34
ProudProgressiveNow
Apr 2013
#36