Wed Feb 20, 2013, 04:14 PM
madfloridian (88,114 posts)
Neighbor forced to cut down 2 huge trees to give John Olerud a better view of Seattle. [View all]
Last edited Wed Feb 20, 2013, 07:42 PM - Edit history (1)
I just happened on this story, and it really made me angry. The video at the 3rd link of Olerud presenting his case was like the icing on the cake. Money can buy just about everything.
http://seattletimes.com/html/localnews/2020389113_treecuttingloxml.html?prmid=obinsource
The story is almost apologetic and way too nice. The idea that neighbors can be forced to remove trees that block someone's view is ridiculous.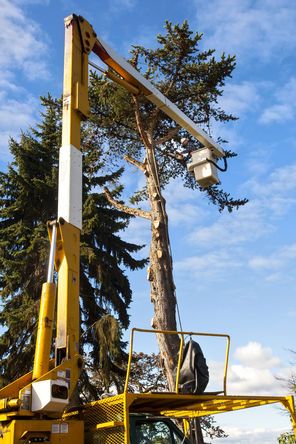 Mike Siegel / The Seattle Times Kevin Wells, from The Davey Tree Expert Co., works with a crew to remove a 50-year-old Chinese pine at the center of a legal fight between its owners, Bruce and Linda Baker, of Clyde Hill, and neighbors John and Kelly Olerud, who said it blocked their view.
A chain saw growled as, limb by limb, the foliage fell from Bruce and Linda Baker's cherished Chinese pine.

Soon the crew went after the denuded trunk until it, too, was gone.

The rare pine was removed Tuesday by order of the Clyde Hill Board of Adjustment, which said it unreasonably obstructed the view from the nearby home of retired baseball star John Olerud and his wife, Kelly.

The Bakers decided last month not to appeal the ruling. The pine and a Colorado spruce will be replaced with smaller plants at the Oleruds' expense.
Be sure to read the comments in the right column. I am not the only one this bothered.
I also saw this about the 50 year old Chinese Pine:
http://nosonicsarena.com/wp/?p=1488
Recent stories of John Olerud's building a house in 2006, staying at his neighbor's house for 8 months while his home is being built, and then waiting a few years before having the Clyde Hill Board of Adjustment vote 3-2 to condemn his neighbor's decades-old trees as obstructing Olerud's view have highlighted the different set of rules the wealthy live by.

Picture in your mind what an "obstructed view" looks like. Now take a look at what Olerud's obstructed view of the Seattle skyline looks like. Hey Mr Golden Glove, if a single tree 100 ft away can "obstruct the skyline" it's not a panoramic skyline view you're looking at but only a "feature" on the horizon. You should have built your home on the West half of the lot, where your massive back yard is, if you intended to get a better angle on Seattle… and don't give your neighbors to the East any ideas with those privacy hedges growing taller over the years.
And there is a news video at this link. The word "entitled" came to my mind.
http://www.komonews.com/sports/Mariner-great-Olerud-hits-home-run-in-battle-over-trees-177811571.html?tab=video&c=y
CLYDE HILL, Wash. -- Dozens of people packed Clyde Hill City Hall on Wednesday to fight for two trees, and the man they were fighting happens to be a former Seattle Mariner great.

John Olerud, the former Mariners first baseman, wants his neighbor to chop down a spruce and a Chinese pine to improve his own view and up the value of his $4 million home.

The neighbor trimmed one tree, but doesn't want to part with either of them.

...."They are not exempt from the view ordinance," Olerud said of the trees. "We have also established that these trees unreasonably obstruct our view, and we respectfully submit our complaint."
The first article as well as Olerud in the video use the term "unreasonably obstructed". How can a tree that is 5 decades old be an unreasonable obstruction when it was there first?
On Edit: Adding a picture of his "obstructed view".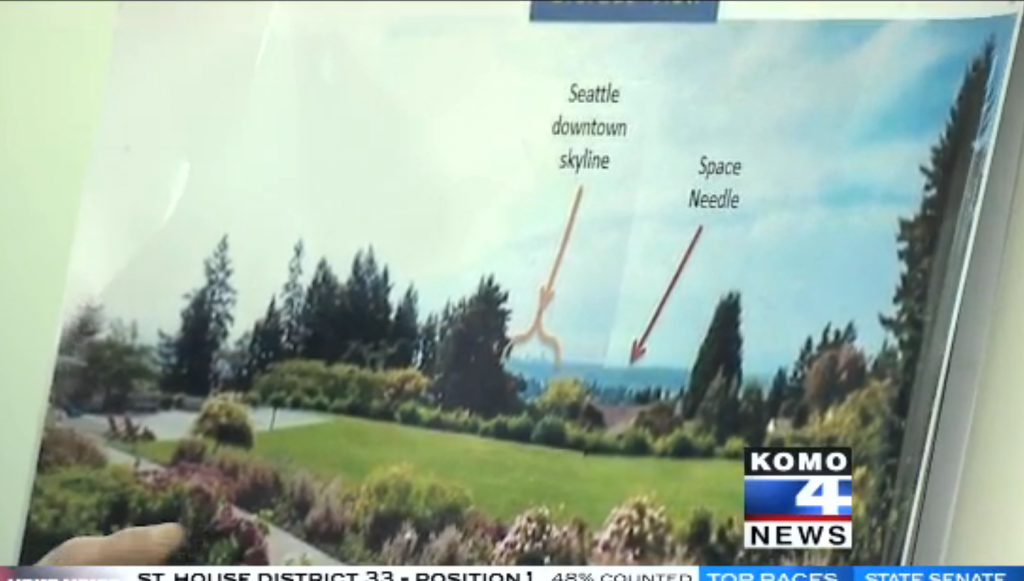 The "evidence" of an obstructed view Olerud submitted. As shown in Komo4 story.
103 replies, 18734 views
Replies to this discussion thread
103 replies
Author
Time
Post

Neighbor forced to cut down 2 huge trees to give John Olerud a better view of Seattle.

[View all]

madfloridian
Feb 2013
OP
MinneapolisMatt
Feb 2013
#1
Capt. Obvious
Feb 2013
#2
demwing
Feb 2013
#3
lpbk2713
Feb 2013
#4
msanthrope
Feb 2013
#5
Post removed
Feb 2013
#36
BainsBane
Feb 2013
#54
Ken Burch
Feb 2013
#58
BainsBane
Feb 2013
#66
Ken Burch
Feb 2013
#68
msanthrope
Feb 2013
#56
Ken Burch
Feb 2013
#57
Moosepoop
Feb 2013
#59
pa28
Feb 2013
#6
HangOnKids
Feb 2013
#9
madfloridian
Feb 2013
#12
tsuki
Feb 2013
#23
Heather MC
Feb 2013
#35
elehhhhna
Feb 2013
#44
SemperEadem
Feb 2013
#53
KamaAina
Feb 2013
#61
madfloridian
Feb 2013
#69
treestar
Feb 2013
#84
0rganism
Feb 2013
#15
defacto7
Feb 2013
#7
Blue_Tires
Feb 2013
#8
Major Nikon
Feb 2013
#28
Blue_Tires
Feb 2013
#31
Major Nikon
Feb 2013
#34
secondvariety
Feb 2013
#71
Roy Rolling
Feb 2013
#90
ProudToBeBlueInRhody
Feb 2013
#10
madfloridian
Feb 2013
#11
gollygee
Feb 2013
#20
onehandle
Feb 2013
#13
maxsolomon
Feb 2013
#14
Skittles
Feb 2013
#16
Gormy Cuss
Feb 2013
#19
maxsolomon
Feb 2013
#38
Gormy Cuss
Feb 2013
#72
snort
Feb 2013
#88
Skittles
Feb 2013
#93
snort
Feb 2013
#98
Skittles
Feb 2013
#99
MadHound
Feb 2013
#18
maxsolomon
Feb 2013
#41
madfloridian
Feb 2013
#55
Vinnie From Indy
Feb 2013
#62
maxsolomon
Feb 2013
#94
MadHound
Feb 2013
#97
Hugabear
Feb 2013
#22
maxsolomon
Feb 2013
#33
HeiressofBickworth
Feb 2013
#81
gollygee
Feb 2013
#17
madfloridian
Feb 2013
#82
Hugabear
Feb 2013
#21
dipsydoodle
Feb 2013
#24
SaveAmerica
Feb 2013
#25
Laura PourMeADrink
Feb 2013
#26
raouldukelives
Feb 2013
#27
PufPuf23
Feb 2013
#70
SaveAmerica
Feb 2013
#29
formercia
Feb 2013
#30
bvar22
Feb 2013
#32
kcass1954
Feb 2013
#40
patrice
Feb 2013
#48
mountain grammy
Feb 2013
#50
secondvariety
Feb 2013
#37
freshwest
Feb 2013
#39
patrice
Feb 2013
#52
obxhead
Feb 2013
#42
martglobal
Feb 2013
#43
Laelth
Feb 2013
#103
Angry Dragon
Feb 2013
#45
Blue_In_AK
Feb 2013
#46
madfloridian
Feb 2013
#49
patrice
Feb 2013
#47
DearHeart
Feb 2013
#51
Ken Burch
Feb 2013
#60
Ilsa
Feb 2013
#63
Nevernose
Feb 2013
#64
Art_from_Ark
Feb 2013
#100
mokawanis
Feb 2013
#65
Nika
Feb 2013
#67
madfloridian
Feb 2013
#73
Nika
Feb 2013
#79
madfloridian
Feb 2013
#80
madfloridian
Feb 2013
#74
sendero
Feb 2013
#75
MFM008
Feb 2013
#76
tabasco
Feb 2013
#77
Ian David
Feb 2013
#78
treestar
Feb 2013
#83
mac56
Feb 2013
#85
Coyotl
Feb 2013
#86
madfloridian
Feb 2013
#89
Coyotl
Feb 2013
#91
tomm2thumbs
Feb 2013
#87
ellisonz
Feb 2013
#92
Strat0
Feb 2013
#95
Politicub
Feb 2013
#96
NBachers
Feb 2013
#101
Le Taz Hot
Feb 2013
#102