Thu Feb 7, 2013, 01:05 AM
madfloridian (88,114 posts)
Michigan women, look what GOP men have planned for you. Pic of ultrasound. [View all]
Don't know who is holding the transvaginal ultrasound instrument. He looks pretty serious about it. Just goes to show you the lack of respect these men have for women's rights.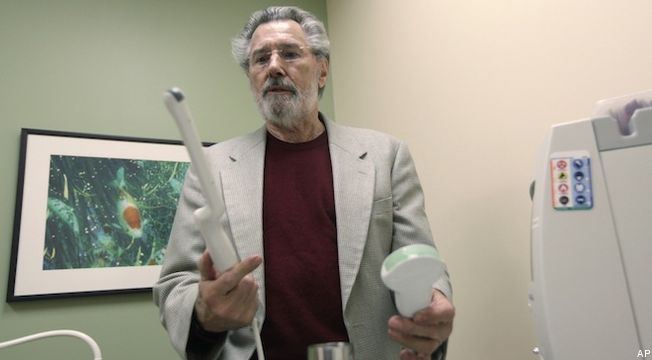 Michigan Republicans Introduce Bill Mandating Transvaginal Ultrasound Before An Abortion
Michigan Republicans have introduced a bill requiring all women to undergo a transvaginal ultrasound before obtaining an abortion, a move that rekindles last year's firestorm when other GOP-led states were considering similar measures.

The legislation introduced Tuesday in the state House ensures the "performance of a diagnostic ultrasound examination of the fetus at least two hours before an abortion is performed" and requires her to sign a consent form prior to the abortion. The bill was introduced by state Rep. Joel Johnson (R) and cosponsored by 22 fellow lawmakers.

Johnson was not available for comment Wednesday, but his legislative aide, Ben Frederick, confirmed to TPM that, while the legislation does not specifically mention transvaginal ultrasounds, the bill aims to require women to undergo a transvaginal ultrasound prior to receiving an abortion. Katie Carey, a spokeswoman for Michigan's House Democratic Leader Tim Greimel, categorically said the bill would mandate transvaginal ultrasounds for women before an abortion.
An aide for Johnson confirmed it, said they already had such a bill. He said they were just refining it.
"We've had an ultrasound viewing option since 2006, signed into law by Gov. [Jennifer] Granholm with support from both parties. The ultrasounds already happen as a matter of routine and diagnostic necessity. And this would simply add additional options for the patients — they could view or decline to view the images."
93 replies, 8711 views
Replies to this discussion thread
93 replies
Author
Time
Post

Michigan women, look what GOP men have planned for you. Pic of ultrasound.

[View all]

madfloridian
Feb 2013
OP
Tx4obama
Feb 2013
#1
madfloridian
Feb 2013
#3
wandy
Feb 2013
#24
JaneyVee
Feb 2013
#2
Scootaloo
Feb 2013
#14
Piltdown13
Feb 2013
#23
shraby
Feb 2013
#4
madfloridian
Feb 2013
#13
lonestarnot
Feb 2013
#5
SmileyRose
Feb 2013
#8
lonestarnot
Feb 2013
#10
longship
Feb 2013
#6
smirkymonkey
Feb 2013
#7
Le Taz Hot
Feb 2013
#9
prairierose
Feb 2013
#18
kenny blankenship
Feb 2013
#26
HiPointDem
Feb 2013
#30
prairierose
Feb 2013
#38
madfloridian
Feb 2013
#48
AsahinaKimi
Feb 2013
#51
liberal_at_heart
Feb 2013
#11
madfloridian
Feb 2013
#12
liberal_at_heart
Feb 2013
#15
Justitia
Feb 2013
#54
madfloridian
Feb 2013
#71
AngryOldDem
Feb 2013
#82
gollygee
Feb 2013
#77
AngryOldDem
Feb 2013
#81
apocalypsehow
Feb 2013
#16
HooptieWagon
Feb 2013
#17
kestrel91316
Feb 2013
#22
madfloridian
Feb 2013
#27
HooptieWagon
Feb 2013
#32
lunatica
Feb 2013
#67
HooptieWagon
Feb 2013
#86
trumad
Feb 2013
#64
gollygee
Feb 2013
#84
DisgustipatedinCA
Feb 2013
#85
madfloridian
Feb 2013
#19
RedCappedBandit
Feb 2013
#21
Blue_In_AK
Feb 2013
#29
madfloridian
Feb 2013
#31
Blue_In_AK
Feb 2013
#34
madfloridian
Feb 2013
#49
Blue_In_AK
Feb 2013
#50
BlancheSplanchnik
Feb 2013
#46
RedCappedBandit
Feb 2013
#20
kenny blankenship
Feb 2013
#25
pansypoo53219
Feb 2013
#28
sad-cafe
Feb 2013
#33
bemildred
Feb 2013
#35
Lex
Feb 2013
#36
MineralMan
Feb 2013
#37
madfloridian
Feb 2013
#47
Bryn
Feb 2013
#61
RobinA
Feb 2013
#39
Brickbat
Feb 2013
#40
Initech
Feb 2013
#41
Bake
Feb 2013
#42
Hard Assets
Feb 2013
#43
polly7
Feb 2013
#44
smirkymonkey
Feb 2013
#62
11 Bravo
Feb 2013
#45
gordianot
Feb 2013
#52
louslobbs
Feb 2013
#53
madfloridian
Feb 2013
#55
louslobbs
Feb 2013
#70
Th1onein
Feb 2013
#56
madfloridian
Feb 2013
#57
Th1onein
Feb 2013
#58
madfloridian
Feb 2013
#69
Th1onein
Feb 2013
#73
madfloridian
Feb 2013
#83
Th1onein
Feb 2013
#89
madfloridian
Feb 2013
#90
Th1onein
Feb 2013
#91
madfloridian
Feb 2013
#92
Th1onein
Feb 2013
#93
lunatica
Feb 2013
#68
Th1onein
Feb 2013
#74
lunatica
Feb 2013
#75
Th1onein
Feb 2013
#88
ananda
Feb 2013
#87
Matariki
Feb 2013
#59
Bryn
Feb 2013
#60
smirkymonkey
Feb 2013
#63
datasuspect
Feb 2013
#65
Berlum
Feb 2013
#66
emsimon33
Feb 2013
#72
bunnies
Feb 2013
#76
BlueJazz
Feb 2013
#78
bif
Feb 2013
#79
AngryOldDem
Feb 2013
#80