Mon Feb 4, 2013, 04:19 PM
MrScorpio (67,557 posts)
Frankly, I'm sorry that many of us failed to realize what occurred at the Super Bowl last night [View all]
In much of this world, even in America, being a woman… Especially a woman of color, puts you at a significant disadvantage.
After all, women only own 1% of the world's property:
And in this world, where slut shaming is the norm, of course it happens to a young, attractive woman of color, who just happened to be fully clothed.
This is in spite of the fact that the Super Bowl has set the precedence for testosterone laden entertainment and the controlled violence of professional football.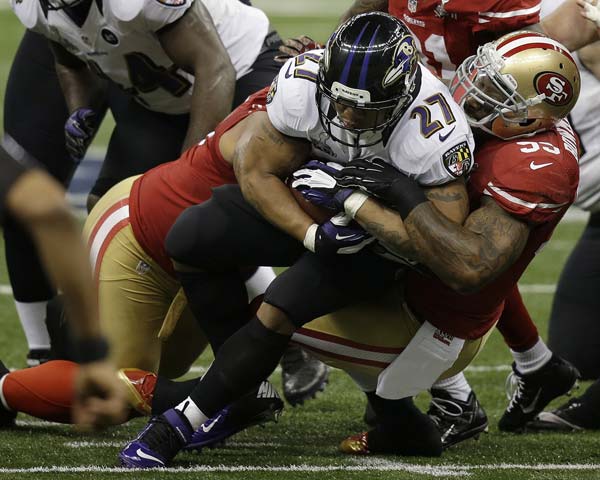 But last night, the event was replete with women of color. Strong talented women, who own their own bodies, expressing themselves the way that saw fit. If no one having the right to slut shame them, or diminish their accomplishments or accusing them of not being worthy of being who, what and where they were, doing what they were doing.
Beyonce made of point of filling the stage that she was on with beautiful and talented women of color, like her lead guitarist, Bibi McGill:
And in a world that so callously rewards women who show the same disrespect and animosity towards each other, Beyonce was having none of that:
So, I'm sorry if some of us here were disappointed with last night's events. Perhaps, the music was to their taste. I can understand that, to each their own. Of perhaps, loud and over-choreographed spectacles over the span of a few minutes, that are supposed to over-stimulate the senses are supposedly out of place in a venue entitled with the modest moniker of "THE SUPER BOWL."
Perhaps, the sight of a young, strong, talented woman of color… Actually, entire STAGE full of them was just a little too much to take for some:
But you know what?
I was happy to see things the way they were. No, I'm not some huge fan of Beyonce's music. I'm a DJ, as some of us here know, and her music is not something that I would play on my show… I have different tastes myself, other than that of popular music.
But, I have recognized right away that her show wasn't about me or my tastes, it was about Beyonce and a huge moment in this life of this country where a young, strong, beautiful and talented woman of color gets her due on the biggest stage in the biggest spectacle that America can muster.
She did just fine.
No one has the right to diminish that.
218 replies, 32019 views
Replies to this discussion thread
218 replies
Author
Time
Post

Frankly, I'm sorry that many of us failed to realize what occurred at the Super Bowl last night

[View all]

MrScorpio
Feb 2013
OP
Autumn
Feb 2013
#1
Brickbat
Feb 2013
#2
MrScorpio
Feb 2013
#130
PeaceNikki
Feb 2013
#145
HappyMe
Feb 2013
#3
MattBaggins
Feb 2013
#4
Chorophyll
Feb 2013
#7
MattBaggins
Feb 2013
#9
Chorophyll
Feb 2013
#22
MattBaggins
Feb 2013
#27
Chorophyll
Feb 2013
#73
Bernardo de La Paz
Feb 2013
#180
snooper2
Feb 2013
#71
Chorophyll
Feb 2013
#72
LibertyLover
Feb 2013
#193
Dollface
Feb 2013
#199
Chorophyll
Feb 2013
#203
Bluenorthwest
Feb 2013
#25
JustAnotherGen
Feb 2013
#56
Beaverhausen
Feb 2013
#78
flamingdem
Feb 2013
#83
CountAllVotes
Feb 2013
#103
nightscanner59
Feb 2013
#169
CountAllVotes
Feb 2013
#176
sigmasix
Feb 2013
#179
CountAllVotes
Feb 2013
#184
brush
Feb 2013
#144
Chorophyll
Feb 2013
#5
GoCubsGo
Feb 2013
#42
Ed Suspicious
Feb 2013
#101
Ed Suspicious
Feb 2013
#106
Ed Suspicious
Feb 2013
#87
Chorophyll
Feb 2013
#102
HiPointDem
Feb 2013
#6
SidDithers
Feb 2013
#12
Buzz Clik
Feb 2013
#122
Luminous Animal
Feb 2013
#21
Tumbulu
Feb 2013
#28
Skittles
Feb 2013
#116
HiPointDem
Feb 2013
#120
Skittles
Feb 2013
#124
HiPointDem
Feb 2013
#126
Skittles
Feb 2013
#128
Tumbulu
Feb 2013
#26
Ghost of Tom Joad
Feb 2013
#182
Puzzledtraveller
Feb 2013
#39
MrScorpio
Feb 2013
#51
HappyMe
Feb 2013
#46
Ed Suspicious
Feb 2013
#96
druidity33
Feb 2013
#148
Ed Suspicious
Feb 2013
#149
HiPointDem
Feb 2013
#112
HappyMe
Feb 2013
#113
leftstreet
Feb 2013
#108
Livluvgrow
Feb 2013
#8
flamingdem
Feb 2013
#14
HiPointDem
Feb 2013
#55
flamingdem
Feb 2013
#59
HiPointDem
Feb 2013
#76
flamingdem
Feb 2013
#79
HiPointDem
Feb 2013
#84
flamingdem
Feb 2013
#88
HiPointDem
Feb 2013
#92
flamingdem
Feb 2013
#93
HiPointDem
Feb 2013
#98
tomp
Feb 2013
#183
HiPointDem
Feb 2013
#197
tomp
Feb 2013
#213
HiPointDem
Feb 2013
#214
progressoid
Feb 2013
#86
flamingdem
Feb 2013
#89
progressoid
Feb 2013
#94
Egalitarian Thug
Feb 2013
#217
justiceischeap
Feb 2013
#123
flamingdem
Feb 2013
#127
seaglass
Feb 2013
#188
NCTraveler
Feb 2013
#36
alcibiades_mystery
Feb 2013
#10
flamingdem
Feb 2013
#95
flamingdem
Feb 2013
#11
Ivywoods55
Feb 2013
#31
jehop61
Feb 2013
#13
flamingdem
Feb 2013
#17
MrScorpio
Feb 2013
#23
MattBaggins
Feb 2013
#32
MrScorpio
Feb 2013
#35
Number23
Feb 2013
#104
noiretextatique
Feb 2013
#138
BlancheSplanchnik
Feb 2013
#111
pink-o
Feb 2013
#187
Myrina
Feb 2013
#48
flamingdem
Feb 2013
#49
pacalo
Feb 2013
#97
Whisp
Feb 2013
#18
Tumbulu
Feb 2013
#33
NCTraveler
Feb 2013
#38
Liberal_Stalwart71
Feb 2013
#54
NCTraveler
Feb 2013
#60
Mojorabbit
Feb 2013
#41
Apophis
Feb 2013
#161
we can do it
Feb 2013
#15
Whisp
Feb 2013
#16
thelordofhell
Feb 2013
#19
Enrique
Feb 2013
#20
hfojvt
Feb 2013
#24
Buzz Clik
Feb 2013
#129
jberryhill
Feb 2013
#29
FarCenter
Feb 2013
#30
Tumbulu
Feb 2013
#34
Tommy_Carcetti
Feb 2013
#37
WillyT
Feb 2013
#40
mother earth
Feb 2013
#43
Liberal_Stalwart71
Feb 2013
#44
Puzzledtraveller
Feb 2013
#45
ElboRuum
Feb 2013
#143
Agschmid
Feb 2013
#154
dsc
Feb 2013
#47
Ed Suspicious
Feb 2013
#90
Myrina
Feb 2013
#50
jberryhill
Feb 2013
#52
Tumbulu
Feb 2013
#63
Number23
Feb 2013
#121
Agschmid
Feb 2013
#156
Number23
Feb 2013
#164
Agschmid
Feb 2013
#165
Number23
Feb 2013
#166
Agschmid
Feb 2013
#167
Number23
Feb 2013
#168
JustAnotherGen
Feb 2013
#53
NYC Liberal
Feb 2013
#57
kwassa
Feb 2013
#58
Tumbulu
Feb 2013
#64
Dollface
Feb 2013
#200
kwassa
Feb 2013
#206
Dollface
Feb 2013
#208
kwassa
Feb 2013
#210
Dollface
Feb 2013
#218
Agschmid
Feb 2013
#157
kwassa
Feb 2013
#207
Tumbulu
Feb 2013
#212
Kanmi
Feb 2013
#61
YOHABLO
Feb 2013
#62
JohnnyRingo
Feb 2013
#65
Agschmid
Feb 2013
#158
JohnnyRingo
Feb 2013
#172
Scurrilous
Feb 2013
#66
dorkulon
Feb 2013
#67
Kelselsius
Feb 2013
#68
Beacool
Feb 2013
#69
Shankapotomus
Feb 2013
#70
Iggo
Feb 2013
#74
pacalo
Feb 2013
#75
liberal_at_heart
Feb 2013
#77
Hekate
Feb 2013
#80
LeftyMom
Feb 2013
#81
Dollface
Feb 2013
#202
Evoman
Feb 2013
#82
Maven
Feb 2013
#85
LeftyMom
Feb 2013
#91
HiPointDem
Feb 2013
#99
Puzzledtraveller
Feb 2013
#185
Number23
Feb 2013
#100
flamingdem
Feb 2013
#107
Agschmid
Feb 2013
#159
MrScorpio
Feb 2013
#110
kwassa
Feb 2013
#115
Number23
Feb 2013
#117
kwassa
Feb 2013
#135
freshwest
Feb 2013
#105
PeaceNikki
Feb 2013
#109
Coyote_Tan
Feb 2013
#114
Common Sense Party
Feb 2013
#118
Buzz Clik
Feb 2013
#119
October
Feb 2013
#125
BumRushDaShow
Feb 2013
#131
noiretextatique
Feb 2013
#132
nonoxy9
Feb 2013
#133
patrice
Feb 2013
#134
Bake
Feb 2013
#136
aka-chmeee
Feb 2013
#137
ReRe
Feb 2013
#139
DonCoquixote
Feb 2013
#140
patrice
Feb 2013
#204
tavalon
Feb 2013
#141
xtraxritical
Feb 2013
#142
MrScorpio
Feb 2013
#146
NBachers
Feb 2013
#147
Dollface
Feb 2013
#201
hughee99
Feb 2013
#150
jonthebru
Feb 2013
#151
dkf
Feb 2013
#152
K8-EEE
Feb 2013
#175
Agschmid
Feb 2013
#153
BlueStreak
Feb 2013
#155
OldDem2012
Feb 2013
#163
Number23
Feb 2013
#170
K8-EEE
Feb 2013
#171
BlueStreak
Feb 2013
#189
Apophis
Feb 2013
#160
Agschmid
Feb 2013
#162
ellisonz
Feb 2013
#173
K8-EEE
Feb 2013
#174
VOX
Feb 2013
#177
Kalidurga
Feb 2013
#178
lunatica
Feb 2013
#181
BlueStreak
Feb 2013
#190
noiretextatique
Feb 2013
#196
JNelson6563
Feb 2013
#186
FourScore
Feb 2013
#191
Johonny
Feb 2013
#192
840high
Feb 2013
#195
madmom
Feb 2013
#194
RILib
Feb 2013
#198
patrice
Feb 2013
#205
derby378
Feb 2013
#209
Zax2me
Feb 2013
#211
cherokeeprogressive
Feb 2013
#215
R B Garr
Feb 2013
#216