Wed Jan 30, 2013, 07:11 AM
xchrom (108,903 posts)
Hollywood's depiction of guns is fraudulent, says Dustin Hoffman [View all]
http://www.guardian.co.uk/film/2013/jan/30/hollywood-guns-fraudulent-dustin-hoffman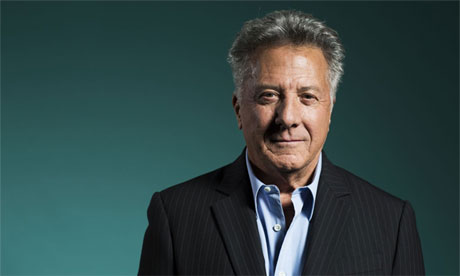 'There's nothing interesting about guns' … Dustin Hoffman. Photograph: David Levene
The Oscar-winning actor Dustin Hoffman has dismissed the depiction of gun violence in Hollywood as "fraudulent" and claimed that studios actively discriminate against actors who refuse to carry firearms onscreen.
Interviewed on National Public Radio in the US, The Graduate star became the latest high-profile figure to wade into the debate following the killing of 20 children and six adults at the Sandy Hook elementary school in Newtown, Connecticut, in December 2012. Advocates of gun control have used the opportunity to press for new laws to combat similar massacres, but Hollywood has also come under sustained pressure for what many see as its glamorisation of firearm use.
Hoffman, 75, said he had tried throughout his career to avoid films which required him to use guns on screen – though he conceded he carried a weapon in Straw Dogs, Hook and Little Big Man – for very personal reasons and because he does not believe they should be part of the entertainment industry.
"I have always felt passionate about the fact that the audience is identifying (with movie violence) in a very fraudulent way," Hoffman revealed. "I don't find anything interesting about a gun. A gun is there to threaten or kill."
99 replies, 14797 views
Replies to this discussion thread
99 replies
Author
Time
Post

Hollywood's depiction of guns is fraudulent, says Dustin Hoffman

[View all]

xchrom
Jan 2013
OP
graham4anything
Jan 2013
#1
Locrian
Jan 2013
#2
Travis_0004
Jan 2013
#3
graham4anything
Jan 2013
#16
klook
Jan 2013
#52
graham4anything
Jan 2013
#58
klook
Jan 2013
#62
graham4anything
Jan 2013
#66
sinkingfeeling
Jan 2013
#20
Ian Iam
Jan 2013
#75
ashling
Jan 2013
#21
EOTE
Jan 2013
#26
azalia
Jan 2013
#56
xtraxritical
Jan 2013
#82
Dont call me Shirley
Jan 2013
#72
trumad
Jan 2013
#5
JohnnyRingo
Jan 2013
#57
graham4anything
Jan 2013
#59
JohnnyRingo
Jan 2013
#74
Spider Jerusalem
Jan 2013
#7
Enrique
Jan 2013
#14
ananda
Jan 2013
#48
Bay Boy
Jan 2013
#4
reorg
Jan 2013
#6
CBGLuthier
Jan 2013
#11
reorg
Jan 2013
#17
CBGLuthier
Jan 2013
#19
reorg
Jan 2013
#22
theKed
Jan 2013
#27
reorg
Jan 2013
#30
theKed
Jan 2013
#31
reorg
Jan 2013
#37
Heidi
Jan 2013
#8
xchrom
Jan 2013
#9
Heidi
Jan 2013
#13
bemildred
Jan 2013
#10
RevStPatrick
Jan 2013
#12
aikoaiko
Jan 2013
#15
Bluenorthwest
Jan 2013
#36
Dash87
Jan 2013
#18
ReRe
Jan 2013
#23
ananda
Jan 2013
#24
smirkymonkey
Jan 2013
#79
Recursion
Jan 2013
#25
Locrian
Jan 2013
#29
4Q2u2
Jan 2013
#60
Blue_Tires
Jan 2013
#65
Recursion
Jan 2013
#70
Locrian
Jan 2013
#28
Whisp
Jan 2013
#32
AsahinaKimi
Jan 2013
#34
Bluenorthwest
Jan 2013
#38
Whisp
Jan 2013
#39
AsahinaKimi
Jan 2013
#42
Whisp
Jan 2013
#44
Manifestor_of_Light
Jan 2013
#49
AsahinaKimi
Jan 2013
#81
rustydog
Jan 2013
#46
Whisp
Jan 2013
#51
stevenleser
Jan 2013
#88
unblock
Jan 2013
#54
Whisp
Jan 2013
#55
unblock
Jan 2013
#61
Whisp
Jan 2013
#76
truebluegreen
Jan 2013
#83
nxylas
Feb 2013
#95
truebluegreen
Feb 2013
#96
nxylas
Feb 2013
#97
truebluegreen
Feb 2013
#98
NBachers
Jan 2013
#84
Dreamer Tatum
Jan 2013
#67
Whisp
Jan 2013
#77
Dreamer Tatum
Jan 2013
#78
JohnnyRingo
Jan 2013
#33
Marrah_G
Feb 2013
#99
SCVDem
Jan 2013
#35
Manifestor_of_Light
Jan 2013
#90
SCVDem
Jan 2013
#92
Crowman1979
Jan 2013
#40
JohnnyRingo
Jan 2013
#45
Manifestor_of_Light
Jan 2013
#50
Crowman1979
Jan 2013
#41
rustydog
Jan 2013
#43
DollarBillHines
Jan 2013
#47
Uncle Joe
Jan 2013
#53
Skittles
Jan 2013
#63
LiberalLovinLug
Jan 2013
#64
JBoy
Jan 2013
#68
Lizzie Poppet
Jan 2013
#69
Dont call me Shirley
Jan 2013
#71
FarCenter
Jan 2013
#73
AmyDeLune
Jan 2013
#86
Manifestor_of_Light
Jan 2013
#91
DrDan
Jan 2013
#80
kudzu22
Jan 2013
#85
nolabear
Jan 2013
#87
hughee99
Jan 2013
#89
Android3.14
Jan 2013
#93
IveWornAHundredPants
Jan 2013
#94