Mon Jan 28, 2013, 01:37 PM
flamin lib (8,062 posts)
This is another gun thread for those hiding them. [View all]
Seems the AR-15 style rifles are the hottest selling duns currently on the market. That got me started wondering why. What is it about this gun:
that makes it so much more popular than this one:
which is, I am told, functionally the same and roughly half the cost. It even has high capacity magazines and "tactical" accessories available.
I have come to the conclusion that it is a matter of attitude; what happens inside the head of one who holds it. I base this conclusion on a number of anecdotes and personal experience.
Goldie Taylor, USMC ret and former congress person said on MSNBC, that she had a gun because she was a single mother living in a bad neighborhood and that just having a gun made a difference in her attitude. It gave her a sense of control and power even though she knew that at 5'4" and 100 lbs. she was far more likely to be hurt with it. She then said that she was turning the semi auto pistol in to the police.
My brother owns property way out in the country. He had just come in from hunting when he found a man inside the fence of his property supposedly looking for a lost dog. In recounting the story he told me he said things to that man which, in any circumstances, would be threats of lethal intent. "Yeah, when ya' have a .270 with a round in the chamber ya' get real brave."
These two anecdotes are about "non military" type weaponry. Could it be that military look-a-like guns trigger the same machismo? If this ad is any indication: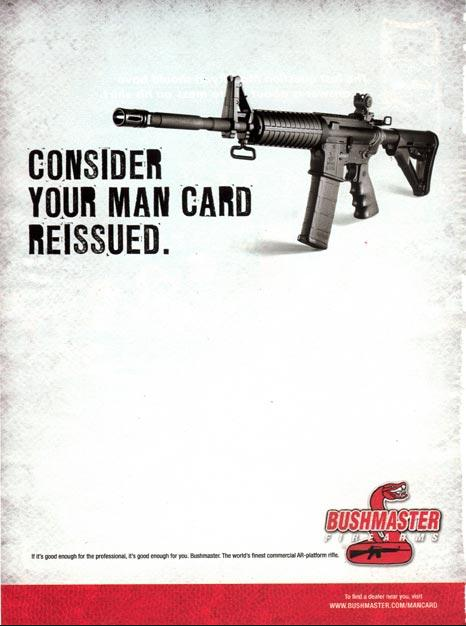 the gun manufacturers think so.
For me, this gives some credence to the "gun = manhood" meme.
The image of machismo pushed by the gun manufacturers has a purpose. The AR type guns can be "customized" with any number of extra cost accessories, the least of which is the 30 round magazine.
In fact, the gun can be outfitted to the point that its original design features of light weight, simplicity and maneuverability are completely eliminated. Almost all ARs get "personalized" to some extent and some to the point that they are almost unusable making them a real profit center. One proud owner showed off his pride and joy to me and it was so "outfitted" that I couldn't comfortably reach the forward pistol grip and actually touching the fore grip with pistol grip folded was impossible. It would seem that size does matter.
So, it occurs to me that the difference in the two guns isn't functional but emotional. The black militaristic style of the gun touches some deeper need than sport or self defense. It really is an example of the "man card".
130 replies, 14946 views
Replies to this discussion thread
130 replies
Author
Time
Post

This is another gun thread for those hiding them.

[View all]

flamin lib
Jan 2013
OP
OneGrassRoot
Jan 2013
#1
legaleagle_45
Jan 2013
#6
backscatter712
Jan 2013
#21
Eleanors38
Jan 2013
#59
loyalsister
Jan 2013
#88
OneGrassRoot
Jan 2013
#92
loyalsister
Jan 2013
#96
GreenStormCloud
Jan 2013
#99
OneGrassRoot
Jan 2013
#101
el_bryanto
Jan 2013
#2
Squinch
Jan 2013
#79
regjoe
Jan 2013
#3
flamin lib
Jan 2013
#11
regjoe
Jan 2013
#19
flamin lib
Jan 2013
#22
regjoe
Jan 2013
#26
Melinda
Jan 2013
#35
regjoe
Jan 2013
#57
Melinda
Jan 2013
#74
regjoe
Jan 2013
#85
Melinda
Jan 2013
#87
hack89
Jan 2013
#90
Melinda
Jan 2013
#102
hack89
Jan 2013
#103
Melinda
Jan 2013
#104
flamin lib
Jan 2013
#110
Eleanors38
Jan 2013
#60
flamin lib
Jan 2013
#44
regjoe
Jan 2013
#50
Eleanors38
Jan 2013
#63
hack89
Jan 2013
#4
FirstLight
Jan 2013
#8
flamin lib
Jan 2013
#12
loose wheel
Jan 2013
#15
Animal Chin
Jan 2013
#23
farminator3000
Jan 2013
#36
hack89
Jan 2013
#37
farminator3000
Jan 2013
#42
hack89
Jan 2013
#45
farminator3000
Jan 2013
#46
hack89
Jan 2013
#47
farminator3000
Jan 2013
#48
hack89
Jan 2013
#49
flamin lib
Jan 2013
#61
farminator3000
Jan 2013
#64
Eleanors38
Jan 2013
#62
farminator3000
Jan 2013
#73
Bandit
Jan 2013
#75
hack89
Jan 2013
#82
legaleagle_45
Jan 2013
#5
patrice
Jan 2013
#7
Squinch
Jan 2013
#80
patrice
Jan 2013
#81
guardian
Jan 2013
#9
flamin lib
Jan 2013
#13
guardian
Jan 2013
#17
Post removed
Jan 2013
#10
flamin lib
Jan 2013
#18
RoseMead
Jan 2013
#29
jmg257
Jan 2013
#30
RoseMead
Jan 2013
#32
jmg257
Jan 2013
#33
jmg257
Jan 2013
#34
Recursion
Jan 2013
#14
backwoodsbob
Jan 2013
#16
DonP
Jan 2013
#24
backwoodsbob
Jan 2013
#25
Recursion
Jan 2013
#39
backwoodsbob
Jan 2013
#83
hack89
Jan 2013
#122
backscatter712
Jan 2013
#20
kudzu22
Jan 2013
#27
SayWut
Jan 2013
#28
Paladin
Jan 2013
#31
Recursion
Jan 2013
#38
Paladin
Jan 2013
#40
Recursion
Jan 2013
#43
Paladin
Jan 2013
#53
Recursion
Jan 2013
#54
SQUEE
Jan 2013
#71
farminator3000
Jan 2013
#41
SQUEE
Jan 2013
#68
farminator3000
Jan 2013
#91
X_Digger
Jan 2013
#97
farminator3000
Jan 2013
#107
GreenStormCloud
Jan 2013
#100
farminator3000
Jan 2013
#105
SQUEE
Jan 2013
#109
farminator3000
Jan 2013
#111
SQUEE
Jan 2013
#112
farminator3000
Jan 2013
#117
SQUEE
Jan 2013
#118
farminator3000
Jan 2013
#119
SQUEE
Jan 2013
#120
farminator3000
Jan 2013
#121
SQUEE
Jan 2013
#126
SayWut
Jan 2013
#51
Animal Chin
Jan 2013
#52
Eleanors38
Jan 2013
#67
thetonka
Jan 2013
#55
flamin lib
Jan 2013
#56
Hoyt
Jan 2013
#58
nick of time
Jan 2013
#65
Hoyt
Jan 2013
#66
nick of time
Jan 2013
#72
SQUEE
Jan 2013
#69
rbuchanan
Jan 2013
#70
geckosfeet
Jan 2013
#76
rzemanfl
Jan 2013
#77
ileus
Jan 2013
#78
jpak
Jan 2013
#93
rbuchanan
Jan 2013
#94
jpak
Jan 2013
#98
nick of time
Jan 2013
#95
flamin lib
Jan 2013
#106
nick of time
Jan 2013
#108
SpartanDem
Jan 2013
#123
flamin lib
Jan 2013
#124
SpartanDem
Jan 2013
#125
flamin lib
Jan 2013
#127
SpartanDem
Jan 2013
#128
flamin lib
Jan 2013
#129
SpartanDem
Jan 2013
#130
ileus
Jan 2013
#113
jpak
Jan 2013
#115
ileus
Jan 2013
#116
chemenger
Jan 2013
#84
aikoaiko
Jan 2013
#86
ecstatic
Jan 2013
#89
marions ghost
Jan 2013
#114