Mon Jan 28, 2013, 11:33 AM
lumberjack_jeff (33,224 posts)
The difference between urban and rural people is... [View all]
... nothing.
What differentiates us are our experiences. Urban (and suburban) people generally tend to be exposed to different people, different cultures and more cultural history. Rural people are more locally interdependent, and have a broader set of skills cultivated through necessity.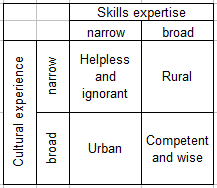 A rural person must learn to keep his or her house, family, car and community running because there's no one to fall back on. Even if money was plentiful (in rural areas it is generally not) then there's no tradesman nearby to fix whatever is broken.
Urban people have a large collective infrastructure (public and private) to draw upon to fulfill these needs. The time that they don't spend "baking bread and fixing tractors" can be spent at school or the library or the museum.
If this thesis is accurate, urban people are more skills illiterate, and rural people are more culturally illiterate. Both forms of illiteracy are liabilities, but neither form of illiteracy is more or less "stupid" than the other.
It is abundantly apparent that the more prominent gap
at DU
is the ability for urban people to understand the implications of rural self-reliance. For the same reason we are not close to the museum, we are also not close to the police. If a stranger with ill-intent wanders onto the property, the cops aren't just a phone call away, they are a phone (land line, no cell service here) call
and 30 minutes
away.
For the same reasons that I don't want anyone taking my chainsaw, tractor or wrenches away, I don't want anyone taking my guns away.
... not because I love them, (In a sense, I hate all of them because they represent unpleasant things) but because I need them - even if I never have to use them.
Where I live, I AM the primary local mechanic, equipment operator, plumber, electrician, carpenter, accountant, librarian, repairman, EMT and cop.
139 replies, 49768 views
Replies to this discussion thread
139 replies
Author
Time
Post

The difference between urban and rural people is...

[View all]

lumberjack_jeff
Jan 2013
OP
justiceischeap
Jan 2013
#1
nick of time
Jan 2013
#2
NutmegYankee
Jan 2013
#13
Taverner
Jan 2013
#41
kwassa
Jan 2013
#96
bettyellen
Jan 2013
#3
lumberjack_jeff
Jan 2013
#36
bettyellen
Jan 2013
#40
Sekhmets Daughter
Jan 2013
#4
bvar22
Jan 2013
#15
Sekhmets Daughter
Jan 2013
#34
lumberjack_jeff
Jan 2013
#42
Sekhmets Daughter
Jan 2013
#46
bvar22
Jan 2013
#65
Sekhmets Daughter
Jan 2013
#71
bvar22
Jan 2013
#94
Sekhmets Daughter
Jan 2013
#98
Ghost in the Machine
Jan 2013
#113
Sekhmets Daughter
Jan 2013
#114
The Straight Story
Jan 2013
#125
Sekhmets Daughter
Jan 2013
#135
frazzled
Jan 2013
#5
JVS
Jan 2013
#28
lumberjack_jeff
Jan 2013
#43
CreekDog
Jan 2013
#84
lumberjack_jeff
Jan 2013
#88
hfojvt
Jan 2013
#87
just1voice
Jan 2013
#101
Horse with no Name
Jan 2013
#6
lumberjack_jeff
Jan 2013
#44
riqster
Jan 2013
#47
2naSalit
Jan 2013
#60
lumberjack_jeff
Jan 2013
#66
2naSalit
Jan 2013
#70
L0oniX
Jan 2013
#7
Lesmoderesstupides
Jan 2013
#8
L0oniX
Jan 2013
#12
bettyellen
Jan 2013
#24
sadbear
Jan 2013
#9
panader0
Jan 2013
#10
oldbanjo
Jan 2013
#58
PotatoChip
Jan 2013
#105
zabet
Jan 2013
#116
PotatoChip
Jan 2013
#120
CTyankee
Jan 2013
#112
RebelOne
Jan 2013
#129
mrsadm
Jan 2013
#11
loli phabay
Jan 2013
#16
shraby
Jan 2013
#59
loli phabay
Jan 2013
#63
NutmegYankee
Jan 2013
#23
lumberjack_jeff
Jan 2013
#35
kwolf68
Jan 2013
#14
Lex
Jan 2013
#21
bettyellen
Jan 2013
#26
Dawson Leery
Jan 2013
#90
Jimbo S
Jan 2013
#95
NoGOPZone
Jan 2013
#17
ret5hd
Jan 2013
#18
lumberjack_jeff
Jan 2013
#48
hedgehog
Jan 2013
#19
JaneyVee
Jan 2013
#20
lumberjack_jeff
Jan 2013
#50
LanternWaste
Jan 2013
#100
The Straight Story
Jan 2013
#126
Viva_La_Revolution
Jan 2013
#22
Uncle Joe
Jan 2013
#25
justiceischeap
Jan 2013
#27
oldbanjo
Jan 2013
#64
justiceischeap
Jan 2013
#69
lumberjack_jeff
Jan 2013
#72
justiceischeap
Jan 2013
#76
lumberjack_jeff
Jan 2013
#80
Botany
Jan 2013
#29
NutmegYankee
Jan 2013
#54
patrice
Jan 2013
#30
lumberjack_jeff
Jan 2013
#78
patrice
Jan 2013
#81
cali
Jan 2013
#31
barbtries
Jan 2013
#32
lumberjack_jeff
Jan 2013
#57
barbtries
Jan 2013
#117
bvar22
Jan 2013
#75
Eleanors38
Jan 2013
#102
1-Old-Man
Jan 2013
#33
Scuba
Jan 2013
#37
legaleagle_45
Jan 2013
#38
lumberjack_jeff
Jan 2013
#73
legaleagle_45
Jan 2013
#91
JoeyT
Jan 2013
#39
lumberjack_jeff
Jan 2013
#56
judesedit
Jan 2013
#45
lumberjack_jeff
Jan 2013
#61
msongs
Jan 2013
#49
lumberjack_jeff
Jan 2013
#51
bvar22
Jan 2013
#52
Iggo
Jan 2013
#53
ecstatic
Jan 2013
#55
MightyMopar
Jan 2013
#62
ecstatic
Jan 2013
#68
datasuspect
Jan 2013
#67
MightyMopar
Jan 2013
#79
antigone382
Jan 2013
#92
lark
Jan 2013
#74
lumberjack_jeff
Jan 2013
#83
CreekDog
Jan 2013
#77
lumberjack_jeff
Jan 2013
#82
bvar22
Jan 2013
#107
CreekDog
Jan 2013
#108
bvar22
Jan 2013
#109
CreekDog
Jan 2013
#111
bvar22
Jan 2013
#119
lumberjack_jeff
Jan 2013
#115
truedelphi
Jan 2013
#85
Dawson Leery
Jan 2013
#89
truedelphi
Jan 2013
#136
Dawson Leery
Jan 2013
#138
upaloopa
Jan 2013
#86
Spider Jerusalem
Jan 2013
#93
lumberjack_jeff
Jan 2013
#103
Spider Jerusalem
Jan 2013
#106
LanternWaste
Jan 2013
#97
lumberjack_jeff
Jan 2013
#104
rickford66
Jan 2013
#99
PufPuf23
Jan 2013
#110
Robb
Jan 2013
#118
lumberjack_jeff
Jan 2013
#121
Robb
Jan 2013
#122
lumberjack_jeff
Jan 2013
#123
Robb
Jan 2013
#124
lumberjack_jeff
Jan 2013
#127
Robb
Jan 2013
#128
lumberjack_jeff
Jan 2013
#130
Robb
Jan 2013
#132
lumberjack_jeff
Jan 2013
#134
OnionPatch
Jan 2013
#131
lumberjack_jeff
Jan 2013
#133
OnionPatch
Jan 2013
#139
FarCenter
Jan 2013
#137