Fri Jan 25, 2013, 03:58 PM
Liberal_in_LA (44,397 posts)
Dog Gets Epic Last Meal before he's put down for illness [View all]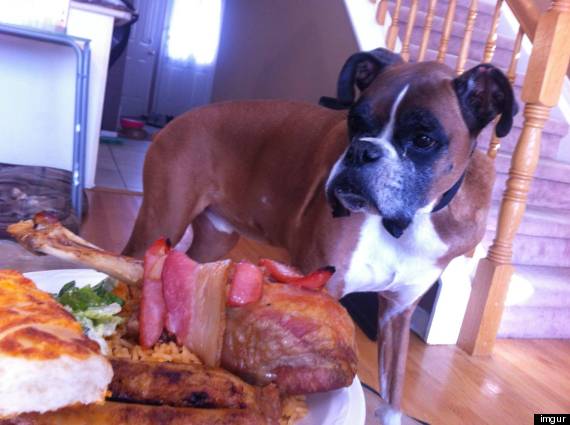 It's sad when beloved pets have to be put down, but one owner made sure to give his dying boxer an amazing final treat.
Lennox, a dog with severe cancer and debilitating arthritis, had survived numerous surgeries, but a recent tumor growth (visible on his left shoulder) had left him barely able to get up. According to his owner's roommate, Reddit user "Nikolaoss," Lennox was euthanized Jan. 23, but before he went, he got an epic last meal.
In the photo, which was posted to a Reddit image forum yesterday, Lennox looks over his feast, which included a turkey leg, bacon, sausages and rice. The picture received more than 24,000 "upvotes" on the social news site.
"This post isn't meant to be sad in any way. He lived like an absolute boss all his life! And the meal reflects that!" "Nikolaoss" wrote.
Many users wished Lennox well, shared memories of departed pets and offered condolences.
-------
"Nikolaoss" later posted a video of Lennox enjoying his last meal. (Naturally, he goes for the bacon first.)
http://www.huffingtonpost.com/2013/01/24/dog-cancer-epic-last-meal-photo-video_n_2543181.html?utm_hp_ref=mostpopular
193 replies, 27606 views
Replies to this discussion thread
193 replies
Author
Time
Post

Dog Gets Epic Last Meal before he's put down for illness

[View all]

Liberal_in_LA
Jan 2013
OP
Angry Dragon
Jan 2013
#1
RedCappedBandit
Jan 2013
#2
Guy Whitey Corngood
Jan 2013
#3
longship
Jan 2013
#4
MynameisBlarney
Jan 2013
#10
MrMickeysMom
Jan 2013
#11
glowing
Jan 2013
#18
4_TN_TITANS
Jan 2013
#36
glowing
Jan 2013
#42
4_TN_TITANS
Jan 2013
#68
glowing
Jan 2013
#71
BlancheSplanchnik
Jan 2013
#92
shanti
Jan 2013
#141
dflprincess
Jan 2013
#83
mopinko
Jan 2013
#35
tavalon
Jan 2013
#170
mopinko
Jan 2013
#172
tavalon
Jan 2013
#188
mopinko
Jan 2013
#189
RKP5637
Jan 2013
#5
sinkingfeeling
Jan 2013
#6
broiles
Jan 2013
#8
backscatter712
Jan 2013
#135
broiles
Jan 2013
#151
joeybee12
Jan 2013
#7
Smilo
Jan 2013
#9
Liberal_in_LA
Jan 2013
#12
Chorophyll
Jan 2013
#14
Chorophyll
Jan 2013
#13
Lizzie Poppet
Jan 2013
#15
Post removed
Jan 2013
#16
Gidney N Cloyd
Jan 2013
#17
railsback
Jan 2013
#64
Gidney N Cloyd
Jan 2013
#134
littleswan
Jan 2013
#180
Gidney N Cloyd
Jan 2013
#185
sharp_stick
Jan 2013
#20
railsback
Jan 2013
#60
pacalo
Jan 2013
#155
kentauros
Jan 2013
#159
pacalo
Jan 2013
#187
NCTraveler
Jan 2013
#169
sharp_stick
Jan 2013
#173
CreekDog
Jan 2013
#193
unblock
Jan 2013
#21
railsback
Jan 2013
#58
unblock
Jan 2013
#67
railsback
Jan 2013
#80
BlancheSplanchnik
Jan 2013
#98
railsback
Jan 2013
#103
MNBrewer
Jan 2013
#133
BlueStater
Jan 2013
#139
MNBrewer
Jan 2013
#140
backscatter712
Jan 2013
#136
Fuddnik
Jan 2013
#166
daleanime
Jan 2013
#22
Post removed
Jan 2013
#54
BlancheSplanchnik
Jan 2013
#77
railsback
Jan 2013
#82
Post removed
Jan 2013
#97
railsback
Jan 2013
#120
Fuddnik
Jan 2013
#167
DisgustipatedinCA
Jan 2013
#101
railsback
Jan 2013
#105
DisgustipatedinCA
Jan 2013
#109
railsback
Jan 2013
#121
Agschmid
Jan 2013
#156
daleanime
Jan 2013
#110
railsback
Jan 2013
#125
kurtzapril4
Jan 2013
#171
11 Bravo
Jan 2013
#186
backscatter712
Jan 2013
#137
msanthrope
Jan 2013
#24
railsback
Jan 2013
#50
msanthrope
Jan 2013
#57
railsback
Jan 2013
#59
trumad
Jan 2013
#25
railsback
Jan 2013
#47
Bigleaf
Jan 2013
#65
railsback
Jan 2013
#78
Fuddnik
Jan 2013
#168
laundry_queen
Jan 2013
#146
NYC Liberal
Jan 2013
#28
railsback
Jan 2013
#46
one_voice
Jan 2013
#69
railsback
Jan 2013
#88
one_voice
Jan 2013
#93
railsback
Jan 2013
#115
BlancheSplanchnik
Jan 2013
#143
NYC Liberal
Jan 2013
#102
secondvariety
Jan 2013
#33
railsback
Jan 2013
#45
laundry_queen
Jan 2013
#147
CreekDog
Jan 2013
#165
BlancheSplanchnik
Jan 2013
#39
railsback
Jan 2013
#44
trumad
Jan 2013
#49
railsback
Jan 2013
#51
BlueStater
Jan 2013
#119
railsback
Jan 2013
#122
BlueStater
Jan 2013
#132
BainsBane
Jan 2013
#154
Mosby
Jan 2013
#53
railsback
Jan 2013
#56
Mosby
Jan 2013
#61
railsback
Jan 2013
#66
Liberal_in_LA
Jan 2013
#85
Post removed
Jan 2013
#116
smirkymonkey
Jan 2013
#175
JI7
Jan 2013
#84
railsback
Jan 2013
#91
JI7
Jan 2013
#95
railsback
Jan 2013
#117
Hippo_Tron
Jan 2013
#55
railsback
Jan 2013
#75
JI7
Jan 2013
#81
railsback
Jan 2013
#87
JI7
Jan 2013
#96
railsback
Jan 2013
#123
REP
Jan 2013
#104
railsback
Jan 2013
#124
REP
Jan 2013
#127
railsback
Jan 2013
#129
REP
Jan 2013
#131
BlancheSplanchnik
Jan 2013
#144
Hippo_Tron
Jan 2013
#89
railsback
Jan 2013
#94
JI7
Jan 2013
#99
railsback
Jan 2013
#118
JI7
Jan 2013
#74
railsback
Jan 2013
#100
Terra Alta
Jan 2013
#107
railsback
Jan 2013
#126
JI7
Jan 2013
#145
Logical
Jan 2013
#128
railsback
Jan 2013
#130
Logical
Jan 2013
#138
Make7
Jan 2013
#184
unblock
Jan 2013
#19
BlancheSplanchnik
Jan 2013
#113
Tommy_Carcetti
Jan 2013
#23
AtheistCrusader
Jan 2013
#26
liberalmuse
Jan 2013
#27
rickjliberal1946sef
Jan 2013
#29
RebelOne
Jan 2013
#30
secondvariety
Jan 2013
#32
ET Awful
Jan 2013
#31
Liberal_in_LA
Jan 2013
#86
smirkymonkey
Jan 2013
#108
ellisonz
Jan 2013
#152
AndyA
Jan 2013
#34
LeftofObama
Jan 2013
#37
ellisonz
Jan 2013
#38
Politicub
Jan 2013
#40
nadine_mn
Jan 2013
#41
SkyDaddy7
Jan 2013
#43
nolabear
Jan 2013
#48
RebelOne
Jan 2013
#63
SkyDaddy7
Jan 2013
#164
RebelOne
Jan 2013
#62
SkyDaddy7
Jan 2013
#162
ScreamingMeemie
Jan 2013
#176
RebelOne
Jan 2013
#181
hobbit709
Jan 2013
#73
SkyDaddy7
Jan 2013
#163
DogPawsBiscuitsNGrav
Jan 2013
#52
one_voice
Jan 2013
#70
Honeycombe8
Jan 2013
#72
Auntie Bush
Jan 2013
#76
narnian60
Jan 2013
#79
guardian
Jan 2013
#90
Terra Alta
Jan 2013
#106
smirkymonkey
Jan 2013
#111
Odin2005
Jan 2013
#112
mwdem
Jan 2013
#114
Liberal_in_LA
Jan 2013
#192
phylny
Jan 2013
#142
LittleBlue
Jan 2013
#148
laundry_queen
Jan 2013
#149
arikara
Jan 2013
#150
Th1onein
Jan 2013
#153
go west young man
Jan 2013
#157
BlancheSplanchnik
Jan 2013
#174
lexw
Jan 2013
#158
Lunabelle
Jan 2013
#160
Pretzel_Warrior
Jan 2013
#161
spinbaby
Jan 2013
#177
Liberal_in_LA
Jan 2013
#191
Flatulo
Jan 2013
#178
Beacool
Jan 2013
#179
sad-cafe
Jan 2013
#182
mrmpa
Jan 2013
#183
Liberal_in_LA
Jan 2013
#190