Tue Jan 8, 2013, 07:35 AM
xchrom (108,903 posts)
Yes, lead poisoning could really be a cause of violent crime [View all]
http://www.guardian.co.uk/commentisfree/2013/jan/07/violent-crime-lead-poisoning-british-export?intcmp=122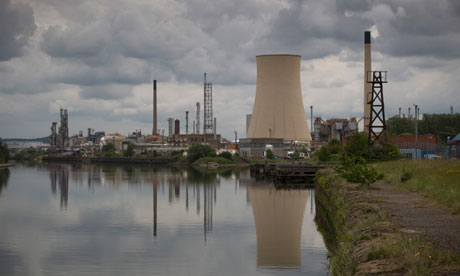 The Innospec factory at Ellesmere Port, in Cheshire, Britain, on the banks of the Manchester Ship Canal. Photograph: Colin Mcpherson
At first it seemed preposterous. The hypothesis was so exotic that I laughed. The rise and fall of violent crime during the second half of the 20th century and first years of the 21st were caused, it proposed, not by changes in policing or imprisonment, single parenthood, recession, crack cocaine or the legalisation of abortion, but mainly by … lead.
I don't mean bullets. The crime waves that afflicted many parts of the world and then, against all predictions, collapsed, were ascribed, in an article published by Mother Jones last week, to the rise and fall in the use of lead-based paint and leaded petrol.
It's ridiculous – until you see the evidence. Studies between cities, states and nations show that the rise and fall in crime follows, with a roughly 20-year lag, the rise and fall in the exposure of infants to trace quantities of lead. But all that gives us is correlation: an association that could be coincidental. The Mother Jones article, which is based on several scientific papers, claimed causation.
I began by reading the papers. Do they say what the article claims? They do. Then I looked up the citations: the discussion of those papers in the scientific literature. The three whose citations I checked have been mentioned, between them, 301 times. I went through all these papers (except the handful in foreign languages), as well as dozens of others. To my astonishment, I could find just one study attacking the thesis, and this was sponsored by the Ethyl Corporation, which happens to have been a major manufacturer of the petrol additive tetraethyl lead. I found many more supporting it. Crazy as this seems, it really does look as if lead poisoning could be the major cause of the rise and fall of violent crime.
123 replies, 17447 views
Replies to this discussion thread
123 replies
Author
Time
Post

Yes, lead poisoning could really be a cause of violent crime

[View all]

xchrom
Jan 2013
OP
leveymg
Jan 2013
#1
truebluegreen
Jan 2013
#2
AnotherMcIntosh
Jan 2013
#28
Orrex
Jan 2013
#29
leveymg
Jan 2013
#72
Orrex
Jan 2013
#75
leveymg
Jan 2013
#76
Jackpine Radical
Jan 2013
#51
HiPointDem
Jan 2013
#3
Ptah
Jan 2013
#4
HiPointDem
Jan 2013
#5
Ptah
Jan 2013
#6
HiPointDem
Jan 2013
#7
Ptah
Jan 2013
#9
HiPointDem
Jan 2013
#10
Ptah
Jan 2013
#14
jeff47
Jan 2013
#32
HiPointDem
Jan 2013
#52
jeff47
Jan 2013
#59
AnotherMcIntosh
Jan 2013
#34
HiPointDem
Jan 2013
#39
zeemike
Jan 2013
#35
HiPointDem
Jan 2013
#37
AllyCat
Jan 2013
#38
HiPointDem
Jan 2013
#43
AllyCat
Jan 2013
#47
HiPointDem
Jan 2013
#48
happyslug
Jan 2013
#69
HiPointDem
Jan 2013
#98
happyslug
Jan 2013
#62
HiPointDem
Jan 2013
#79
happyslug
Jan 2013
#83
HiPointDem
Jan 2013
#86
MADem
Jan 2013
#103
HiPointDem
Jan 2013
#111
MADem
Jan 2013
#113
KT2000
Jan 2013
#105
HiPointDem
Jan 2013
#108
KT2000
Jan 2013
#112
HiPointDem
Jan 2013
#114
KT2000
Jan 2013
#120
HiPointDem
Jan 2013
#122
SharonAnn
Jan 2013
#66
HiPointDem
Jan 2013
#74
happyslug
Jan 2013
#82
HiPointDem
Jan 2013
#87
happyslug
Jan 2013
#96
HiPointDem
Jan 2013
#97
krispos42
Jan 2013
#88
HiPointDem
Jan 2013
#89
krispos42
Jan 2013
#90
HiPointDem
Jan 2013
#99
krispos42
Jan 2013
#106
HiPointDem
Jan 2013
#107
MADem
Jan 2013
#102
HiPointDem
Jan 2013
#110
MADem
Jan 2013
#115
HiPointDem
Jan 2013
#116
MADem
Jan 2013
#117
HiPointDem
Jan 2013
#119
MADem
Jan 2013
#121
HiPointDem
Jan 2013
#123
WCGreen
Jan 2013
#8
HiPointDem
Jan 2013
#11
Spider Jerusalem
Jan 2013
#41
HiPointDem
Jan 2013
#46
Spider Jerusalem
Jan 2013
#53
HiPointDem
Jan 2013
#54
Spider Jerusalem
Jan 2013
#63
HiPointDem
Jan 2013
#70
happyslug
Jan 2013
#68
HiPointDem
Jan 2013
#71
happyslug
Jan 2013
#77
HiPointDem
Jan 2013
#78
happyslug
Jan 2013
#65
HiPointDem
Jan 2013
#73
Sunlei
Jan 2013
#56
Spider Jerusalem
Jan 2013
#12
HiPointDem
Jan 2013
#15
Spider Jerusalem
Jan 2013
#17
HiPointDem
Jan 2013
#19
Spider Jerusalem
Jan 2013
#21
HiPointDem
Jan 2013
#26
Spider Jerusalem
Jan 2013
#27
Ptah
Jan 2013
#22
fasttense
Jan 2013
#24
HiPointDem
Jan 2013
#33
Sunlei
Jan 2013
#55
HiPointDem
Jan 2013
#57
Sunlei
Jan 2013
#58
HiPointDem
Jan 2013
#100
Recursion
Jan 2013
#31
Maraya1969
Jan 2013
#13
Fumesucker
Jan 2013
#16
Hestia
Jan 2013
#67
HiPointDem
Jan 2013
#18
ancianita
Jan 2013
#20
HiPointDem
Jan 2013
#36
ancianita
Jan 2013
#81
HiPointDem
Jan 2013
#101
ancianita
Jan 2013
#104
HiPointDem
Jan 2013
#109
Sunlei
Jan 2013
#30
AnotherMcIntosh
Jan 2013
#42
AllyCat
Jan 2013
#44
morningfog
Jan 2013
#84
Maraya1969
Jan 2013
#93
morningfog
Jan 2013
#94
Fuddnik
Jan 2013
#23
xchrom
Jan 2013
#25
Sunlei
Jan 2013
#40
AllyCat
Jan 2013
#45
Sunlei
Jan 2013
#50
dotymed
Jan 2013
#49
dmallind
Jan 2013
#60
Remmah2
Jan 2013
#61
No Compromise
Jan 2013
#64
happyslug
Jan 2013
#80
cthulu2016
Jan 2013
#91
morningfog
Jan 2013
#85
ancianita
Jan 2013
#92
noamnety
Jan 2013
#95
jmowreader
Jan 2013
#118