Mon Dec 31, 2012, 03:33 PM
joeybee12 (55,585 posts)
My Father passed last night. He was 93, born on August 8, 1919 [View all]
He had been ill for a while now, but until this past February, he was able to live at home with a minimal amount of assistance. Then he fell and was in and out of the hospital and nursing homes for a few months, developing infections, etc., and in May I moved in with him (with all my cats) until October when we moved him into assisted living as he needed more care than I could provide. He had congestive heart failure, multiple myeloma (a blood cancer like leukemia) and Alzheimerís. At his new home he was pretty good for a couple months, but right after Thanksgiving he started having pain in his back, and with medication we could control it, but he was noticeably getting weaker daily. I believe he decided it was time to go this past Thursday, so he didnít linger, and Iím grateful the end was peaceful.
The above is a photo of my parents when they were courting, back when you called it that. They were married for 57 years before she passed in 2004. My father had a very good outlook, and he eventually got a girlfriend about 3 years afterwards. He liked going out, dancing and traveling, and he was lucky he found someone to share his time with.
He was a life-long Democrat and union member, WWII veteran, loving father and husband. Whenever he was in the hospital the nurses would comment about how glad they had him as a patient because he was so pleasant and never complained. Below is a photo of my sister and I with him with what must be my first EasterÖit was the earliest photo I could find of him with me. The second photo is him on his 90th birthday on our cruise to Alaska.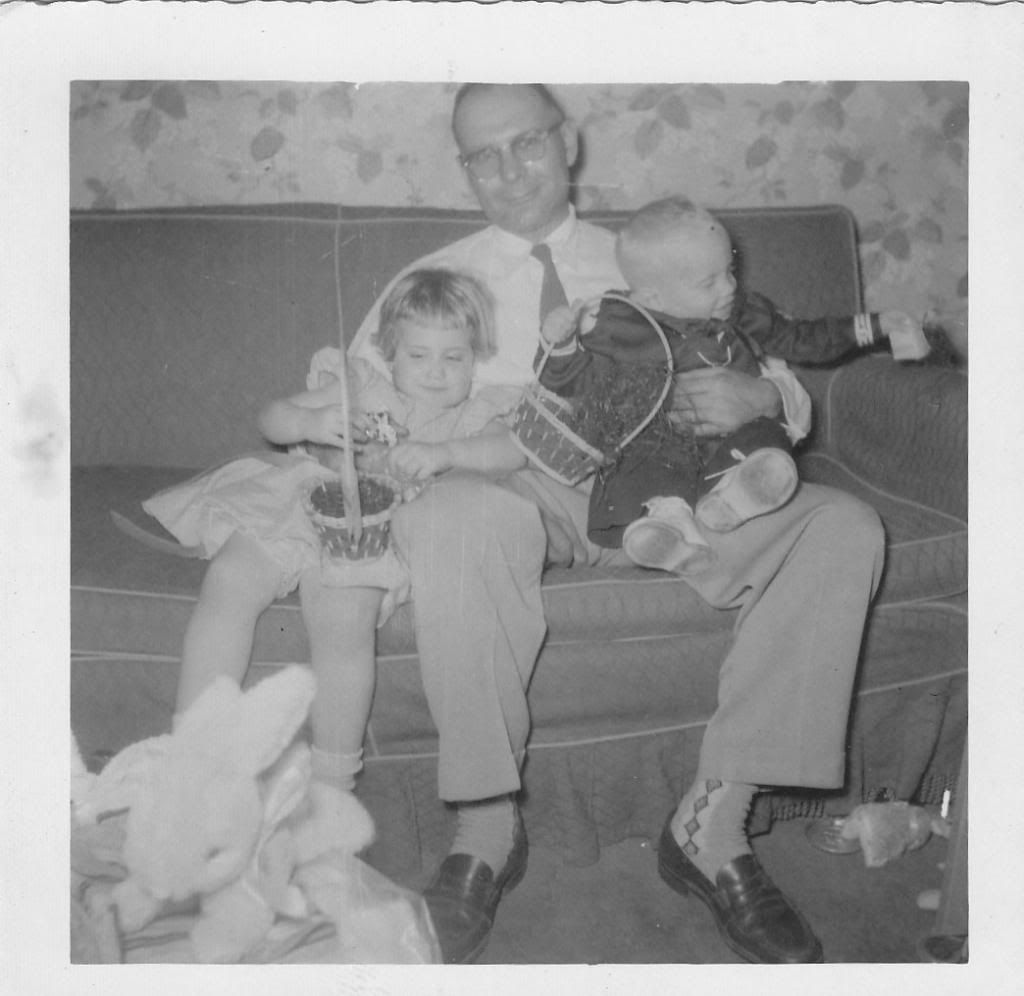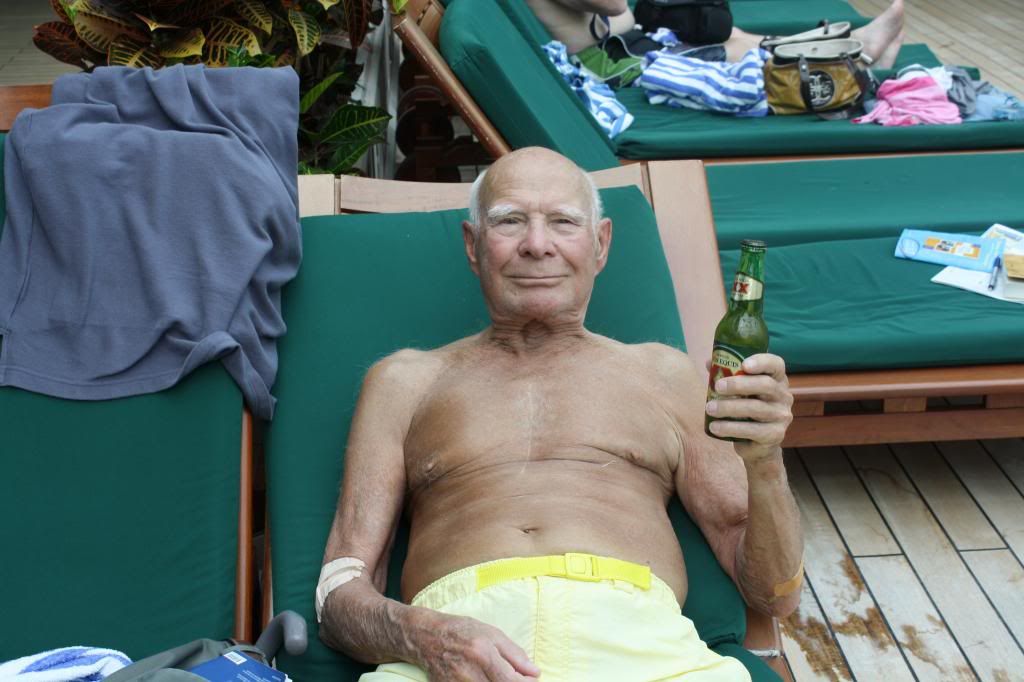 206 replies, 30431 views
Replies to this discussion thread
206 replies
Author
Time
Post

My Father passed last night. He was 93, born on August 8, 1919

[View all]

joeybee12
Dec 2012
OP
TDale313
Dec 2012
#1
uppityperson
Dec 2012
#2
etherealtruth
Dec 2012
#3
malaise
Dec 2012
#4
Luciferous
Dec 2012
#5
Harmony Blue
Dec 2012
#6
AldoLeopold
Dec 2012
#7
babylonsister
Dec 2012
#8
bigwillq
Dec 2012
#9
LongTomH
Dec 2012
#10
Not Me
Dec 2012
#11
panAmerican
Dec 2012
#12
Journeyman
Dec 2012
#13
juajen
Dec 2012
#14
narnian60
Dec 2012
#15
AverageJoe90
Dec 2012
#16
Helen Reddy
Dec 2012
#17
Auntie Bush
Dec 2012
#18
spanone
Dec 2012
#19
BeyondGeography
Dec 2012
#20
ProSense
Dec 2012
#21
OldDem2012
Dec 2012
#22
jberryhill
Dec 2012
#23
Arctic Dave
Dec 2012
#24
benld74
Dec 2012
#25
Curmudgeoness
Dec 2012
#26
Puglover
Dec 2012
#27
secondwind
Dec 2012
#28
cal04
Dec 2012
#29
CrispyQ
Dec 2012
#30
TexasBushwhacker
Dec 2012
#31
pinto
Dec 2012
#32
Octafish
Dec 2012
#33
TwilightGardener
Dec 2012
#34
LeftofObama
Dec 2012
#35
MADem
Dec 2012
#36
nolabear
Dec 2012
#37
Skidmore
Dec 2012
#38
cliffordu
Dec 2012
#39
adieu
Dec 2012
#40
bench scientist
Dec 2012
#41
mecherosegarden
Dec 2012
#42
CherokeeDem
Dec 2012
#43
Jefferson23
Dec 2012
#44
MannyGoldstein
Dec 2012
#45
LoisB
Dec 2012
#46
dickthegrouch
Dec 2012
#47
Unknown Beatle
Dec 2012
#48
Sheldon Cooper
Dec 2012
#49
lpbk2713
Dec 2012
#50
Kingofalldems
Dec 2012
#51
reflection
Dec 2012
#52
xchrom
Dec 2012
#53
cecilfirefox
Dec 2012
#54
onecent
Dec 2012
#55
flamingdem
Dec 2012
#56
indepat
Dec 2012
#57
2naSalit
Dec 2012
#58
Still Blue in PDX
Dec 2012
#59
Lone_Star_Dem
Dec 2012
#60
wicket
Dec 2012
#61
ProfessionalLeftist
Dec 2012
#62
asjr
Dec 2012
#63
LiberalEsto
Dec 2012
#64
kentuck
Dec 2012
#65
riverbendviewgal
Dec 2012
#66
DonRedwood
Dec 2012
#67
DainBramaged
Dec 2012
#68
iqbal1980
Dec 2012
#69
Old Troop
Dec 2012
#70
Third Doctor
Dec 2012
#71
life long demo
Dec 2012
#72
gademocrat7
Dec 2012
#73
a la izquierda
Dec 2012
#74
Sophiegirl
Dec 2012
#75
onlyadream
Dec 2012
#76
freckleface
Dec 2012
#77
PlanetBev
Dec 2012
#78
WinstonSmith4740
Dec 2012
#79
City Lights
Dec 2012
#80
ashling
Dec 2012
#81
badhair77
Dec 2012
#82
Vanje
Dec 2012
#83
Bjornsdotter
Dec 2012
#84
leveymg
Dec 2012
#85
GoCubsGo
Dec 2012
#86
Boomerproud
Dec 2012
#87
EmeraldCityGrl
Dec 2012
#88
Pakid
Dec 2012
#89
Bake
Dec 2012
#90
nilram
Dec 2012
#91
thecrow
Dec 2012
#92
madrchsod
Dec 2012
#93
Phentex
Dec 2012
#94
DeschutesRiver
Dec 2012
#95
azurnoir
Dec 2012
#96
musical_soul
Dec 2012
#97
dionysus
Dec 2012
#98
ClayZ
Dec 2012
#99
RudynJack
Dec 2012
#100
Hulk
Dec 2012
#101
Permanut
Dec 2012
#102
weetie
Dec 2012
#103
vankuria
Dec 2012
#104
MissDeeds
Dec 2012
#105
Faygo Kid
Dec 2012
#106
ninehippies
Dec 2012
#107
Barack_America
Dec 2012
#108
MuseRider
Dec 2012
#109
shireen
Dec 2012
#110
sasha031
Dec 2012
#111
Deep13
Dec 2012
#112
devilgrrl
Dec 2012
#113
gussmith
Dec 2012
#114
japple
Dec 2012
#115
countryjake
Dec 2012
#116
JCat
Dec 2012
#117
Skittles
Dec 2012
#118
Swede Atlanta
Dec 2012
#119
lillypaddle
Dec 2012
#120
tblue
Dec 2012
#121
goclark
Dec 2012
#122
Little Star
Dec 2012
#123
ladym55
Dec 2012
#124
serbbral
Dec 2012
#125
JohnnyLib2
Dec 2012
#126
chillfactor
Dec 2012
#127
pacalo
Dec 2012
#128
In_The_Wind
Dec 2012
#129
Raksha
Dec 2012
#130
Iwillnevergiveup
Dec 2012
#131
ornotna
Dec 2012
#132
Liberal In Red State
Dec 2012
#133
LibGranny
Dec 2012
#134
graywarrior
Dec 2012
#135
Lilyeye
Dec 2012
#136
NorthCarolina
Dec 2012
#137
gussmith
Jan 2013
#203
socalgal58
Dec 2012
#138
firehorse
Dec 2012
#139
catbyte
Dec 2012
#140
Lifelong Protester
Dec 2012
#141
Canuckistanian
Dec 2012
#142
TexasTowelie
Dec 2012
#143
nadinbrzezinski
Dec 2012
#144
KittyWampus
Dec 2012
#145
Tuesday Afternoon
Dec 2012
#146
Marrah_G
Dec 2012
#147
cherokeeprogressive
Dec 2012
#148
wellstone dem
Dec 2012
#149
yardwork
Dec 2012
#150
intheflow
Dec 2012
#151
DesertFlower
Dec 2012
#152
MRDAWG
Dec 2012
#153
peacebird
Dec 2012
#154
one_voice
Dec 2012
#155
tama
Dec 2012
#156
MarianJack
Dec 2012
#157
Granny M
Dec 2012
#158
Raine
Dec 2012
#159
applegrove
Dec 2012
#160
Mnemosyne
Dec 2012
#161
AnnieBW
Dec 2012
#162
Odin2005
Dec 2012
#163
Chorophyll
Dec 2012
#164
beveeheart
Dec 2012
#165
Rowdyboy
Dec 2012
#166
ReRe
Dec 2012
#167
SunDrop23
Dec 2012
#168
madly
Dec 2012
#169
jellen
Dec 2012
#170
arthritisR_US
Dec 2012
#171
virgdem
Dec 2012
#172
Heathen57
Jan 2013
#173
glinda
Jan 2013
#174
BadGimp
Jan 2013
#175
dflprincess
Jan 2013
#176
Rosa Luxemburg
Jan 2013
#177
Sarah Ibarruri
Jan 2013
#178
NutmegYankee
Jan 2013
#179
kiva
Jan 2013
#180
BlancheSplanchnik
Jan 2013
#181
Hoosier
Jan 2013
#182
friendly_iconoclast
Jan 2013
#183
LaydeeBug
Jan 2013
#184
OnyxCollie
Jan 2013
#185
AAO
Jan 2013
#186
montana_hazeleyes
Jan 2013
#187
Raster
Jan 2013
#188
defacto7
Jan 2013
#189
mahina
Jan 2013
#190
susanna
Jan 2013
#191
roguevalley
Jan 2013
#192
SoCalDem
Jan 2013
#193
earcandle
Jan 2013
#194
gateley
Jan 2013
#195
sellitman
Jan 2013
#196
SalmonChantedEvening
Jan 2013
#197
BVictor1
Jan 2013
#198
Lucky Luciano
Jan 2013
#199
msanthrope
Jan 2013
#200
RKP5637
Jan 2013
#201
Stinky The Clown
Jan 2013
#202
Patiod
Jan 2013
#204
dbackjon
Jan 2013
#205
Fringe
Jan 2013
#206