Wed Dec 26, 2012, 04:15 AM
UnrepentantLiberal (11,700 posts)
Handgun-owners map draws outrage [View all]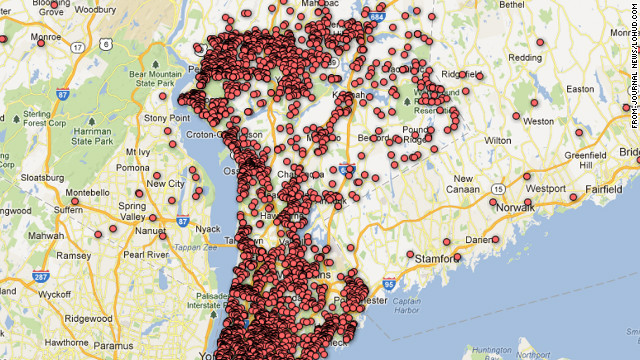 An interactive map showing the names and addresses of all handgun permit-holders in New York's Westchester and Rockland counties has drawn a response from mostly disgruntled readers since it was posted Saturday on a newspaper's website.
The interactive map published by the Journal News, prompting more than 1,300 comments as of Tuesday, allows readers to zoom in on red dots that indicate which residents are licensed to own pistols or revolvers.
"So should we start wearing yellow Stars of David so the general public can be aware of who we are??" wrote one commenter.
Some of those responding threatened to cancel their subscriptions or boycott the publication completely.
More:
http://www.cnn.com/2012/12/25/us/new-york-gun-permit-map/index.html?c=us
160 replies, 12212 views
Replies to this discussion thread
160 replies
Author
Time
Post

Handgun-owners map draws outrage

[View all]

UnrepentantLiberal
Dec 2012
OP
ZombieHorde
Dec 2012
#1
elehhhhna
Dec 2012
#26
Skittles
Dec 2012
#128
Post removed
Dec 2012
#2
MrModerate
Dec 2012
#12
geckosfeet
Dec 2012
#32
Capt. Obvious
Dec 2012
#52
geckosfeet
Dec 2012
#74
Confusious
Dec 2012
#77
Capt. Obvious
Dec 2012
#83
geckosfeet
Dec 2012
#88
Confusious
Dec 2012
#89
Capt. Obvious
Dec 2012
#82
geckosfeet
Dec 2012
#87
Capt. Obvious
Dec 2012
#101
CTyankee
Dec 2012
#91
Floyd_Gondolli
Dec 2012
#71
NutmegYankee
Dec 2012
#90
CTyankee
Dec 2012
#94
NutmegYankee
Dec 2012
#102
CTyankee
Dec 2012
#109
NutmegYankee
Dec 2012
#111
CTyankee
Dec 2012
#112
NutmegYankee
Dec 2012
#116
CTyankee
Dec 2012
#123
derby378
Dec 2012
#142
CTyankee
Dec 2012
#145
calimary
Dec 2012
#151
CTyankee
Dec 2012
#158
calimary
Dec 2012
#159
CTyankee
Dec 2012
#160
Fawke Em
Dec 2012
#104
NutmegYankee
Dec 2012
#106
CTyankee
Dec 2012
#113
NutmegYankee
Dec 2012
#115
CTyankee
Dec 2012
#122
NutmegYankee
Dec 2012
#124
CTyankee
Dec 2012
#135
NutmegYankee
Dec 2012
#136
CTyankee
Dec 2012
#138
NutmegYankee
Dec 2012
#140
CTyankee
Dec 2012
#144
NutmegYankee
Dec 2012
#146
CTyankee
Dec 2012
#147
NutmegYankee
Dec 2012
#148
CTyankee
Dec 2012
#149
NutmegYankee
Dec 2012
#150
Fawke Em
Dec 2012
#152
NutmegYankee
Dec 2012
#153
Fawke Em
Dec 2012
#154
NutmegYankee
Dec 2012
#156
Floyd_Gondolli
Dec 2012
#114
NutmegYankee
Dec 2012
#117
Fawke Em
Dec 2012
#155
NutmegYankee
Dec 2012
#157
randome
Dec 2012
#118
Floyd_Gondolli
Dec 2012
#119
NutmegYankee
Dec 2012
#120
randome
Dec 2012
#126
slackmaster
Dec 2012
#127
Bucky
Dec 2012
#3
Denninmi
Dec 2012
#4
elehhhhna
Dec 2012
#27
Denninmi
Dec 2012
#63
graham4anything
Dec 2012
#5
Fumesucker
Dec 2012
#6
UnrepentantLiberal
Dec 2012
#7
Lizzie Poppet
Dec 2012
#50
chatcat11
Dec 2012
#8
Warpy
Dec 2012
#9
Lasher
Dec 2012
#10
Are_grits_groceries
Dec 2012
#13
Lasher
Dec 2012
#14
JohnnyRingo
Dec 2012
#59
Sancho
Dec 2012
#18
Lasher
Dec 2012
#20
MrModerate
Dec 2012
#11
safeinOhio
Dec 2012
#15
Quantess
Dec 2012
#17
Sancho
Dec 2012
#16
safeinOhio
Dec 2012
#19
hack89
Dec 2012
#23
safeinOhio
Dec 2012
#24
LooseWilly
Dec 2012
#62
Remmah2
Dec 2012
#92
customerserviceguy
Dec 2012
#21
UnrepentantLiberal
Dec 2012
#25
customerserviceguy
Dec 2012
#81
pipoman
Dec 2012
#22
Lizzie Poppet
Dec 2012
#51
samsingh
Dec 2012
#28
Walk away
Dec 2012
#29
Remmah2
Dec 2012
#34
Walk away
Dec 2012
#72
otohara
Dec 2012
#30
catbyte
Dec 2012
#31
Remmah2
Dec 2012
#33
Robb
Dec 2012
#38
RomneyLies
Dec 2012
#42
Remmah2
Dec 2012
#45
RomneyLies
Dec 2012
#58
slackmaster
Dec 2012
#35
Robb
Dec 2012
#36
slackmaster
Dec 2012
#37
Robb
Dec 2012
#39
slackmaster
Dec 2012
#40
Robb
Dec 2012
#44
Remmah2
Dec 2012
#43
slackmaster
Dec 2012
#47
Remmah2
Dec 2012
#49
RomneyLies
Dec 2012
#41
slackmaster
Dec 2012
#46
RomneyLies
Dec 2012
#57
Nevernose
Dec 2012
#48
JohnnyRingo
Dec 2012
#53
dorkzilla
Dec 2012
#54
slackmaster
Dec 2012
#65
dorkzilla
Dec 2012
#66
slackmaster
Dec 2012
#68
Coyote_Tan
Dec 2012
#73
slackmaster
Dec 2012
#75
Coyote_Tan
Dec 2012
#79
slackmaster
Dec 2012
#80
spin
Dec 2012
#55
kenny blankenship
Dec 2012
#61
Lizzie Poppet
Dec 2012
#64
kenny blankenship
Dec 2012
#69
Lizzie Poppet
Dec 2012
#70
spin
Dec 2012
#67
alcibiades_mystery
Dec 2012
#129
spin
Dec 2012
#139
TheMoreYouKnow
Dec 2012
#56
sarisataka
Dec 2012
#60
HooptieWagon
Dec 2012
#76
slackmaster
Dec 2012
#78
Quantess
Dec 2012
#84
Post removed
Dec 2012
#85
cherokeeprogressive
Dec 2012
#86
Fawke Em
Dec 2012
#108
alcibiades_mystery
Dec 2012
#93
CTyankee
Dec 2012
#95
alcibiades_mystery
Dec 2012
#98
Remmah2
Dec 2012
#99
CTyankee
Dec 2012
#100
Remmah2
Dec 2012
#96
slackmaster
Dec 2012
#97
abelenkpe
Dec 2012
#103
randome
Dec 2012
#105
abelenkpe
Dec 2012
#121
randome
Dec 2012
#125
abelenkpe
Dec 2012
#130
slackmaster
Dec 2012
#131
abelenkpe
Dec 2012
#132
NCTraveler
Dec 2012
#107
abelenkpe
Dec 2012
#133
libodem
Dec 2012
#110
hughee99
Dec 2012
#134
Jim Warren
Dec 2012
#137
hughee99
Dec 2012
#141
Lizzie Poppet
Dec 2012
#143