Sun Dec 23, 2012, 07:55 PM
No Compromise (373 posts)
Remember when Republicans were Rational? Remember when they weren't Selfish Greedy Lying Sociopaths? [View all]
Frankly, me neither, but there was a time when they cared about people too, they weren't just shamelessly mean jackasses.
Eisenhower strengthened Social Security and spoke highly of it often...
This Administration's strong support of the social security program was demonstrated by the broad expansion and improvements enacted in 1954 at my recommendation. The 1954 Amendments, which extended coverage of the program to millions of additional persons and included higher benefits for all who were then or who would become beneficiaries, have had a major impact in bringing greater security to our people.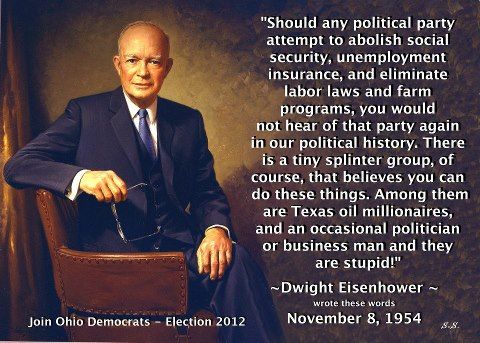 It wasn't even all that long ago. Maybe if we remind those Republicans in our lives, that they once had a sense of decency, they will remember the portion of their brain that is still sane and perhaps learn to exercise it. There's a good person in those (some of those)nut jobs somewhere, maybe we can wake them up to what they once were...
68 replies, 9364 views
Replies to this discussion thread
68 replies
Author
Time
Post

Remember when Republicans were Rational? Remember when they weren't Selfish Greedy Lying Sociopaths?

[View all]

No Compromise
Dec 2012
OP
JaneyVee
Dec 2012
#1
InsultComicDog
Dec 2012
#8
InsultComicDog
Dec 2012
#9
pangaia
Dec 2012
#31
SummerSnow
Dec 2012
#55
Arkansas Granny
Dec 2012
#58
ArcticFox
Dec 2012
#45
atreides1
Dec 2012
#11
yesphan
Dec 2012
#2
elleng
Dec 2012
#3
Eric the Reddish
Dec 2012
#7
Lugnut
Dec 2012
#51
elleng
Dec 2012
#52
TheCowsCameHome
Dec 2012
#4
OffWithTheirHeads
Dec 2012
#5
thebard77
Dec 2012
#50
dimbear
Dec 2012
#6
Sarah Ibarruri
Dec 2012
#10
ReRe
Dec 2012
#19
socialindependocrat
Dec 2012
#12
samsingh
Dec 2012
#13
Democrats_win
Dec 2012
#14
LiberalElite
Dec 2012
#15
MissMarple
Dec 2012
#16
Botany
Dec 2012
#17
femmocrat
Dec 2012
#24
HereSince1628
Dec 2012
#18
cascadiance
Dec 2012
#35
HarveyDarkey
Dec 2012
#37
cascadiance
Dec 2012
#41
HarveyDarkey
Dec 2012
#44
doc03
Dec 2012
#20
ReRe
Dec 2012
#21
OldDem2012
Dec 2012
#22
cascadiance
Dec 2012
#39
humbled_opinion
Dec 2012
#23
cascadiance
Dec 2012
#40
cascadiance
Dec 2012
#25
DonCoquixote
Dec 2012
#26
Zorra
Dec 2012
#27
HarveyDarkey
Dec 2012
#38
lastlib
Dec 2012
#28
Flatpicker
Dec 2012
#29
rickyhall
Dec 2012
#30
cascadiance
Dec 2012
#33
Auntie Bush
Dec 2012
#32
jimlup
Dec 2012
#34
No Compromise
Dec 2012
#46
jimlup
Dec 2012
#48
ismnotwasm
Dec 2012
#36
No Compromise
Dec 2012
#42
OldDem2012
Dec 2012
#53
No Compromise
Dec 2012
#43
woo me with science
Dec 2012
#47
JackRiddler
Dec 2012
#49
No Compromise
Dec 2012
#60
JackRiddler
Dec 2012
#63
tblue
Dec 2012
#54
Little Star
Dec 2012
#56
Flashmann
Dec 2012
#57
Hotler
Dec 2012
#59
libodem
Dec 2012
#61
cascadiance
Dec 2012
#64
libodem
Dec 2012
#66
robinlynne
Dec 2012
#62
gtar100
Dec 2012
#65
No Compromise
Dec 2012
#67
nolabels
Dec 2012
#68