Fri Dec 14, 2012, 10:40 PM
DainBramaged (39,191 posts)
Those of you who post 'it's not the guns' or 'we need to move beyond the guns' [View all]
Last edited Sat Dec 15, 2012, 05:45 AM - Edit history (1)
need to know that WE realize you are clinging to your guns hoping beyond hope that this too shall pass and America will become complacent again while you dream about that new 9mm or even .223 down at the gun store.
It shall not pass this time. Too many deaths the deaths of the innocent, your right to buy any size magazine, any assault rifle, any fucking cannon you choose will soon be restricted, all because we're fed up.
Count your guns, if you think you don't have enough, the sickness lies with you and not us.
This time we're serious.
You can post the Chinese knife assault story as many times as you want, compare drone attacks and try to moralize the deaths as if it's our fault, but the time is coming.
Count your guns and be happy you'll be keeping them. 300,000,000 guns in this country are too too many guns.
Enough is enough.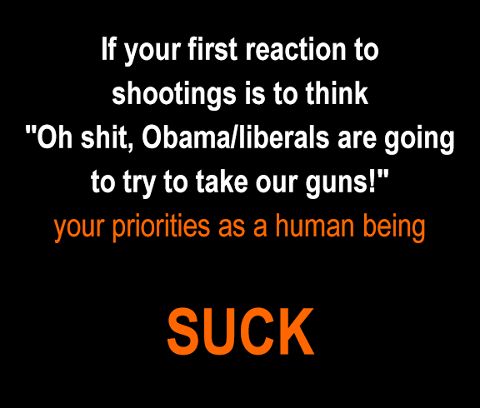 149 replies, 12559 views
Replies to this discussion thread
149 replies
Author
Time
Post

Those of you who post 'it's not the guns' or 'we need to move beyond the guns'

[View all]

DainBramaged
Dec 2012
OP
Buddaman
Dec 2012
#1
Skip Intro
Dec 2012
#2
morningfog
Dec 2012
#4
Justin_Beach
Dec 2012
#9
calimary
Dec 2012
#60
Justin_Beach
Dec 2012
#125
calimary
Dec 2012
#127
Chorophyll
Dec 2012
#68
Tumbulu
Dec 2012
#49
Skip Intro
Dec 2012
#59
morningfog
Dec 2012
#63
Skip Intro
Dec 2012
#66
morningfog
Dec 2012
#75
Skip Intro
Dec 2012
#85
morningfog
Dec 2012
#88
Skip Intro
Dec 2012
#91
morningfog
Dec 2012
#95
TransitJohn
Dec 2012
#145
Skip Intro
Dec 2012
#146
Chisox08
Dec 2012
#78
Skip Intro
Dec 2012
#82
morningfog
Dec 2012
#89
Skip Intro
Dec 2012
#94
morningfog
Dec 2012
#97
DainBramaged
Dec 2012
#5
Skip Intro
Dec 2012
#14
DainBramaged
Dec 2012
#15
Skip Intro
Dec 2012
#28
DainBramaged
Dec 2012
#29
Skip Intro
Dec 2012
#31
DainBramaged
Dec 2012
#33
Skip Intro
Dec 2012
#36
DainBramaged
Dec 2012
#37
Skip Intro
Dec 2012
#42
Tumbulu
Dec 2012
#51
Skip Intro
Dec 2012
#55
Ghost in the Machine
Dec 2012
#64
DainBramaged
Dec 2012
#73
Ghost in the Machine
Dec 2012
#121
Skip Intro
Dec 2012
#90
Ghost in the Machine
Dec 2012
#122
Skip Intro
Dec 2012
#124
iemitsu
Dec 2012
#93
Chisox08
Dec 2012
#79
DainBramaged
Dec 2012
#6
Generic Brad
Dec 2012
#13
Tumbulu
Dec 2012
#54
nadinbrzezinski
Dec 2012
#20
DainBramaged
Dec 2012
#23
regnaD kciN
Dec 2012
#40
Skip Intro
Dec 2012
#30
Chorophyll
Dec 2012
#69
Skip Intro
Dec 2012
#77
Chorophyll
Dec 2012
#99
Skip Intro
Dec 2012
#106
ComplimentarySwine
Dec 2012
#115
nadinbrzezinski
Dec 2012
#117
Ikonoklast
Dec 2012
#65
Skip Intro
Dec 2012
#67
Chorophyll
Dec 2012
#70
Skip Intro
Dec 2012
#81
Chorophyll
Dec 2012
#98
Skip Intro
Dec 2012
#104
Chorophyll
Dec 2012
#107
Skip Intro
Dec 2012
#118
Yukari Yakumo
Dec 2012
#83
Chorophyll
Dec 2012
#102
Ikonoklast
Dec 2012
#138
xtraxritical
Dec 2012
#103
Skip Intro
Dec 2012
#108
billh58
Dec 2012
#72
RC
Dec 2012
#92
Skip Intro
Dec 2012
#101
DainBramaged
Dec 2012
#109
Skip Intro
Dec 2012
#116
Lint Head
Dec 2012
#3
RomneyLies
Dec 2012
#7
rustydog
Dec 2012
#22
abelenkpe
Dec 2012
#32
Chorophyll
Dec 2012
#74
Justin_Beach
Dec 2012
#8
DainBramaged
Dec 2012
#17
Justin_Beach
Dec 2012
#24
DainBramaged
Dec 2012
#25
Tumbulu
Dec 2012
#56
airplaneman
Dec 2012
#100
davidn3600
Dec 2012
#10
DainBramaged
Dec 2012
#12
davidn3600
Dec 2012
#18
DainBramaged
Dec 2012
#21
Post removed
Dec 2012
#44
nadinbrzezinski
Dec 2012
#52
DainBramaged
Dec 2012
#57
humbled_opinion
Dec 2012
#41
Logical
Dec 2012
#34
Kingofalldems
Dec 2012
#11
VanillaRhapsody
Dec 2012
#16
DainBramaged
Dec 2012
#19
Lizzie Poppet
Dec 2012
#35
AtheistCrusader
Dec 2012
#45
Lizzie Poppet
Dec 2012
#50
AtheistCrusader
Dec 2012
#43
nadinbrzezinski
Dec 2012
#26
DainBramaged
Dec 2012
#27
nadinbrzezinski
Dec 2012
#53
BlueStreak
Dec 2012
#38
Tumbulu
Dec 2012
#61
humbled_opinion
Dec 2012
#39
Walter White
Dec 2012
#46
DainBramaged
Dec 2012
#62
_ed_
Dec 2012
#129
LibGranny
Dec 2012
#47
LibGranny
Dec 2012
#48
Bigmack
Dec 2012
#58
Tumbulu
Dec 2012
#71
BlueStreak
Dec 2012
#80
Tumbulu
Dec 2012
#105
BlueStreak
Dec 2012
#131
busterbrown
Dec 2012
#84
DainBramaged
Dec 2012
#86
busterbrown
Dec 2012
#148
KoKo
Dec 2012
#76
Stellar
Dec 2012
#87
defacto7
Dec 2012
#96
Skip Intro
Dec 2012
#112
defacto7
Dec 2012
#120
Skip Intro
Dec 2012
#123
defacto7
Dec 2012
#126
Skip Intro
Dec 2012
#132
defacto7
Dec 2012
#149
DainBramaged
Dec 2012
#128
Skip Intro
Dec 2012
#135
DainBramaged
Dec 2012
#136
Skip Intro
Dec 2012
#137
_ed_
Dec 2012
#130
Skip Intro
Dec 2012
#133
_ed_
Dec 2012
#139
Skip Intro
Dec 2012
#142
_ed_
Dec 2012
#143
Skip Intro
Dec 2012
#144
MotherPetrie
Dec 2012
#110
robinlynne
Dec 2012
#111
triplepoint
Dec 2012
#113
DainBramaged
Dec 2012
#114
revmclaren
Dec 2012
#119
Odin2005
Dec 2012
#134
rainlillie
Dec 2012
#140
DainBramaged
Dec 2012
#141
KoKo
Dec 2012
#147